ACER Aspire Vero AV15-52 15.6" Laptop - Intel Core i7 16GB RAM 1 TB SSD, Grey
Product SKU : ODS018-039
Refurbished
RAM: 16 GB / Storage: 1 TB SSD
Full HD screen
Intel Core i7 processor
USB Type-C x 1 - USB 3.1 x 2 - USB 2.0 x 1
Windows 11
---
---
Reasons to buy

Acer Aspire Vero

 laptop:
Buy ACER Aspire Vero AV15-52 15.6" Laptop in sleek Grey. Equipped with an Intel Core i7, 16GB RAM, and a lightning-fast 1TB SSD, this eco-conscious laptop delivers both performance and sustainability in style.       
Refurbished

RAM: 16 GB / Storage: 1 TB SSD  

Full HD screen  

Intel Core i7 processor  

USB Type-C x 1 - USB 3.1 x 2 - USB 2.0 x 1  

Windows 11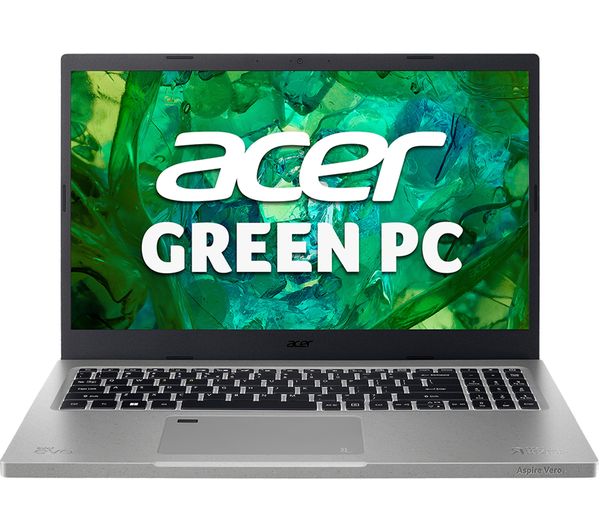 What's included:
ACER Aspire Vero AV15-52 15.6" Laptop - Intel Core i7 16GB RAM 1 TB SSD, Grey
Power Cable
12 Months Warranty
Features:
Refurbished Acer laptop UK
Unlock exceptional value and reliability with a refurbished Acer Aspire Vero from Student Computers! Our extensive range of renewed laptops, offers you the perfect blend of affordability and performance. Each machine undergoes a meticulous refurbishment process, ensuring it meets stringent quality standards. With this model, you'll enjoy a powerful Intel Core i7-1255U processor, 16 GB RAM, and speedy storage options. Whether you're a student, professional, or casual user, this product is designed to cater to your computing needs. Upgrade your productivity and save on costs by choosing this renewed model from Student Computers today!
Specifications:
| | |
| --- | --- |
| Brand | Acer |
| Grade | Very Good |
| Colour | Grey |
| Model | NX.KBREK.002 |
| Type | Laptop |
| Warranty | 12 months |
| Operating system | Windows 11 |
| Storage capacity | 1 TB |
| Processor seed | 1.3 GHz / 4.7 GHz |
| Processor  | Intel Core i7-1255U |
| Ram size | 16 GB |
| Bluetooth | Yes |
| Screen Size | 15.6 Inch |
| Storage type | SSD |
| Graphic Processing type | Integrated |
| USB ports | USB Type-C x 1 - USB 3.1 x 2 - USB 2.0 x 1 |
| Connectivity | Intel WiFi 6 |
| Speakers | Yes |
| Webcam | Yes |
| Features | WI-FI, Bluetooth, Webcam |
| Optical Drive | No |
| Weight | |
---
FAQ
Is it a good idea to buy a Acer Aspire Vero laptop?
Absolutely! Opting for a refurbished version can be a smart choice. Each refurbished model undergoes a rigorous refurbishment process, ensuring it meets high-quality standards and performs like new. With cost savings compared to buying brand new, you can enjoy all the features and capabilities of the Acer laptop at a more affordable price. Additionally they come with warranty coverage, providing added peace of mind. Don't miss out on the opportunity to own a reliable and powerful  Aspire Vero laptop at a fraction of the cost. 
Do Acer laptop last?
Yes, refurbished laptop Acer can last a long time if they have been well-maintained. The lifespan of a renewed laptop is determined by a variety of factors, including the quality of the refurbishment process, the original condition of the device, and how well it is taken care of by the owner. When a laptop is refconditioned, any defective or worn-out parts are typically replaced with new ones, and the device is thoroughly tested to ensure that it is in good working order. This can give your laptop a new lease on life, and make it function just as well as a brand new device.
Best place to buy refurbished Acer laptop UK
If you're searching for unbeatable deals and bargains on reconditioned  Acer laptop, look no further than Student Computers. We offer a range of high-quality renewed notebooks at affordable prices, making it easy to find a device that suits your needs and budget. To help you find the best deals, we have a dedicated Laptops Under 200 category, which features a variety of laptops that are priced to sell. We also have a Laptops on Sale category, which features even more discounted products from top brands like Dell, HP, and Lenovo. Whether you're a student, a professional, or just looking for an affordable device for everyday use, we have  something that will fit your needs.
---
Grading Explained