ACER Aspire XC-1760 Desktop PC - Intel Core i5, 1TB HDD 8GB RAM
Product SKU : ODS011-007
£32999

£329.99

Save £250.01
Refurbished
Intel core i5 12th gen processor
1TB HDD/8GB RAM
Wireless Mouse & Keyboard Included
Fast Delivery
---
---
Reasons to buy refurbished Acer Aspire XC-1760 Desktop :
Experience the power and versatility of the ACER Aspire XC-1760 Desktop PC. Powered by an Intel Core i5 processor, 8GB RAM, and a spacious 1TB HDD, this desktop PC offers reliable performance and ample storage for your files. 🚀💪 Whether you're working on projects, streaming media, or gaming, the ACER Aspire XC-1760 delivers a smooth and responsive experience. Its compact design makes it a perfect fit for any workspace. Enjoy effortless multitasking and seamless productivity with this dependable desktop PC. ✨       
Refurbished

Intel core i5 12th gen processor  

1TB HDD/8GB RAM  

Wireless Mouse & Keyboard Included  

Fast Delivery  

12 Months Warranty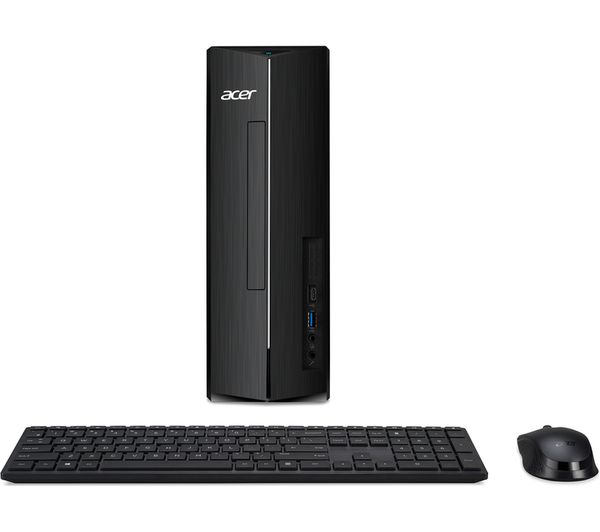 What's Included:
ACER Aspire XC-1760 Desktop PC - Intel Core i5, 1TB HDD 8GB RAM
Power Cable
12 Months Warranty
Features:
Fancy getting more productive? This Acer Aspire can keep up. The 12th generation Intel® Core™ i5 processor will fly through productivity apps like Word and Excel. 8 GB of RAM means you can quit worrying about how many Chrome tabs you have open too. And don't worry about space - the 1 TB hard drive lets you save everything you need.

Good to know

- Bluetooth 5 lets you roam free without worrying about your headset losing connection
- Comes with a wireless mouse and keyboard to get you up and running right away
- USB 3.1, Type-C, and two HDMI ports are great for connecting all your peripherals and monitors
Refurbished Acer Desktop PC
Unlock exceptional value with the Acer Refurbished Desktop PC. 💻💰 Experience the best of both worlds as you enjoy the power and performance of a top-tier desktop at a significantly lower price. Each unit has undergone a rigorous refurbishment process, ensuring that it meets stringent quality standards. By choosing a refurbished desktop, you not only save money but also contribute to a more sustainable future by giving a second life to electronic devices. Upgrade your computing experience today and embrace the benefits of a refurbished desktop. 🚀🌟
Specifications:
| | |
| --- | --- |
| Brand | Acer |
| Grade | Very Good |
| Colour | Black |
| Model | Aspire XC-1760 |
| Type | Desktop |
| Warranty | 12 Months |
| Operating system | Windows 11 Home |
| Storage | |
| Processor speed | 2.5GHz/4.4GHz |
| Graphics card | N/A |
| Ram size | 8 GB |
| Optical drive | No |
| USB ports | USB C, USB 3.1, USB 2.0 |
| Bluetooth | Yes |
| Connectivity | Wifi |
| Features | Bluetooth 5, Comes with a wireless mouse and keyboard, USB 3.1, Type-C, and two HDMI ports |
---
FAQ
Why desktop is better than laptop?
Desktop computers are often considered better than laptops because of their superior power and performance capabilities. Desktops can accommodate larger, more efficient components like CPUs, GPUs, and cooling systems that provide more processing power than laptops. The larger size of desktops also allows for better airflow, which helps to prevent overheating and improve performance. In contrast, laptops have more limited space and cooling capabilities, making it difficult to match the processing power of desktops. For users who require high performance, such as gamers or content creators, desktops are often the preferred choice due to their ability to support more powerful components.
Which desktops are best?
The answer to the question of which desktops are best depends on your specific needs and preferences. Here are some factors to consider when selecting a desktop computer:
Purpose: The best desktop computer for you will depend on your intended use. If you are a gamer, you will want a computer with a powerful graphics card and a high refresh rate monitor. For office use, a computer with a reliable processor, sufficient RAM, and storage would be better suited. For creative professionals, a computer with a high-performance processor and a dedicated graphics card would be ideal.
Budget: Desktops come in various price ranges, so it's important to consider how much you are willing to spend. Generally, the more you spend, the better the performance and features you can expect.
Brand and Support: It's essential to select a reputable brand with good customer support, warranty and repair options. A good brand and support can save you time and money in the long run.
Upgradability: Upgradability is a key factor when considering desktop computers, especially if you plan to keep your computer for several years. Desktops that are easy to upgrade will allow you to add or replace components as needed, such as RAM or hard drives.
Some of the top brands for desktop computers include Dell, HP, Lenovo, and Apple. Ultimately, the best desktop computer for you will depend on your individual needs, preferences, and budget. It's recommended to do some research before making a purchase to ensure you select the best desktop computer that suits your requirements.
How long do desktop Acer Aspire XC-1760 last

?
The lifespan of a desktop computer can vary depending on several factors, including the quality of the components, usage patterns, and maintenance. However, a well-maintained desktop computer can be expected to last for around 3-5 years before it needs upgrading or replacement. One of the primary factors that affect the lifespan of a desktop computer is the quality of its components. High-quality components from reputable brands are generally more durable and have a longer lifespan. However, if the desktop computer has low-quality components, it may require replacement or upgrades sooner than expected. Another factor that can impact the lifespan of a desktop computer is usage patterns. Computers that are heavily used for demanding tasks like gaming or video editing may wear out sooner than those used primarily for basic tasks like web browsing and word processing. Regular maintenance of a desktop computer, including regular cleaning, software updates, and malware scans, can help to extend its lifespan. Over time, dust and debris can accumulate inside the computer, leading to heat buildup and component damage. By keeping the computer clean and running smoothly, you can help to prolong its lifespan.
Where Can I find best Acer desktops deals ?
At Student Computers, we pride ourselves on offering the best desktop PC deals in the UK. Our selection of refurbished desktop computers provides an affordable option for those looking for a high-quality computer on a budget. Our refurbished range includes desktops from top brands like Dell, HP, and Lenovo, which are professionally refurbished to a high standard, ensuring they function like new. By refurbishing these computers, we can offer them at a fraction of the cost of a new computer, without compromising on quality or performance. We are committed to providing the best prices possible to our customers, making it easy for everyone to find the right desktop PC for their needs and budget.
---
Grading Explained