ASUS Flip CM3200MT 12" 2 in 1 Chromebook - MediaTek MT8192 4GB RAM 128 GB eMMC Grey convertible
Product SKU : ODS014-101
£16999

£169.99

Save £280.01
Refurbished
RAM: 4 GB / Storage: 128 GB eMMC
MediaTek Kompanio 8192 processor
Touchscreen
Lightweight
---
---
Reasons to buy

ASUS Flip 2 in 1 laptop tablet
Buy and discover ultimate versatility with the ASUS 2-in-1 Chromebook Flip CM3200MT 12" ! 🌟 Powered by MediaTek MT8192, it boasts 4GB RAM and 128GB eMMC storage. Experience seamless performance and transform your tasks effortlessly. 🚀 Elegant in Grey, this Chromebook is your gateway to productivity and entertainment. 💼🎉   
Refurbished

RAM: 4 GB / Storage: 128 GB eMMC

MediaTek Kompanio 8192 processor

Touchscreen

Lightweight

Bluetooth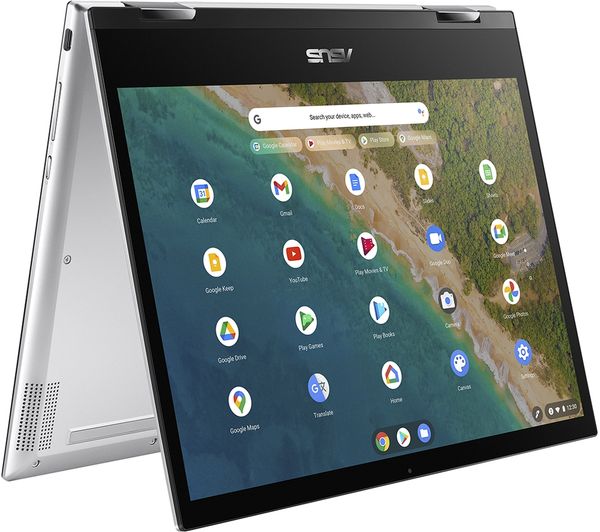 What's included:
ASUS Flip CM3200MT 12" 2 in 1 Chromebook - MediaTek MT8192 4GB RAM 128 GB eMMC Grey
Power Cable
12 Months Warranty
Features:
Not sure if you want a laptop or a tablet? This Asus Chromebook can fold from a laptop to tablet in seconds, so you'll have the best of both worlds. And because you've got a 360° hinge, you can also use it in tent mode, perfect for watching films without the keyboard in the way. It's compact too. At just 1.14 kg, you'll barely feel it in your backpack. And with 10 hours of battery life, you can get some serious work done.

Good to know

- ChromeOS is easy and safe to use and can run all your favourite Android apps
- The 12" touchscreen has a 3:2 aspect ratio - great for working with documents and reading
- You'll have plenty of ways to hook up accessories with one USB-A and 2 USB-C ports
- It comes with a stylus - perfect for quick notes and sketches while you're on the go
- Quickly boost your storage by popping in a microSD card
Specifications:
| | |
| --- | --- |
| Brand | ASUS |
| Grade | Fair |
| Colour | Grey |
| Model | CM3200MT |
| Type | Laptop |
| Warranty | 12 months |
| Operating system | Chrome Os |
| Storage capacity | 128GB |
| Processor seed | 2.2 GHz |
| Processor  | MediaTek Kompanio 8192 |
| Ram size | 4 GB |
| Bluetooth | Yes |
| Screen Size | 12" |
| Storage type | eMMC |
| Graphic Processing type | integrated/on-board graphics |
| USB ports | Yes |
| Connectivity | Dual-band AC WiFi 5, Bluetooth 5.0 |
| Speakers | Yes |
| Webcam | Yes |
| Features | Touchscreen, Bluetooth, Lightweight |
| Optical Drive | No |
| Weight | 1.14 |
---
FAQ
Is it a good idea to buy ASUS Flip laptop?
ASUS Flip 2-in-1 laptop can be a great investment for anyone looking for a versatile and portable computing device. The ability to switch between a laptop and a tablet mode makes these devices perfect for a wide range of uses, including taking notes in class, giving presentations, or watching movies on the go.
2-in-1 laptops tend to be lighter and more portable than traditional laptops, making them ideal for those who are frequently on the move. Additionally, many models now feature high-quality components that deliver powerful performance and speed, making them more than capable of handling everyday computing tasks.
While it is true that some 2-in-1 laptops can be more expensive than traditional laptops, the added versatility and functionality make them a worthwhile investment for many users. Plus, as technology continues to evolve, 2-in-1 laptops are becoming more affordable and feature-packed.
If you value versatility, portability, and convenience, a 2-in-1 laptop may be the perfect computing device for you. So why not consider investing in one today?
What are the benefits of 2 in 1 Laptop?
A 2-in-1 device is a laptop or tablet that can transform into a different form factor, such as a tablet or tent mode, through the use of a detachable keyboard or a 360-degree hinge. Here are some benefits of using a 2-in-1 device:
Versatility: The primary benefit of 2-in-1 devices is their versatility. They allow you to use a single device in multiple ways, depending on your needs. This is particularly useful for those who need both a laptop and a tablet for work or personal use, as it eliminates the need to carry multiple devices.
Portability: 2-in-1 devices are usually lightweight and slim, making them easy to carry around. This is especially beneficial for those who are always on the go or need to work from different locations.
Productivity: The ability to switch between laptop and tablet modes allows for increased productivity. You can use the keyboard for typing and work-related tasks and switch to tablet mode for browsing the internet, taking notes, or presenting to colleagues.
Entertainment: 2-in-1 devices can also be great for entertainment purposes. You can watch movies or play games in tablet mode, and use the keyboard for a more immersive gaming experience.
Cost-effectiveness: Instead of buying a separate laptop and tablet, purchasing a 2-in-1 device can be more cost-effective in the long run.
Overall, 2-in-1 devices offer a flexible and convenient computing experience, making them a popular choice for both personal and professional use.
Where to buy cheap 2-in-1 laptops ?
Discover the versatility and affordability of 2-in-1 laptops at Student Computers! Our selection of cheap 2-in-1 laptops from top brands like HP, Dell, and Lenovo are perfect for anyone looking for a device that can easily switch between laptop and tablet mode. Whether you need a device for basic productivity tasks or more demanding workloads, we have a 2-in-1 laptop that will meet your needs and budget. So why wait? Visit us today and experience the convenience and flexibility of a 2-in-1 laptop!
---
Grading Explained