Devolo Magic 2 Wifi Next Add-on Adapter
Product SKU : EX001-0242
Retail Boxed
Up to 2400 Mbps
Wireless, Wired-Ethernet (RJ-45), Wireless (Wi-Fi)
---
---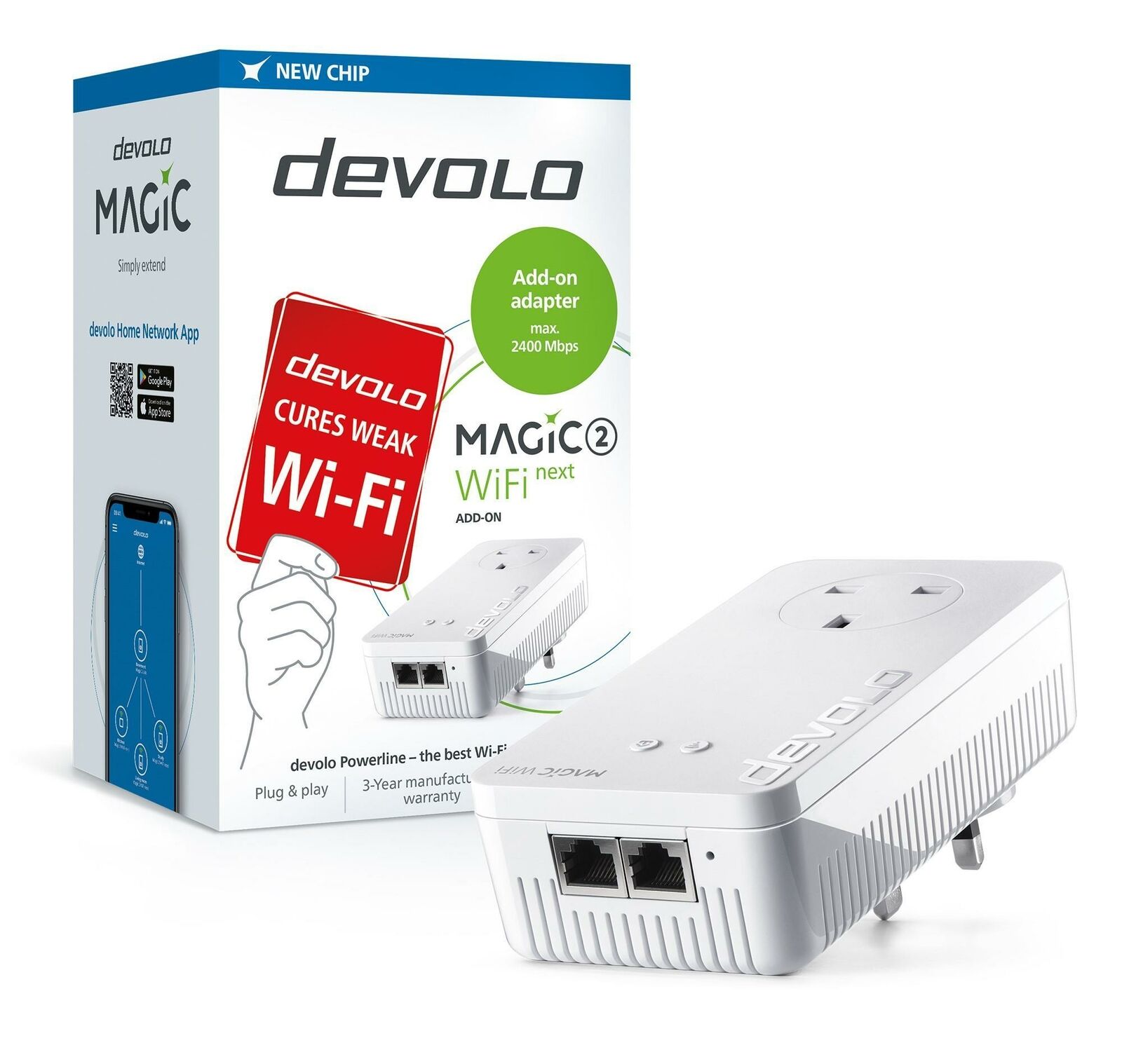 What's Included-
Devolo Magic 2 Wifi Next Add-on Adapter

 Ethernet Cable

12 Months Warranty
Features-
DEVOLO MAGIC 2 WIFI 5 NEXT ADD-ON ADAPTER
Multi-user MIMO technology: Simultaneously provide multiple devices with the best possible Wi-Fi.

Seamless mesh now with access point steering: Multiple Magic Wi-Fi adapters form a joint mesh WiFi network for an optimal Powerline connection of your terminal devices.

The fastest Internet: Over the powerline – to any power socket!

Future-proofed G.hn technology: Upgrade your home to the latest gigabit standard.

The extra LAN feature for the Wi-Fi network: Connect additional stationary entertainment devices to two additional gigabit ports.

Simple, expandable, secure: Create a mesh network in seconds thanks to plug and play.
MAGIC 2 WIFI NEXT - HIGH-SPEED INTERNET DIRECTLY FROM YOUR POWER SOCKETS
Easily bring gigabit Internet into any room and experience browsing, streaming, gaming and stable home working with a mesh upgrade – the devolo Magic 2 WiFi next is the Powerline system for the whole family. The latest multi-user MIMO technology and optimised mesh ensure that all your devices at home are simultaneously supplied with unlimited Wi-Fi capacity.
MESH WI-FI FOR MORE STABILITY AND CONVENIENCE - THAT'S HOW WI-FI WORKS TODAY
Simply enjoy a seamless connection thanks to mesh Wi-Fi. Magic Wi-Fi adapters connect to form a joint network – no manual connection, no signal interruption, no password hassle. In addition, the mesh function access point steering ensures that you always have the best Wi-Fi connection with speeds up to 1200 Mbps – without interruptions and no matter what room you're in.
PLUG & PLAY: PLUG IN, PRESS THE BUTTON, AND EXPERIENCE MESH!
Build yourself a mesh network which can be expanded as you see fit, and do it in no time using Magic WiFi: Simply connect one Magic adapter to your router, plug additional devolo Magic adapters into your available power sockets and press the button to start the automatic and directly encrypted connection. The strong Wi-Fi hotspots are activated in seconds.
USER POWERLINE TECHNOLOGY TO DISTRIBUTE THE INTERNET SIGNAL THROUGHOUT YOUR HOME OVER THE POWERLINE
Magic Wi-Fi adapters use the fastest path for transmitting your Internet signal: your power line. As a result, any power socket with a Magic adapter plugged in becomes a Wi-Fi or LAN access point. Data transmission via Powerline adapter means no loss of signal quality and secure encryption without routing cables. All of our Magic adapters already have the latest generation of G.hn Powerline technology installed. This gigabit standard forms the basis of top-notch data transmission for state-ofthe- art home entertainment.
---
Grading Explained