Eaton Ellipse PRO 1600 UPS AC 230 V 1000 Watt
Product SKU : EX001-0137
Retail Boxed
Eaton Ellipse PRO 1600
230 V 1000 Watt
---
---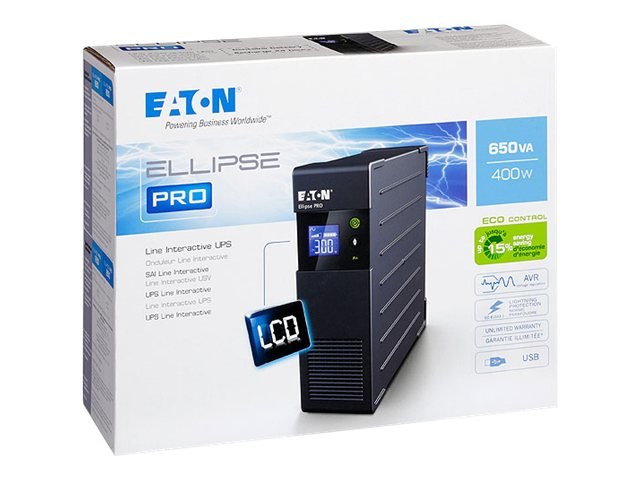 What's Included-
Eaton Ellipse PRO 1600 UPS - AC 230 V - 1000 Watt - 1600 VA - 9 Ah - USB - output connectors: 8 - 2U - 19"
12 Months Warranty
Features-
Easy Integration
The Eaton Ellipse PRO UPS is equipped with four sockets (models 650/850 VA) or eight sockets (models 1200/1600 VA) in IEC format, which makes it easy to connect typical IT equipment, including peripherals. 
Thanks to its particularly FLAT DESIGN, the Ellipse PRO can be installed vertically under a desk, horizontally under a monitor, in a 19" rack (optional 2U kit) or wall-mounted.  
The Eco Control function is appreciated to automatically disable peripherals when the master device is turned off. This can save up to 20% of energy consumption 
Easy Installation
LSD display : LSD screen provides clear information on UPS status and measurements. It also allows easy configuration of UPS settings
Ellipse PRO comes with a USB port (usb cable included) and Eaton Companion software, which ensures the secure shutdown of the system, the recording of energy consumption, and the easy configuration of the parameters of the inverter.
The HID-compatible interface ensures compatibility with all common operating systems, even without additional drivers.
Total Security
3 years warranty (battery included) 
Unlimited warranty for connected IT equipment (only EU countries and in Norway) 
The batteries are automatically tested at regular intervals to ensure quick detection when replacement is needed 
Easily replaceable batteries to extend the life of the UPS 
IEC 61643-1 standard UPS norm 
| | |
| --- | --- |
| Type | Power Supply |
| Brand | Eaton |
| Number Of Ports | 8 |
| Voltage | 1000 Watt - 1600 VA - 9 Ah |
| Model | ELP1600IEC |
| Colour | Black |
---
Grading Explained