Laptop HP Spectre x360 OLED 13.5" 2 in 1 Core i7 16GB RAM 1 TB SSD, Black convertible
Product SKU : ODS018-003
£79989

£799.89

Save £800.10
Refurbished
RAM: 16 GB / Storage: 1 TB SSD
Intel Core i7-1255U Processor
13.5" screen size
Touchscreen
---
---
Reasons to buy

HP HP Spectre x360 2 in 1 laptop tablet
Buy HP Spectre x360 14-ef0500sa: a sleek 2-in-1 laptop in striking black. Powered by an Intel Core i7 processor and boasting 16GB RAM and a lightning-fast 1TB SSD, this laptop delivers exceptional performance and storage. Discover the perfect blend of style and power in this 13.5" convertible masterpiece   
Refurbished

RAM: 16 GB / Storage: 1 TB SSD

Intel Core i7-1255U Processor

13.5" screen size

Touchscreen

5 MP IR webcam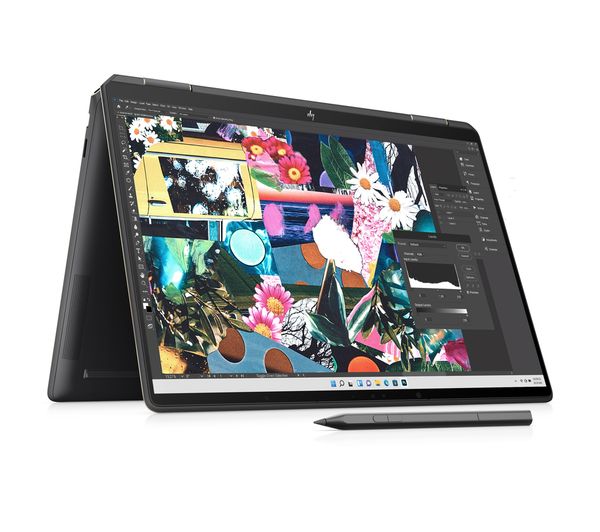 What's included:
HP Spectre x360 14-ef0500sa 13.5" 2 in 1 Intel Core i7 16GB RAM 1 TB SSD, Black
Stylus
Power Cable
12 Months Warranty 
Features:
Experience the Ultimate Fusion of Productivity and Entertainment with the HP Spectre x360!
Why choose between a laptop and a tablet when you can have the best of both worlds? The HP Spectre x360, with its innovative 360-degree hinge, seamlessly transforms from a powerful laptop to a versatile tablet, providing you with unrivaled flexibility.
Immerse yourself in a world of endless possibilities on the edge-to-edge OLED touchscreen. Swipe effortlessly from app to app, as this remarkable device responds to your every touch with precision and fluidity.
Powered by the cutting-edge 12th gen Intel® Core™ i7 processor, the HP Spectre x360 delivers an unparalleled performance that remains steadfast even under the most demanding tasks. Say goodbye to slowdowns and hello to a seamless computing experience.
But that's not all – this powerhouse is also remarkably efficient, boasting improved power consumption that ensures you can stay productive for up to an impressive 11 hours and 45 minutes on a single charge. That's more than enough time to conquer your work tasks and indulge in a Netflix marathon without interruption.
Here are some additional features that make the HP Spectre x360 a must-have:
HP GlamCam: Customize your webcam settings with options like beauty mode and automatic face tracking, ensuring you always look your best during video calls.
Webcam Privacy Shutter: Take control of your privacy by deciding when you want to be seen on camera.
Intel® WiFi 6E: Experience lightning-fast website and video loading, keeping you connected and engaged without delays.
1 TB SSD Storage: With ample storage space, you can store all your important files and media without compromise.
16 GB of RAM: Run multiple apps simultaneously, including numerous browser tabs, without experiencing any lag.
Sustainable Design: The HP Spectre x360 is crafted using sustainable materials, including ocean-bound plastic and recycled aluminum, aligning with eco-conscious values.
Intel® Evo™ Platform: Enjoy a premium computing experience that brings together state-of-the-art technologies for exceptional performance.
Windows 11: Stay ahead of the curve with Windows 11, featuring an improved Start menu and enhanced multitasking tools to boost your productivity.
Elevate your computing experience with the HP Spectre x360 – where style, power, and sustainability come together to redefine the way you work and play."
Specifications:
| | |
| --- | --- |
| Brand | HP |
| Grade | Fair |
| Colour | Black |
| Model | 6L7K4EA#ABU |
| Type | Laptop |
| Warranty | 12 months |
| Operating system | Windows 11 |
| Storage capacity | 1 TB |
| Processor seed | Up to 4.7 GHz |
| Processor  | Intel Core i7-1255U |
| Ram size | 16 GB DDR4 (4266 MHz) |
| Bluetooth | Yes |
| Screen Size | 13.5 Inches (3K 3000 x 2000p) |
| Storage type | SSD |
| Graphic Processing type | Integrated |
| USB ports | USB 3.1 x 1 - Thunderbolt 4 x 2 - 3.5 mm jack x 1 |
| Connectivity | Intel WiFi 6E |
| Speakers | Yes |
| Webcam | 5 MP IR webcam |
| Features | Bluetooth, WI-FI, Touchscreen, Webcam |
| Optical Drive | No |
| Weight | |
---
FAQ
Is it a good idea to buy HP HP Spectre x360 laptop?
HP HP Spectre x360 2-in-1 laptop can be a great investment for anyone looking for a versatile and portable computing device. The ability to switch between a laptop and a tablet mode makes these devices perfect for a wide range of uses, including taking notes in class, giving presentations, or watching movies on the go.
2-in-1 laptops tend to be lighter and more portable than traditional laptops, making them ideal for those who are frequently on the move. Additionally, many models now feature high-quality components that deliver powerful performance and speed, making them more than capable of handling everyday computing tasks.
While it is true that some 2-in-1 laptops can be more expensive than traditional laptops, the added versatility and functionality make them a worthwhile investment for many users. Plus, as technology continues to evolve, 2-in-1 laptops are becoming more affordable and feature-packed.
If you value versatility, portability, and convenience, a 2-in-1 laptop may be the perfect computing device for you. So why not consider investing in one today?
What are the benefits of 2 in 1 Laptop?
A 2-in-1 device is a laptop or tablet that can transform into a different form factor, such as a tablet or tent mode, through the use of a detachable keyboard or a 360-degree hinge. Here are some benefits of using a 2-in-1 device:
Versatility: The primary benefit of 2-in-1 devices is their versatility. They allow you to use a single device in multiple ways, depending on your needs. This is particularly useful for those who need both a laptop and a tablet for work or personal use, as it eliminates the need to carry multiple devices.
Portability: 2-in-1 devices are usually lightweight and slim, making them easy to carry around. This is especially beneficial for those who are always on the go or need to work from different locations.
Productivity: The ability to switch between laptop and tablet modes allows for increased productivity. You can use the keyboard for typing and work-related tasks and switch to tablet mode for browsing the internet, taking notes, or presenting to colleagues.
Entertainment: 2-in-1 devices can also be great for entertainment purposes. You can watch movies or play games in tablet mode, and use the keyboard for a more immersive gaming experience.
Cost-effectiveness: Instead of buying a separate laptop and tablet, purchasing a 2-in-1 device can be more cost-effective in the long run.
Overall, 2-in-1 devices offer a flexible and convenient computing experience, making them a popular choice for both personal and professional use.
Where to buy cheap 2-in-1 laptops ?
Discover the versatility and affordability of 2-in-1 laptops at Student Computers! Our selection of cheap 2-in-1 laptops from top brands like HP, Dell, and Lenovo are perfect for anyone looking for a device that can easily switch between laptop and tablet mode. Whether you need a device for basic productivity tasks or more demanding workloads, we have a 2-in-1 laptop that will meet your needs and budget. So why wait? Visit us today and experience the convenience and flexibility of a 2-in-1 laptop!
---
Grading Explained