Laptop Lenovo Yoga Slim 7 13ACN5 13.3" WQXGA AMD Ryzen 7 5800U 8GB RAM 512GB SSD
Product SKU : EX008-068
Refurbished
Create. Play. Work. Educate. Entertain.
Smarter than ever
HD Webcam
8GB RAM/512GB SSD
Fast Delivery
---
---
Reasons to buy

Lenovo Yoga Slim 7

 laptop:
Elevate your computing experience with the Lenovo Yoga Slim 7 - 13.3" WQXGA Laptop, featuring AMD Ryzen 7 5800U, 8GB RAM, and a lightning-fast 512GB SSD! 💻🚀 Immerse yourself in sleek design and powerful performance for seamless multitasking. Unlock a new level of efficiency with this cutting-edge laptop.       
Refurbished

Create. Play. Work. Educate. Entertain.  

Smarter than ever  

HD Webcam  

8GB RAM/512GB SSD  

Fast Delivery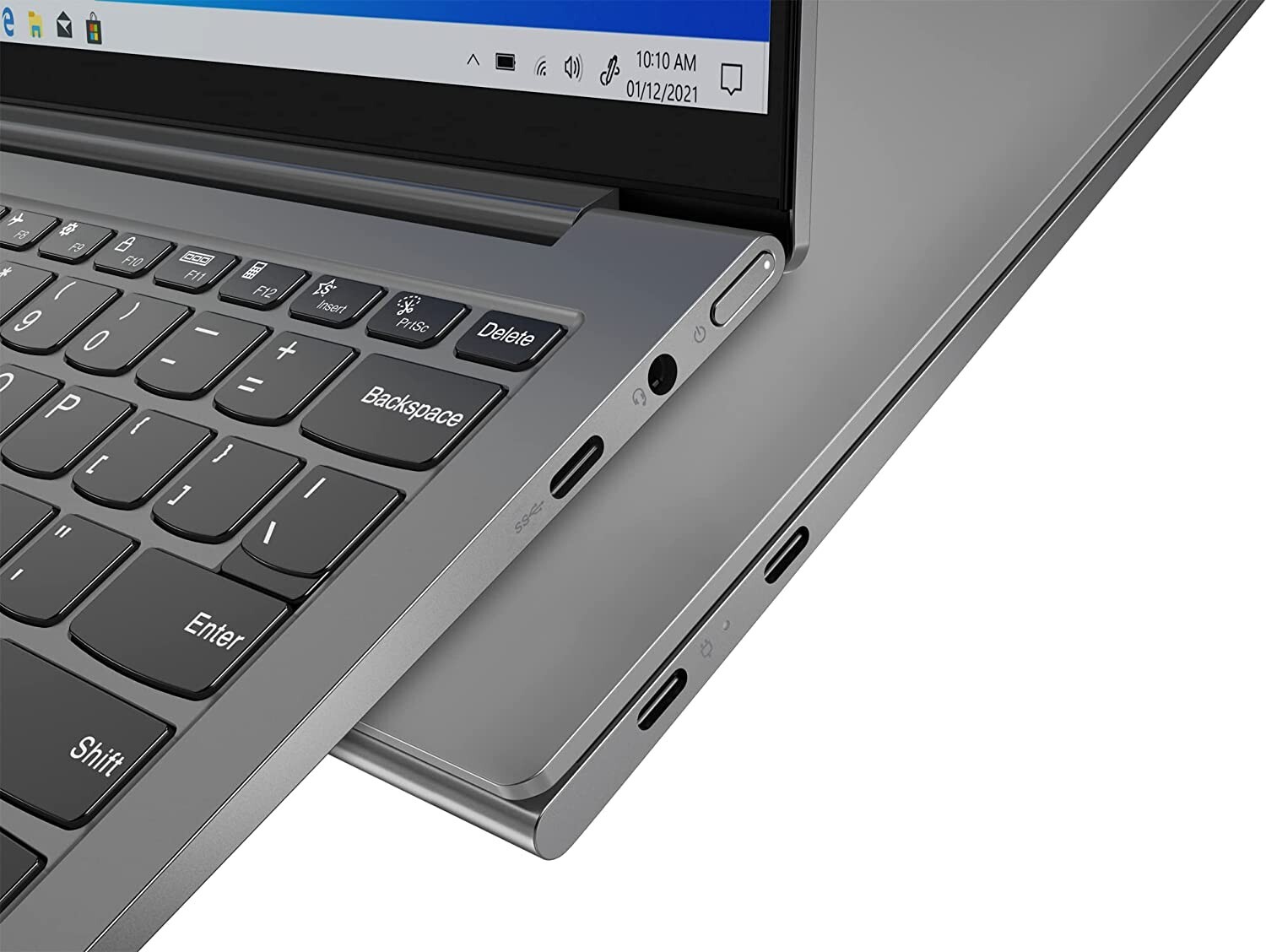 What's included:
Laptop Lenovo Yoga Slim 7 13ACN5 13.3" WQXGA AMD Ryzen 7 5800U 8GB RAM 512GB SSD
Power Cable
12 Months Warranty
Features-
Create. Play. Work. Educate. Entertain.
The possibilities are infinite. Be anywhere, go anywhere. AMD Ryzen™ 5000 Series Mobile Processors offer supreme performance, astonishing battery life, and modern features you need on-the-go. Experience the responsiveness of the most advanced laptop processor technology in the world with up to 8 ultra-fast cores.
Mobile entertainment
The Yoga Slim 7 Gen 5 laptop delivers incredible QHD visuals optimized with Dolby Vision™, AMD Radeon™ graphics, and 91% screen ratio. Combined with the powerful sound of Dolby Atmos®-optimized Harman Kardon® speakers, it's a mobile entertainment hub that will keep you engaged all day.
Smarter than ever
The Yoga Slim 7 Gen 5  laptop optimizes your time and effort with a range of AI-powered smart features. Get started faster than ever by simply opening your lid, combined with hands-free facial recognition login. Enjoy incredible battery life, thanks to Intelligent Cooling, which optimizes performance based on your needs.
An assistant that watches your back
Stay secure on the Yoga Slim 7 Gen 5 (13? AMD) laptop with attention sensors that issue a Privacy Alert when someone's shoulder- surfing, and automatically log you out when you leave, ensuring your work stays private. And in select markets, you'll also be able to speak to the digital assistant Alexa, now featuring an improved UI and expanded features.
Refurbished Lenovo laptop UK
Unlock exceptional value and reliability with a refurbished Lenovo Yoga Slim 7 from Student Computers! Our extensive range of renewed laptops, offers you the perfect blend of affordability and performance. Each machine undergoes a meticulous refurbishment process, ensuring it meets stringent quality standards. With this model, you'll enjoy a powerful AMD Ryzen 7 5800U processor, 8GB Soldered LPDDR4x-4266 MHz Non-Upgradable RAM (Memory) RAM, and speedy storage options. Whether you're a student, professional, or casual user, this product is designed to cater to your computing needs. Upgrade your productivity and save on costs by choosing this renewed model from Student Computers today!
Specifications:
| | |
| --- | --- |
| Brand | Lenovo |
| Grade | Very Good |
| Colour | Grey |
| Model | 13ACN5 |
| Type | Laptop |
| Warranty | 12 months |
| Operating system | Windows 11 Home |
| Storage capacity | 512 GB |
| Processor seed | 1.9GHz - 4.4GHz |
| Processor  | AMD Ryzen 7 5800U |
| Ram size | 8GB Soldered LPDDR4x-4266 MHz Non-Upgradable RAM (Memory) |
| Bluetooth | Yes |
| Screen Size | 13.3 Inch |
| Storage type | SSD |
| Graphic Processing type | Integrated |
| USB ports | USB-C, USB 3.2 |
| Connectivity | WI-FI, Bluetooth |
| Speakers | Yes |
| Webcam | Yes |
| Features | Bluetooth, Built-in Microphone, Built-in Webcam, Widescreen Display, Wi-Fi |
| Optical Drive | No |
| Weight | 2 |
---
FAQ
Is it a good idea to buy a Lenovo Yoga Slim 7 laptop?
Absolutely! Opting for a refurbished version can be a smart choice. Each refurbished model undergoes a rigorous refurbishment process, ensuring it meets high-quality standards and performs like new. With cost savings compared to buying brand new, you can enjoy all the features and capabilities of the Lenovo laptop at a more affordable price. Additionally they come with warranty coverage, providing added peace of mind. Don't miss out on the opportunity to own a reliable and powerful  Yoga Slim 7 laptop at a fraction of the cost. 
Do Lenovo laptop last?
Yes, refurbished laptop Lenovo can last a long time if they have been well-maintained. The lifespan of a renewed laptop is determined by a variety of factors, including the quality of the refurbishment process, the original condition of the device, and how well it is taken care of by the owner. When a laptop is refconditioned, any defective or worn-out parts are typically replaced with new ones, and the device is thoroughly tested to ensure that it is in good working order. This can give your laptop a new lease on life, and make it function just as well as a brand new device.
Best place to buy refurbished Lenovo laptop UK
If you're searching for unbeatable deals and bargains on reconditioned  Lenovo laptop, look no further than Student Computers. We offer a range of high-quality renewed notebooks at affordable prices, making it easy to find a device that suits your needs and budget. To help you find the best deals, we have a dedicated Laptops Under 200 category, which features a variety of laptops that are priced to sell. We also have a Laptops on Sale category, which features even more discounted products from top brands like Dell, HP, and Lenovo. Whether you're a student, a professional, or just looking for an affordable device for everyday use, we have  something that will fit your needs.
---
Grading Explained