ROCCAT KONE Pro Ergonomic Performance Gaming Mouse White
Product SKU : EX001-0106
Retail box
Wired
5 buttons
---
---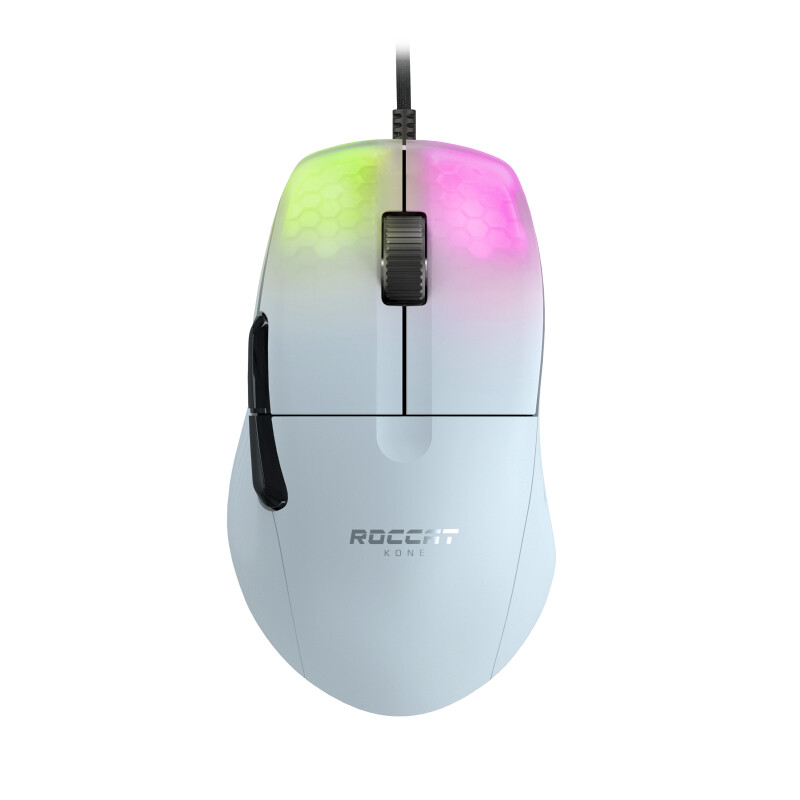 What's Included-
ROCCAT KONE Pro Ergonomic Performance Gaming Mouse White
12 Months Warranty
Features-
Meet the ROCCAT® Kone Pro Lightweight Optical Ergonomic Performance Gaming Mouse with RGB Lighting. Perfected through 14 years of craftmanship, at just 66g the Kone Pro is the most lightweight and advanced gaming mouse we've ever made. It utilizes the Titan Switch Optical, AIMO RGB lighting, a 19K DPI Owl-Eye Sensor, PhantomFlex™ Cable and superior heat-treated PTFE glides.
Perfect for any Grip Style
YOUR WAY TO PLAYThe Kone Pro Air's refined design and ergonomic shape means it comfortably supports any grip style.
PALM GRIP
Rest your entire hand on your mouse, with your index and middle finger laying flat on the main buttons and your thumb and pinky resting on either side. Your shoulder does the hard work here, allowing for large sweeping movements. Perfect if you like to play at a lower DPI on a large mousepad.
FINGERTIP GRIP
Fingertip grip is all about speed. The intention is to maintain minimal contact between your hand and the mouse, allowing for swift and agile movements. To achieve the perfect Fingertip grip, slightly arch your hand and rest only the tips of your fingers on the mouse, but not the palm.
CLAW GRIP
For a Claw grip, you rest your palm on your mouse and arch your index and middle fingers down so that you press the main buttons with your fingertips. This pose allows your fingers to move fast, enabling faster reactions that could provide a competitive advantage.
Made to Withstand the Test of Time
TITAN SWITCH OPTICAL
Providing a tactile and responsive click, with speed-of-light actuation for unprecedented speed and precision. It's faster than any mechanical switch and has twice the durability, giving you the competitive edge game after game. The familiar click feeling you know and love, engineered with speed-of-light optical actuation for unprecedented quickness and precision. It's faster than any mechanical switch and has twice the durability at a long-lasting 100 million clicks.
---
Grading Explained