Samsung Flip 2 WM65R 65 inch 4K e-Board Digital Interactive Display
Product SKU : EX0003-003
Draw, write & inspire new ideas - Pen mode notation
Creating a masterpiece - Brush mode notation
Write on any background - Annotation on
Fast Delivery
12 Months Warranty
---
---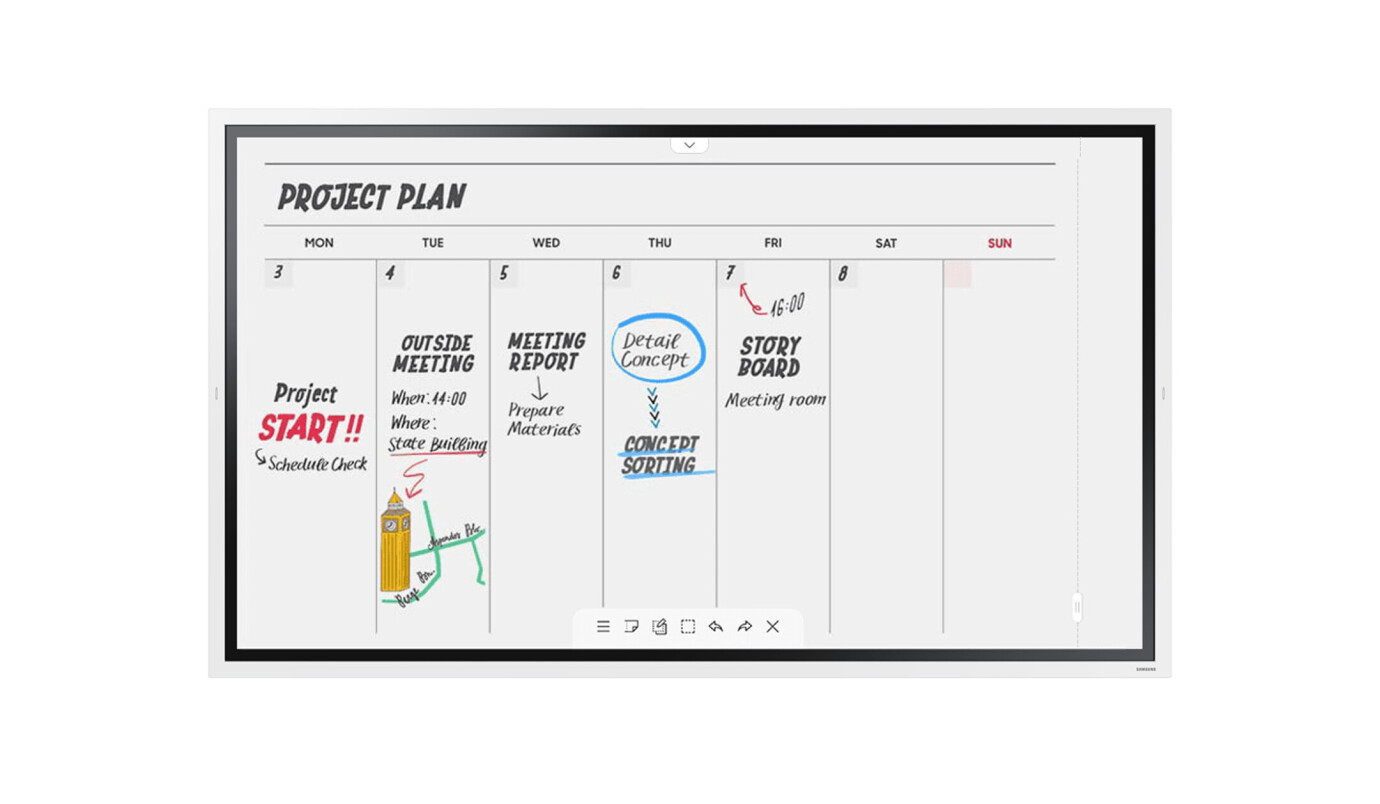 What's Included-
Samsung Flip 2 WM65R 65" 4K e-Board Digital Interactive Display

Power Cable

12 Months Warranty
Features-
Easy content navigation & protection - Scroll & Lock
Samsung Flip has up to 20 pages of writing space per roll, allowing users to seamlessly scroll through pages. In addition, the Flip ensures that confidential meeting information remains in the right hands. Its reinforced lock system allows users to safeguard sensitive content from view.
Multiple connection options - Versatile connection
Users are empowered by the Flip's versatile connection options. USB, HDMI, NFC and screen sharing capabilities enable optimum collaboration and provide interactive content visibility, notation and sharing. The Flip also offers an optional tray as a more powerful connectivity extension.
Synchronized screen viewing - Touch out
The touch out functionality allows users to sync their personal devices with the Samsung Flip, allowing real-time content sharing and control. Any changes made on the Flip display will be mirrored on the connected device, and vice versa, for efficient collaboration.
Connect from anywhere - Remote PC & Bluetooth support
The Samsung Flip allows users to connect their PC to the board remotely, meaning any meeting can be started without a PC to avoid delays and ensure efficiency. A Bluetooth keyboard, mouse and speaker can also be connected to the Flip, creating a convenient meeting environment.
Large audience sharing - Screen share
Users can project content on Samsung Flip to another large digital display in real time, using Wi-Fi network or HDMI out connection (Requires Pen Tray Purchase). Even connected to a personal device, the Flip display can be shared. This feature is ideal for large meeting environments, delivering information to bigger audiences.
Effortless meeting recap distribution - Easy sharing
Following any meeting, users can distribute recaps to all attendees and colleagues, removing the frustration traditionally associated with handwritten meeting notes. Important conversations and content are stored within the Flip in real-time, easily shareable across mobile and digital channels.
Precise visuals with powerful operation - UHD display & Tizen OS
Samsung Flip displays all content in clear UHD picture quality, regardless of the room, creating a compelling meeting environment. Backed by the powerful Tizen 5.0 operating system for a seamless user experience, embedded sensors automatically activate the display when the screen is knocked.
Convenient, optimized management - Advanced convenience
Samsung Flip offers a host of improved capabilities, including secure wireless connection, automatic firmware updates, LDAP synchronization, file security and remote management – ensuring a convenient and productive meeting experience.
Connectivity:
1 x Bluetooth

2 x HDMI In

1 x RJ45

1 x RS232C In

1 x Stereo Mini Jack

1 x USB

1 x Wireless Module
Key Features 
InGlass™ 4 Point Drawing Interactive Technology

65" Diagonal Screen

Ultra High Definition and Optimal Resolution (3840 x 2160 - 4K 2160p @ 60Hz)

16:9 Widescreen Aspect Ratio

4000:1 High Contrast Ratio

E-Board Powered by Quad-Core Tizen 5.0

Embedded Wi-Fi & Bluetooth

2 x 10 Watt Speakers
Connection Inputs: HDMI In x 1, USB x1

Connection Outputs: Touch Out x1, Audio Out x1

Control: Acceleration sensor, NFC, RS232C, LAN, WiFi, Bluetooth

Mounting Format: Portrait or Landscape (Sensor Detects Rotation)

Dimensions (W x H x D): 1,522.4 x 897.6 x 62.9 mm

Weight: 40 Kg

VESA Mounting Format: 400 x 400
---
Grading Explained