Samsung Galaxy Buds Live Wireless Earphones - Mystic Bronze
Product SKU : AS010-007
Refurbished
True wireless
Galaxy Buds Live
12 months warranty
Mystic bronze sleek design
Fast Delivery
---
---
Reasons to buy refurbished SAMSUNG Galaxy Buds Live in Ear :
Dive into a world of immersive sound with the Samsung Galaxy Buds Live Wireless Earphones in stunning Mystic Bronze! 🎶🔗 Experience true wireless freedom with a sleek and ergonomic design. Elevate your audio journey and make a style statement with these earbuds. 🌟 Unleash a new dimension of sound, wherever you go.       
Refurbished

True wireless  

Galaxy Buds Live  

12 months warranty  

Mystic bronze sleek design  

Fast Delivery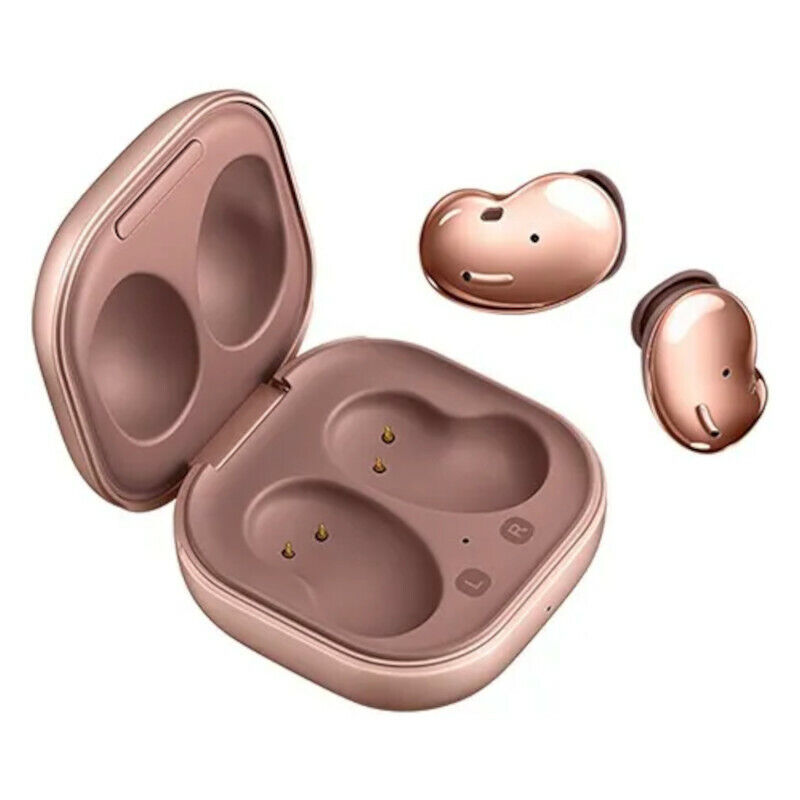 What's Included-
Samsung Galaxy Buds Live Wireless Earphones - Mystic Bronze

Power Cable

12 Months Warranty
Features-
Go Wireless and take your music anywhere

Quick Pairing

Best-in-class call quality

Bluetooth 5.0

Up to 6 hours playback per charge.

Compatible with Android and iOS
Made For Your Ears
Galaxy Buds Live's have an eye-catching design to stand out. Reflecting the curves of the ear and face for a natural look, polished off with a glossy finish. Softly fitting inside the ear for all day comfort. The ergonomic design is snug yet non-intrusive with two wing tip sizes for a better fit.
Active Noise Cancellation
Active Noise Cancellation for open type on Galaxy's earbuds keeps the noise out, but lets the world in.  The Noise cancelling technology lets you reduce background noises without missing what's important, like voices and announcements, letting you hear more of what you want to hear.
Grammy Award Winning Sound
Feel like you're in the front row, or part of something bigger. 12mm speakers with sound by Grammy-Award winning AKG work together with Galaxy Buds Live's ergonomic design to deliver spacious sound, while the large driver and bass duct help emit deep bass with air flow that lets sound flow seamlessly.
Noise Free Calls
Take noise-free calls that blow your mind. The best quality call for true wireless earbuds means you get less noise and a clearer voice on calls at home or out in the world. With three built-in microphones and the voice pickup unit, every word is crystal clear. The low protrusion design minimizes wind contact, while the sophisticated wind shield solution blocks the sound of wind during calls.
360 Audio
Experience 360 Audio so engaging, it shifts you into the middle of the scene. With Dolby Head Tracking™ technology, Galaxy Buds Pro place you into the centre of your favourite video, movie or TV show. The intelligent motion-tracking sensor pinpoints the direction of the sound as you move your head, enabling a powerful sense of realism in your listening experience. And with content in Dolby Atmos, hear every detail with greater clarity, and feel a deeper connection to the story.
One Touch Music
Galaxy Buds Live's Spotify integration lets you assign shortcuts on your phone. Touch and hold to instantly play your favourite playlists without opening your phone.
Listen All Day
Stay powered though the day with the Galaxy's Buds long lasting battery with up to 6 hours of non-stop listing and up to 21 hours with the case. Charge for 5 minutes to give you 1 Hour of listing time.
Never Lose Your Headphones Again
Tracking down your lost earbuds is simple. Just open the SmartThings app. Your buds will emit a beep so you can easily find them in your room. And with Offline finding, you can find the last location they were used, even if they're no longer connected to your phone.
---
FAQ
Is SAMSUNG Galaxy Buds Live in Ear worth it?
SAMSUNG Galaxy Buds Live in Ear is a game-changer in the world of audio! 🎧🔥 These in Ear are absolutely worth the investment, offering an unparalleled listening experience that will elevate your audio enjoyment to new heights. 💯✨ With their exceptional sound quality, comfortable fit, and cutting-edge features, in Ear are designed to deliver pure sonic bliss. Whether you're a music enthusiast, a gamer, or simply someone who appreciates immersive sound, these headphones will surpass your expectations.
Does SAMSUNG Galaxy Buds Live last long?
Rest assured, Galaxy Buds Live in Ear are built to last! With proper care and usage, they can provide you with hours of immersive audio enjoyment for years to come.

Remember, taking care of your headphones plays a crucial role in their longevity. Proper storage, regular cleaning, and handling them with care will help extend their lifespan. By following these simple practices, you can maximize the longevity of your beloved in Ear.
Cheap SAMSUNG Galaxy Buds Live in Ear UK
Discover incredible value with the wide selection of cheap refurbished in Ear available at Student Computers Store!  They offer an affordable alternative without compromising on quality or performance. Each pair has undergone a meticulous refurbishment process to ensure they meet strict standards and provide a reliable audio experience.
Upgrade your audio setup without breaking the bank by exploring the affordable refurbished in Ear options at Student Computers Store. You'll be pleasantly surprised by the quality and affordability that awaits you. Don't miss out on this fantastic opportunity to enjoy great sound at an unbeatable price. 🎶💰
---
Grading Explained