Samsung Galaxy Buds Pro True Wireless Earbuds-Phantom Silver
Product SKU : AR001-006
Refurbished
True wireless
iOS / Android compatible
Water / sweat resistant
Microphone / volume control
Fast Delivery
---
---
Reasons to buy refurbished Samsung Buds Pro True in Ear :
Dive into a world of immersive sound with the Samsung Galaxy Buds Pro True Wireless Earbuds in Phantom Silver! 🎶✨ Experience studio-quality audio, intelligent active noise cancellation, and a sleek, sophisticated design. Elevate your listening experience with these premium earbuds. 🌟🔊       
Refurbished

True wireless  

iOS / Android compatible  

Water / sweat resistant  

Microphone / volume control  

Fast Delivery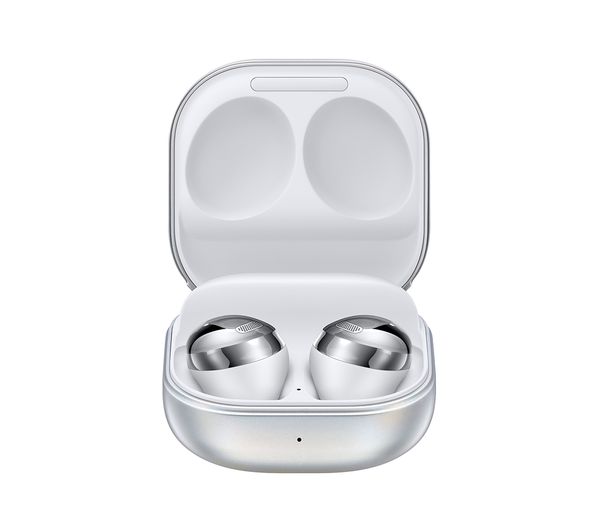 What's Included-
Samsung Galaxy Buds Pro True Wireless Earbuds-Phantom Silver

Power Cable

12 Months Warranty
Product Description:
Immersive sound

Experience the music you love in a whole new way with the Samsung Galaxy Buds Pro Wireless Bluetooth Noise-Cancelling Sports Earbuds.

Their 2-way dynamic speakers bring your music to life, with added bass and heightened audio clarity. That means that you won't miss a single word of your favourite tracks or podcasts.

Active noise-cancellation

With the Samsung Galaxy Buds Pro, you can listen out for traffic as you cross the road to your favourite coffee store– all without pausing the music. That's because they have active noise-cancellation with Ambient Mode, giving you control over how much surrounding noise you want to block out.

There's even a Voice Detect feature that automatically turns down the volume, so you can order your favourite coffee without taking the earbuds out.

Intelligent audio design

Featuring 3 built-in mics and Voice Pickup, the Samsung Galaxy Buds Pro block out surrounding noise while enhancing the sound of your voice. That means you won't have to shout over background noise while you're talking to friends or colleagues – you'll be heard loud and clear.

It's also easy to switch between different devices without needing to touch the earbuds. Simply pause the video you're watching on your tablet to answer a call from your phone.

Sweat and water resistant

Thanks to their sweat and water-resistant design, you can take your Samsung Galaxy Buds Pro with you on your morning run or trip to the gym. Plus, in the 5 minutes it takes you to get ready for your workout, you can charge the earbuds for a full 1 hour of playback.

All-day battery

With the charging case you'll have up to 18 hours of battery life, so you can listen to your favourite songs all day long. They're even compatible with wireless charging, so you can pop them on your QI wireless charging pad for an extra power boost.
---
FAQ
Is Samsung Buds Pro True in Ear worth it?
Samsung Buds Pro True in Ear is a game-changer in the world of audio! 🎧🔥 These in Ear are absolutely worth the investment, offering an unparalleled listening experience that will elevate your audio enjoyment to new heights. 💯✨ With their exceptional sound quality, comfortable fit, and cutting-edge features, in Ear are designed to deliver pure sonic bliss. Whether you're a music enthusiast, a gamer, or simply someone who appreciates immersive sound, these headphones will surpass your expectations.
Does Samsung Buds Pro True last long?
Rest assured, Buds Pro True in Ear are built to last! With proper care and usage, they can provide you with hours of immersive audio enjoyment for years to come.

Remember, taking care of your headphones plays a crucial role in their longevity. Proper storage, regular cleaning, and handling them with care will help extend their lifespan. By following these simple practices, you can maximize the longevity of your beloved in Ear.
Cheap Samsung Buds Pro True in Ear UK
Discover incredible value with the wide selection of cheap refurbished in Ear available at Student Computers Store!  They offer an affordable alternative without compromising on quality or performance. Each pair has undergone a meticulous refurbishment process to ensure they meet strict standards and provide a reliable audio experience.
Upgrade your audio setup without breaking the bank by exploring the affordable refurbished in Ear options at Student Computers Store. You'll be pleasantly surprised by the quality and affordability that awaits you. Don't miss out on this fantastic opportunity to enjoy great sound at an unbeatable price. 🎶💰
---
Grading Explained