Sony WI-C100 In-Ear Wireless Headphones Black
Product SKU : PO1011-588F
Refurbished
Bluetooth - Wireless
25 hour battery life
Water-resistant
NO Spare EarBud Tips
12 Months Warranty
---
---
Reasons to buy refurbished SONY WI-C100 Headphones :
Buy and enjoy high-quality audio and wireless convenience with the Sony WI C100 In-Ear Wireless Headphones. With a sleek black design and brown box packaging, these headphones are the perfect blend of style and performance. Stay connected on the go with Bluetooth connectivity and long hours of battery life. Order now for fast and free shipping.       
Refurbished

Bluetooth - Wireless  

25 hour battery life  

Water-resistant  

NO Spare EarBud Tips  

12 Months Warranty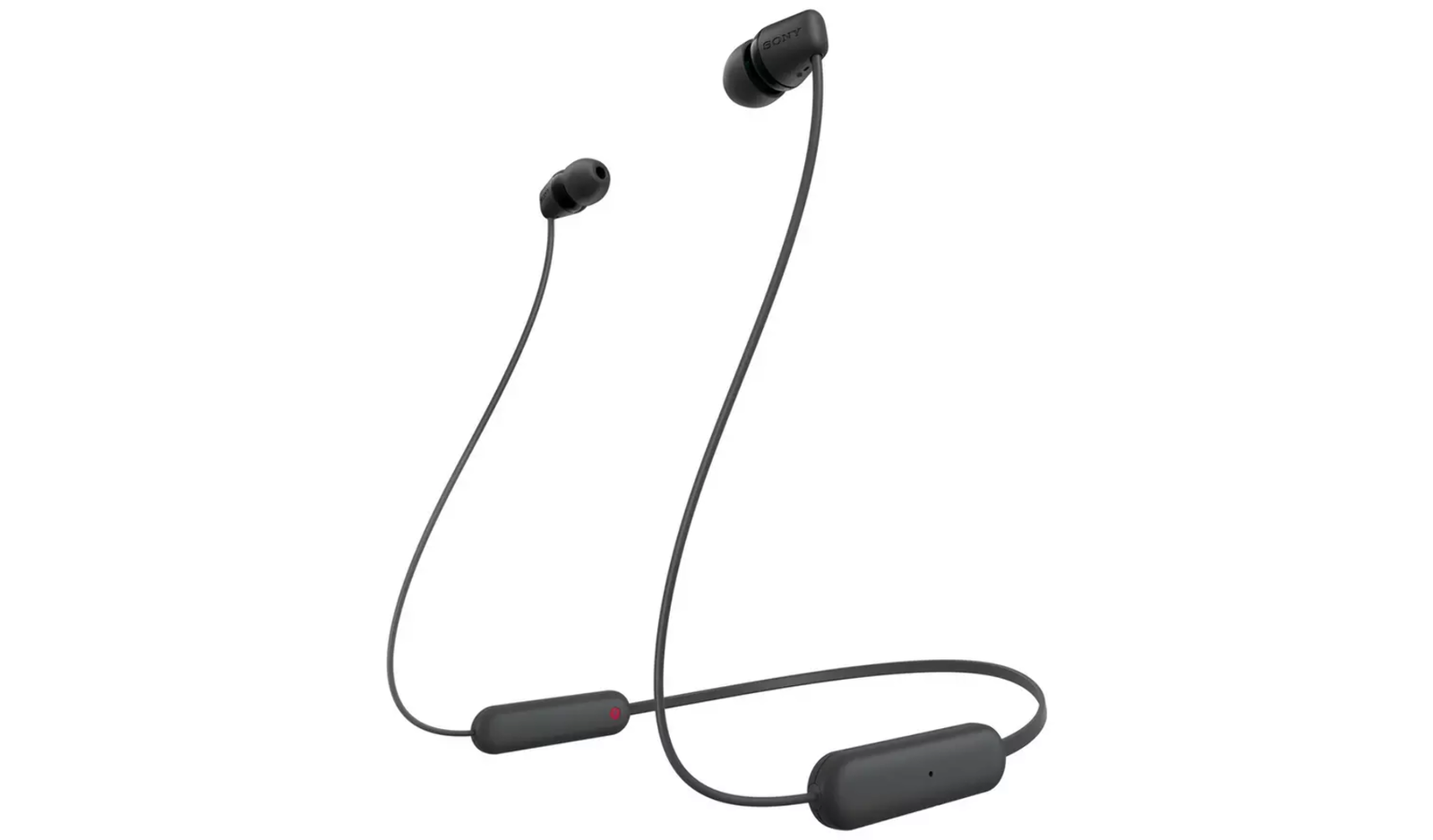 Whats Included- 
Sony WI C100 In-Ear Wireless Headphones - Black

12 Months Warranty
NO spare EarBud tips incuded
Features-
These Sony WI-C100 wireless in-ear headphones come with a long battery life of up to 25 hours, which is perfect for those who love to listen to music on the go. Additionally, a quick 10-minute charge can provide up to 60 minutes of playback, ensuring that you never run out of battery power.
The headphones are also water-resistant, making them suitable for use during workouts or in rainy weather conditions. They come with a built-in mic for phone calls, enabling you to take hands-free calls while you're on the move. Additionally, these headphones are compatible with voice assistants, allowing you to access your phone's voice assistant with just a touch of a button.
The sound quality of these in-ear headphones is well-balanced from low to high frequencies, making them suitable for any music genre. The vocals are natural and clear, giving you an immersive listening experience. You can also tailor the sound to your personal preference using the equalizer feature on the Sony | Connect App.
Overall, these Sony WI-C100 wireless in-ear headphones are a reliable and high-quality choice for those looking for comfortable and long-lasting headphones for everyday use.
Silicone ear pieces.

USB - C cord.

Connection: wireless.

Bluetooth enabled for a wireless connection to your devices .

Connects to devices via Bluetooth 5.0.

With a USB connection.

9mm driver.

In-line controls.

10m range.

Bass control.

Water-resistant.

IPX4 splashproof.

Compatible with universal smartphones.

Batteries required 2 x Li-Ion battery (included) .

Rechargeable battery.

25 hour battery life.

10 minute charging time.

Fast charge to boost battery life.

Model number: WIC100B. CE7.

EAN: 4548736133846.
---
FAQ
Is SONY WI-C100 Headphones worth it?
SONY WI-C100 Headphones is a game-changer in the world of audio! 🎧🔥 These Headphones are absolutely worth the investment, offering an unparalleled listening experience that will elevate your audio enjoyment to new heights. 💯✨ With their exceptional sound quality, comfortable fit, and cutting-edge features, Headphones are designed to deliver pure sonic bliss. Whether you're a music enthusiast, a gamer, or simply someone who appreciates immersive sound, these headphones will surpass your expectations.
Does SONY WI-C100 last long?
Rest assured, WI-C100 Headphones are built to last! With proper care and usage, they can provide you with hours of immersive audio enjoyment for years to come.

Remember, taking care of your headphones plays a crucial role in their longevity. Proper storage, regular cleaning, and handling them with care will help extend their lifespan. By following these simple practices, you can maximize the longevity of your beloved Headphones.
Cheap SONY WI-C100 Headphones UK
Discover incredible value with the wide selection of cheap refurbished Headphones available at Student Computers Store!  They offer an affordable alternative without compromising on quality or performance. Each pair has undergone a meticulous refurbishment process to ensure they meet strict standards and provide a reliable audio experience.
Upgrade your audio setup without breaking the bank by exploring the affordable refurbished Headphones options at Student Computers Store. You'll be pleasantly surprised by the quality and affordability that awaits you. Don't miss out on this fantastic opportunity to enjoy great sound at an unbeatable price. 🎶💰
---
Grading Explained