TURTLE BEACH Elite Pro 2 7.1 Gaming Headset with Elite SuperAmp Audio Controller - White
Product SKU : EX001-0037
Retail box
Bluetooth & jack
Advanced audio control unit
---
---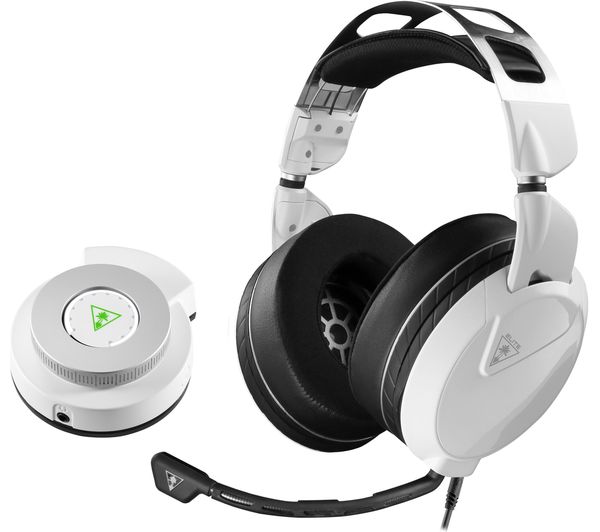 What's Included-
MANUAL, AUX CABLE, AUDIO AND POWER CABLE (MINI USB), ELITE SUPERAMP

Headphones

12 Months Warranty
Features-
Hear every sound

From the sound of enemies approaching in armoured vehicles to a sweeping orchestral soundtrack as you explore incredible landscapes, audio is crucial in bringing your favourite games to life. Designed for hardcore gamers, the Turtle Beach Elite Pro 2 Wireless 7.1 Gaming Headset puts you in the centre of the action, with DTS Headphone:X Surround Sound technology creating an engaging experience. With supreme 50 mm Nanoclear speakers, you'll hear the subtle sound of your opponents reloading as they try to sneak up, so you can pinpoint the direction they're approaching from.

As important as it is to hear every sound, it's crucial that your own voice is clear as you communicate with your team. The mic makes sure your commands are heard clearly, so your squad can fight as one.

Bluetooth connectivity

Adjust your audio settings without needing to mess around with software or in-line controls. Connect to the Turtle Beach Audio Hub app using Bluetooth connectivity and you'll be able to control everything you hear using the Elite SuperAmp. Personalise your settings with Dynamic Chat Boost and EQ Audio presets, stream your playlists and even take calls without having to interrupt the gaming action.

Comfortable design

We've all had those marathon gaming sessions where the hours just seem to fly by. Whether you're chilling at home or engaged in a professional tournament, it's important to be comfortable while gaming. The Elite Pro 2 Headset has memory foam ear cushions that are infused with cooling gel, so you can play your favourite titles without getting distracted by the headset.

Leather sidewalls provide passive noise-isolation to block out distracting background noises, while the ProSpecs Glasses Relief System helps those who wear glasses to enjoy a comfortable gaming experience. Plus, the 20-hour battery life means that you'll have plenty of charge even for the longest of gaming sessions.
TURTLE BEACH Elite Pro 2 7.1 Gaming Headset with Elite SuperAmp Audio Controller - White, Virtual surround sound, Connectivity: Bluetooth & jack, Compatible with Xbox One & Xbox Series X|S, Advanced audio control unit
---
Grading Explained