TURTLE BEACH Stealth 600x Gen 2 Wireless Gaming Headset - Black
Product SKU : EX001-0031
Retail box
Virtual surround sound
Controls on earcup
---
---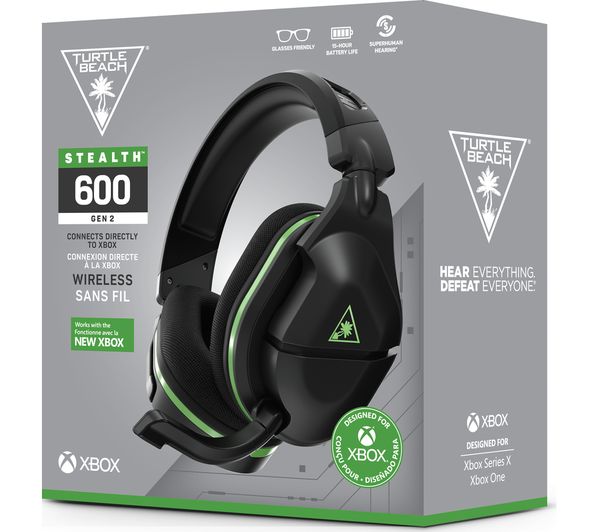 What's Included-
Headphones

Chargin cable  manual

12 Months Warranty
Features-
Wireless Xbox headset

Get engaged with your favourite Xbox games thanks to the Turtle Beach Stealth 600x Gen 2 Wireless Gaming Headset. It connects directly using Xbox Wireless, just as your controllers do, so there's no hassle with dongles or setting up.

Using Windows Sonic, the headset delivers immersive virtual surround sound. Pinpoint the location of your enemies or lose yourself in the action scenes of your favourite TV show.

Superhuman hearing

With the Stealth 600x's Superhuman Hearing sound setting, you'll be one step ahead of the competition as you'll clearly hear all the subtle yet vital sounds. Whether it's footsteps attempting to ambush your crew, enemy weapons being reloaded in the distance, or vehicles rumbling towards you, you'll hear every important sound for those game-changing decisions. 

Need to make sure your commands are heard? Switch on Vocal Boost to amplify your voice in the battlefield.

Flip-to-mute

The renewed larger, high-sensitivity mic picks up your voice clearly, so your teammates will hear all your commands. Thanks to Mic Monitoring, you can hear your own voice while speaking so you're aware of your own voice volume and you don't have to shout.

If you need to focus, simply flip the mic up to mute it - it integrates into the headset.

Audio Presets

With a touch of your finger, you can customise the way your game or movie sounds. Choose from 4 signature Turtle Beach presets to suit each of your games.
---
Grading Explained