Laptops with 16GB RAM: Your Gateway to Effortless Productivity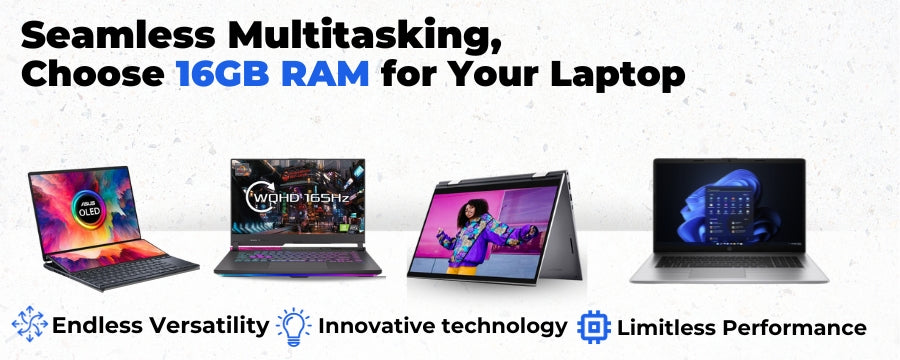 Popular searches
---
i7 processor
Refurbished
i5 processor
Laptops
AMD Ryzen
Laptops
Refurbished
Business laptops
Graphic design
Laptops
Refurbished
Gaming laptops
16GB RAM Laptops for sale
At the Student Computers Store, we offer an extensive range of laptops with 16GB RAM. Whether you're a student, a professional, or a casual user, these laptops provide a significant boost in performance and multitasking capabilities. With 16GB of RAM, you'll experience smoother operation, faster application loading times, and the ability to handle resource-intensive tasks with ease. From running demanding software to editing high-resolution multimedia content, these laptops deliver the power and efficiency you need. Discover our collection of 16GB RAM laptops at the Student Computers Store and unlock a world of enhanced productivity and seamless computing experiences.
Is 16GB RAM in a laptop good?
Yes, having 16GB of RAM in a laptop is considered very good and offers several advantages. With 16GB of RAM, you have ample memory to handle multiple tasks simultaneously without experiencing performance bottlenecks. It allows for smoother multitasking, faster application launches, and seamless switching between programs, making it ideal for demanding tasks such as video editing, graphic design, programming, and running virtual machines.
Will I notice a difference between 8GB and 16GB of RAM laptop?
Yes, you are likely to notice a difference between 8GB and 16GB of RAM, especially in certain scenarios. Here are some instances where the extra RAM can make a noticeable impact:
Multitasking: If you frequently work with multiple applications or browser tabs open simultaneously, having 16GB of RAM allows for smoother multitasking. It helps prevent slowdowns and delays when switching between programs, ensuring a more seamless user experience.

Resource-intensive tasks: Applications like video editing software, 3D rendering programs, and virtual machines can require a significant amount of memory to perform optimally. With 16GB of RAM, you'll have more headroom for running these resource-intensive tasks, resulting in improved performance and reduced rendering or processing times.

Future-proofing: As software and applications become more advanced and demanding over time, having 16GB of RAM provides a level of future-proofing. It ensures that your laptop can handle upcoming updates and new software releases without experiencing performance limitations.

Gaming: Many modern games are designed to take advantage of higher amounts of RAM. With 16GB of RAM, you can run games smoothly and avoid potential frame rate drops or stuttering caused by insufficient memory.
16GB RAM laptops cheap
At Student Computers, we offer a range of affordable 16GB RAM laptops that deliver impressive performance without breaking the bank. We understand the importance of providing budget-friendly options to our customers, and that's why we have a selection of refurbished laptops available at discounted prices. These laptops have been carefully restored to excellent working condition, ensuring reliability and quality while offering significant savings compared to brand new models. With 16GB of RAM, you'll have plenty of memory to handle demanding tasks and enjoy smooth multitasking. Whether you're a student, a professional, or simply looking for a cost-effective upgrade, our range of cheap 16GB RAM laptops at Student Computers is designed to meet your needs and provide excellent value for money.