Refurbished smartphones: the eco-friendly choice for savvy shoppers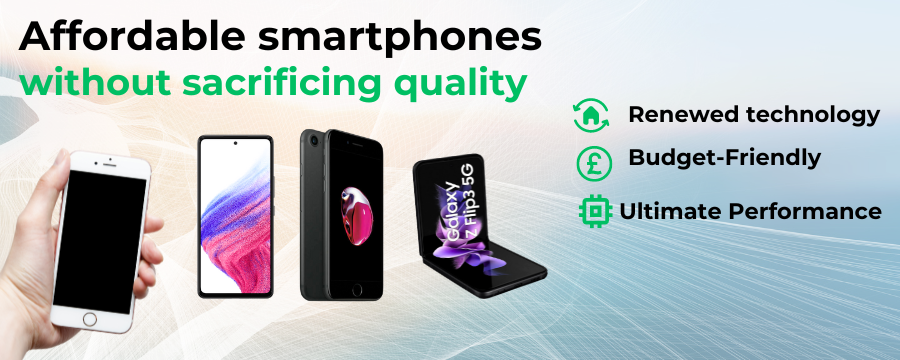 Popular searches
---
Refurbished samsung phones
Refurbished iPhones
Cheap refurbished phones
Refurbished mobile phones unlocked
Refurbished Smartphones
If you're looking for the best place to buy a refurbished smartphone, you've come to the right place! At our website, you can find the best deals on refurbished smartphones from all the major brands, including Apple, Samsung, Motorola, Nokia, Huawei and many more . We have a huge selection of refurbished smartphones, all of which have been thoroughly tested and inspected by our expert technicians to ensure that they're in perfect working order. Plus, all of our refurbished smartphones come with a one year warranty, so you can have peace of mind when you buy from us. So why wait? Get a great deal on a refurbished smartphone today and enjoy the latest technology at an unbeatable price.
How long do refurbished phone last?
The lifespan of a refurbished phone can vary depending on the conditions of the phone before it was refurbished, as well as how it is used and maintained over time. Generally, a refurbished phone can last just as long as a new phone if it is properly maintained. To maintain your refurbished phone, make sure to keep it clean, use it carefully, and keep it protected with a case. Additionally, be sure to keep your phone up to date with the latest software updates and check for any signs of damage.
Pros of buying refurbished phones
1. Cost Savings: Refurbished phones are much cheaper than new phones, allowing people to save money on their phone purchases.
2. Environmentally Friendly: By choosing a refurbished phone, you are helping to reduce electronic waste and protect the environment.
3. Quality Assurance: Refurbished phones  undergo rigorous testing and quality control processes, ensuring that they are in good condition and functioning properly.
4. Warranty: We offer 12 months warranty on all of our refurbished phones giving you peace of mind in the event of a malfunction.
5. Variety: Refurbished phones are available in a variety of models and brands, giving you plenty of options to choose from.
Interested in other refurbished electronics? 
Check our refurbished laptops or refurbished monitors range. Contact us if you need any help. Our friendly customer service would be happy to answer all questions you may have.