Powerful Phones, Pocket-Friendly Prices Under £100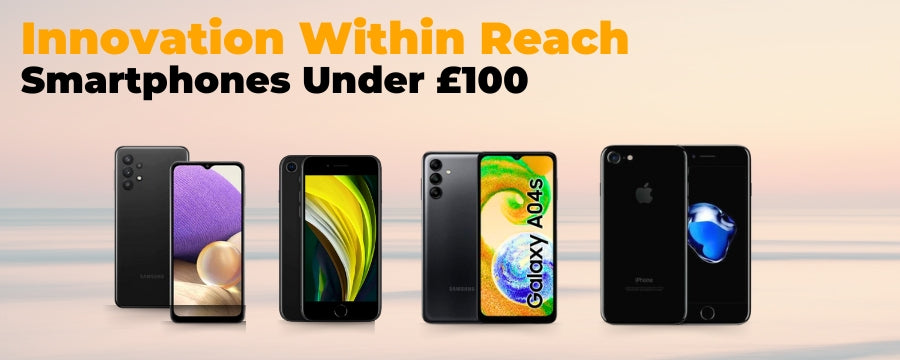 Popular searches
---
Smartphone
SALE
Cheap
5G phones
Samsung Galaxy
Refurbished
iPhones
Refurbished
Smartphones under £100
At Student Computers store, we offer a wide range of smartphones under £100, providing affordable options without compromising on functionality. These budget-friendly smartphones are perfect for those seeking reliable and feature-packed devices at a wallet-friendly price. Our selection includes brands known for their value and performance, ensuring you get the best bang for your buck. Whether you need a compact phone for everyday use, a device with a large display for media consumption, or a smartphone with decent camera capabilities, we have you covered. Our affordable smartphones combine sleek designs with impressive features such as ample storage, long-lasting batteries, and access to popular apps. Discover our collection of smartphones under £100 and enjoy a reliable and enjoyable mobile experience without breaking the bank.
Top Rated Smartphones under £100
While the availability and ratings of smartphones can vary over time, here are some top-rated smartphones under £100 that have received positive reviews from users:
Xiaomi Redmi 9A: The Redmi 9A offers a large display, long-lasting battery, and a decent camera for its price range. It has been praised for its performance and affordability.

Motorola Moto E7: The Moto E7 features a solid build quality, good battery life, and a capable camera system. It offers a near-stock Android experience and has received positive feedback for its overall performance.

Samsung Galaxy A02s: The Galaxy A02s combines a large display, good battery life, and expandable storage options. It is known for its reliable performance and user-friendly interface.

Nokia 2.4: The Nokia 2.4 offers a clean Android experience with regular software updates. It has a durable build, decent battery life, and reliable performance.

Realme C11: The Realme C11 features a large battery, dual-camera setup, and a stylish design. It has been praised for its smooth performance and affordability.
Best smartphones under £100 sim free
Most of our smartphones are SIM-free, allowing you the flexibility to choose your preferred network provider. With our selection, you can find devices from renowned brands that offer reliable performance, impressive features, and access to popular apps. However, we recommend checking the product descriptions for specific details and compatibility with your desired network. Whether you need a compact and stylish phone for everyday use or a device with a larger display for multimedia enjoyment, our store has you covered. Explore our collection of affordable SIM-free smartphones and find the perfect device that meets your needs and fits your budget.