STAY CONNECTED IN STYLE WITH REFURBISHED FROM APPLE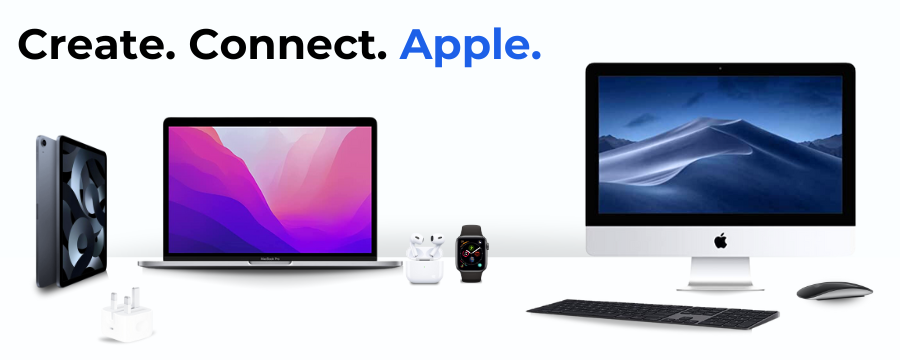 Popular searches
---
Refurbished Airpods
Refurbished iPhone
Renewed iPads
Apple accessories
Renewed iWatch
Renewed Apple deals
Refurbished apple products
Perfectly refurbished Apple electronics and gadgets . Excellent condition + 12 months warranty. Range of refurbished  MacBooks, iMacs, Airpods, iPads, apple watches and more.
Is it worth getting apple refurbished?
Yes, it is definitely worth getting Apple refurbished products. Refurbished Apple products are a great way to save money while still getting a quality product.  At our online store, we are proud to offer our customers a great selection of refurbished Apple. These items are thoroughly inspected, tested and brought back to their original condition, so you can be sure that you are getting a high-quality, reliable device. 
Pros of buying reconditioned Apple tech:
Significantly cheaper than buying new
Includes after purchase warranty services (vs simply buying second-hand)
Depreciation
Like any high-end products Apple electronics will depreciate as soon as you use it if purchased from new.  Although they're nowhere near as bad as other brands and hold their value for longer. Why buy them brand new and have that depreciation coming out of your pocket? Buy a refurbished apple electronic where that big drop has already happened, and you might even be lucky enough to sell your device on for the same price that you paid for it.
Why is refurbished apple so much cheaper?
Refurbished Apple products are up to 50% cheaper than brand new products since they are typically second-hand items. They are either returned items or products that have been repaired and reconditioned to the original specifications. This means that the product is still in great condition, but at a much lower cost than the original. Additionally, We offer a warranty for refurbished items, so buyers can have peace of mind that their product is still protected. 
Refurbished iPhones
Refurbished iPhones are a great option for those who want the benefits of owning an iPhone without paying the full retail price. These devices undergo a thorough inspection and refurbishing process to ensure that they meet the same high-quality standards as a brand new iPhone. Refurbished iPhones are typically less expensive than new ones, making them a popular choice for those who are on a budget. Not only are they more affordable, but they are also a sustainable choice, as they help reduce electronic waste by giving these devices a second life. So, if you're looking for a high-quality iPhone at a lower price point, a refurbished iPhone may be the perfect choice for you.
Refurbished airpods
We have a wide range of Refurbished AirPods. They are a cost-effective option for those who want the convenience of wireless earbuds without the full price tag. These devices have been professionally cleaned and inspected to ensure they meet the same standards as a new pair of AirPods. Refurbished AirPods are a great way to save money while still getting the high-quality sound and design of Apple products.
---
Looking for other refurbished products? Why not check refurbished gear for gamers? Check out refurbished  xbox controllers !