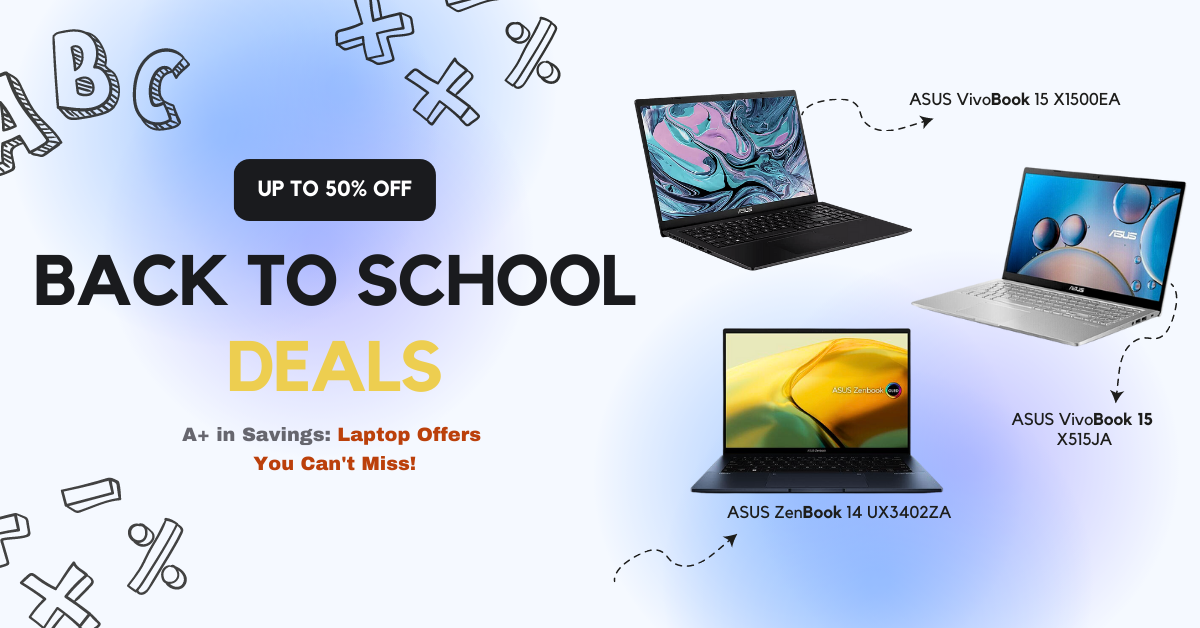 Popular searches
---
Best laptops
for students
Lightweight
Back to school laptops
Best laptops for students
under £200
Best laptops for students
under £500
Asus Vivobook
Refurbished laptops
Back to school laptop sales
Back to school laptop sales uk
Attention all students! 🎓📚 It's that time of the year again, and Student Computers Store has got you covered with amazing back-to-school laptop sales! 💻🎉 Whether you're heading off to college, starting a new semester, or simply need a reliable device for your studies, we have the perfect laptops at unbeatable prices. 🏢🛍️ From sleek and lightweight models for easy portability to powerful machines for demanding tasks, our wide selection ensures there's something for every student's needs. 🎯🔥 Don't miss out on these fantastic deals, as we understand the importance of budget-friendly options for all the bright minds out there. Visit Student Computers Store now and gear up for an exceptional academic year with top-notch technology!
Best laptop deals for back to school
At our store, we're excited to offer you top-quality laptops at unbeatable prices, and thanks to our refurbished range, we can afford to give you even more budget-friendly options.  Whether you're a student gearing up for a new semester or a parent looking to equip your child with the perfect study companion, we've got you covered. From sleek and compact designs to powerful machines that can handle any task, our diverse selection ensures there's a laptop to suit every need and preference. Don't miss out on these incredible deals that make high-quality technology accessible to all.
Asus student deals
Get ready to level up your academic journey with ASUS Student Deals for our Back-to-School Event! Whether you need a powerful laptop for intensive studies, a sleek 2-in-1 device for versatility, or a compact Chromebook for on-the-go learning, we've got you covered.  Enjoy exclusive discounts and special offers on a wide range of ASUS laptops tailored to suit your educational needs. From exceptional performance to long-lasting battery life, our laptops are designed to enhance your productivity and make learning more enjoyable. Don't miss this limited-time opportunity to grab the perfect study companion at incredible prices. Visit our store now and take your learning experience to the next level with ASUS Student Deals! 
Dell back to school sale
Discover amazing deals on a wide range of Dell laptops, perfect for all your study needs.  Enjoy exclusive discounts and special offers on Dell's top-rated laptops, equipped with the latest technology to enhance your productivity and creativity. Don't miss out on this fantastic opportunity to gear up for success at unbeatable prices. Head to our store now and make the most of Dell Back-to-School Sale! 
What month is the cheapest to buy a laptop?
The cheapest month to buy a laptop, especially for back-to-school shopping, is typically August. As the new school year approaches, many retailers offer special promotions and discounts on laptops to attract students and parents looking for affordable and high-quality devices. These back-to-school sales events often start in late July or early August and can continue throughout the month.
When will back to school sales start 2023?
Back-to-school sales at Student Computers are set to kick off in the end of July 2023! 🎓🏢 Get ready to score fantastic deals on laptops, tech essentials, and more, as the new school year approaches. Whether you're a student preparing for college or a parent seeking the best deals for your child's academic needs, our store is geared up to offer unbeatable promotions and discounts. Don't miss out on this exciting opportunity to equip yourself with top-notch technology at budget-friendly prices. 🎒💻
Lightweight Back to school laptops
We've got a fantastic range of back to school lightweight laptops that are perfect for hustling between classes, study sessions, and that cozy corner in the coffee shop where inspiration strikes. These laptops are designed to slip easily into your backpack without adding extra bulk. Whether you're into sleek Ultrabooks or versatile 2-in-1s, we've got the options that'll make your academic journey a breeze. Don't let heavy laptops slow you down – swing by our store and explore the lightweight wonders waiting to become your ultimate study buddies! 🎒💻
Best budget laptops for students
If you're a student on a budget, we've got your back! Introducing our handpicked selection of the best budget laptops under £200 that won't break the bank. These affordable laptops pack a punch, offering a solid balance between performance and cost-effectiveness. Whether you're taking notes, browsing the web, or collaborating on projects, these laptops are up for the task. Don't compromise on quality while saving money – explore our range and find the perfect companion for your academic journey. With these budget-friendly options, you can conquer your studies without emptying your wallet. 🎓💻
Need something more than just a laptop? Check out our back to school tech range!