Refurbished Earbuds: The Sound of Savings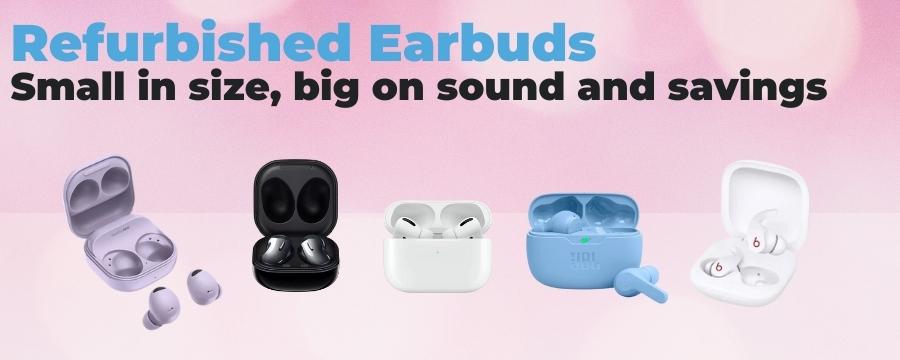 Popular searches
---
Renewed
Airpods
Second hand
BEATS
Best price
Headphones
Gaming Headphones
Deals
Gifts for
Music lovers
Earbuds and Earphones
Buy earbuds and earphones from popular brands and models at Student Computers Store. Experience the unbeatable sound quality and comfort of brands like Apple, Samsung, Sony, and Bose. Immerse yourself in music with the Sony WF-1000XM4 noise-canceling earbuds, or stay connected seamlessly with the Apple AirPods Pro. Whether you're studying, working, or simply enjoying your favorite tunes, our collection has something for everyone. Explore the world of immersive audio at the Student Computer Store, where sound meets style and functionality for all.
What is difference between earbuds and earphones?
The primary difference is in the fit and design. Earphones are worn inside the ear canal, providing better noise isolation and a more immersive sound experience. Earbuds rest on the outer ear, offering less noise isolation and a different wearing experience.
Earbuds and Earphones sale
Thanks to our refurbished earbuds and earphones range, we're able to offer you exceptional quality at remarkably affordable prices. These refurbished options not only provide cost savings but also undergo thorough testing to ensure they meet our high standards. We're committed to making premium audio accessible to everyone. Plus, we frequently run special sales on our refurbished collection, allowing you to enjoy even greater discounts on top-notch sound technology. Experience the joy of high-quality audio without the high price tag – that's the promise of our refurbished range and regular sales events.