Play Harder, Better, and Stronger with Our Gaming Setup Products!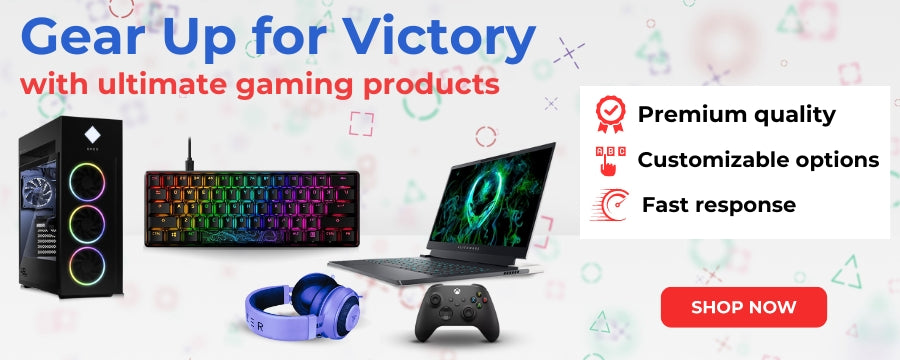 Popular searches
---
Refurbished
Gaming Laptops
Gamepads
Affordable gaming headset
Gaming PC tower
Gaming peripherals
Gaming controllers sale
GAMING GEAR
Level up and enjoy ultra immersive gaming experiences at our Student Computers store. We specialize in the supply of the new and refurbished gear for gamers. Whether you are a PC or Console Gamer we stock products from all your favorite brands, including Razer, MSI, Xbox, ASUS, playstation, Nintendo and more.

We sell refurbished gaming gear. Choose from consoles, gaming laptops, gaming desktops, gaming controllers and more.
What do I need for gaming setup?
A gaming setup is something that can vary greatly from person to person depending on the type of games they like to play, the type of graphics they want to see, and their budget. Generally, there are a few things that all gamers need for a great gaming experience. The first would be gaming PC. This can range from a low-end budget PC to a high-end gaming rig depending on the type of games you plan to play and the graphics you want to see. You'll also need a quality monitor or TV with a good resolution so you can enjoy the optimal gaming experience. You'll also want a gaming mouse and keyboard. These can range in price depending on the model, but they should be comfortable to use and have programmable buttons so you can customize your gaming experience. A good gaming headset is also essential for gaming, as you'll want to be able to hear all the important details in your game. If you're serious about gaming, you'll also want to invest in a quality gaming chair. This will help you stay comfortable for long gaming sessions and minimize the risk of injuries. Finally, if you're playing online, you'll need a good internet connection to ensure a smooth gaming experience.
What is the price of full gaming setup?
The average gaming setup can cost anywhere from around £500 to £1,500, depending on the type of gaming system you are looking for. If you are looking for an entry-level setup, you can expect to spend around £500 for a budget gaming PC, monitor, and headset. This setup would be suitable for casual gaming and playing some of the more popular games like Fortnite, Apex Legends, and Call of Duty. If you are looking for something a bit more powerful, you can expect to spend around £1,000 to £1,500 for a mid-level gaming PC, monitor, gaming keyboard, gaming mouse, and headset. This type of setup is suitable for more serious gamers that want to play the latest titles on higher settings. You can also expect to spend on peripherals like controllers, additional monitors, and gaming chairs. All in all, the total cost of an average gaming setup can range from around £500 to £1,500 depending on what type of system you are looking for. However with refurbished gaming range from our Student Computers Store, you can cut off the price up to 50%.
REFURBISHED GAMING 
At our Student Computers store we sell electronics that are either brand new or refurbished to the highest standard of quality. Any product you buy from us will work like it is brand new, but with varying levels of cosmetic wear and tear. And to keep you aware of the quality of the product before you decide to buy, we grade our products on to make your choice more simple. The grade of the product can be found at the top of the product description.
Cheap gaming gear
The cheapest gaming website for all your gaming needs is our Student Computers online store! We offer unbeatable prices on all the latest gaming consoles, games, and accessories. Our expansive selection of products ensures that you can find everything you need for your gaming setup. Our prices are hard to beat, and we offer fast and free shipping. Plus, our user-friendly website makes it easy to find exactly what you're looking for. With our secure checkout system, you can be sure that your purchases are safe and secure.  So if you're looking for the cheapest gaming website around, check out our online store today!