Business Laptops: The Powerhouse Behind Your Success. Shop Now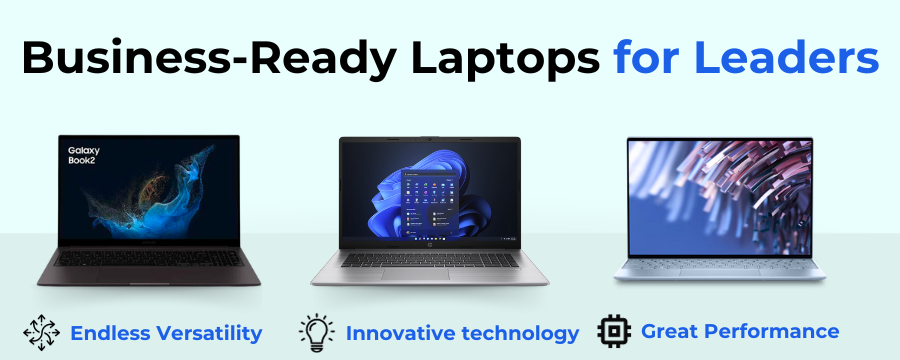 Popular searches
---
Dell Refurbished
Laptops uk
HP Refurbished
Laptops uk
Refurbished laptops
17 inch screen
Refurbished laptop
with touchscreen
Laptops
Under 100
Laptops
Under 200
Refurbished Business Laptops
Refurbished Business laptops
Cheap Business laptops for sale at our Student Computers store. A variety of design, memory, and features to suit your best. From brands including Lenovo, Acer, Dell, HP and many more. You could pay for them monthly by choosing Klarna payment at checkout.
Which laptops are good for business?
When it comes to selecting a business laptop, the vast number of choices can be enormous. Before you buy a laptop, it's important to review specifications such as battery life, hard drive space, screen resolution and size, RAM, and processor speed. With clear requirements in mind, businesses can select the best laptop for every user, workload, and application. Corporate laptops tend to be more expensive than a consumer models. However, for the extra cost, you receive a higher-quality product with additional built-in components that can last for years. At Student Computers you can buy reconditioned business laptops for up to 50% lower prices.
For which Business laptops features should I look at?
With people working from home more than ever before, having a good laptop is crucial for any business. There are many new features in laptops which can improve the functionality and efficiency of any workspace.
Biometric systems for improved security.  The most common examples of this are fingerprint readers and facial recognition. This added security can be crucial for workers who may have confidential information on their laptops or prefer to work in public.
Touchscreens and foldable laptops.  These new laptops are a hybrid between computer and tablet. This hybrid combines the keyboard and trackpad of a conventional laptop with the touchscreen and writing capabilities of a tablet. More and more workers are switching to touch screens with stylus pens to take notes in a way that is like writing with a pen and paper. This feature also works for workers who need to draw graphs or do some graphic design.
Connectivity
Some laptop brands have sacrificed ports and connectors to make them ultra portable and super-light, which means their owners may need to cart around a selection of different docks and dongles to enable a laptop to connect to other devices, monitors, and the internet. So, for fast and reliable in-built wireless connectivity, it is best to ensure a laptop has both Bluetooth 5.1 and Wi-Fi 6, the latest standard for low latency and ultra fast connections.
When working remotely away from Wi-Fi or on a slow public connection, it is necessary to have built-in LTE so the device can access 4G or lightning-fast 5G mobile broadband. This is very important these days when the Wi-Fi connection drops out at home, or when working remotely or on the move.
Good business laptops shall have usb ports and new generation Thunderbolt 4 port, which is the future of connectivity. Not only does Thunderbolt 4 free up ports by delivering fast transfer speeds, charging and video output over a single connection, but it can upgrade the overall setup and clean up a desk riddled with cables.
Refurbished Business Laptops UK
Our laptops are refurbished to the highest standard that they can be which means that despite being previously used, they work just as good as a new laptop. But it also means that you'll get a fully functioning and high-quality laptop at a much nicer price. Please check our grading guide to get know about our quality scale.