Discover Excellence, Buy an i7 Laptop Today!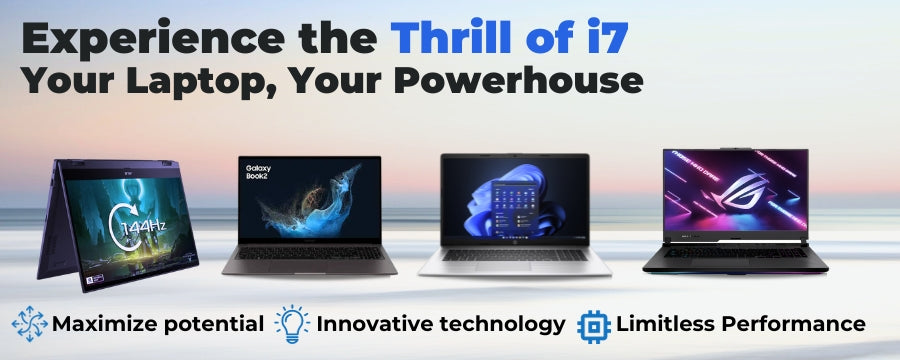 Popular searches
---
16GB Ram
Laptop cheap
Laptop Intel
Core i5
Gaming
Laptops
Renewed
Asus Laptops
HP
Laptops
i5 vs i7
Laptop
Best i7 laptop uk
Looking for a laptop that can handle the most demanding tasks? Look no further than Student Computers Store, where we offer a wide range of laptops with Intel Core i7 processors.
Whether you're a student looking to tackle complex projects, a professional needing a powerful work laptop, or a gamer seeking top-notch performance, our i7 laptops have you covered. With faster speeds, more cores, and advanced features like hyper-threading, an i7 processor can help you get more done in less time.
At Student Computers Store, we don't just sell to students – our i7 laptops are perfect for anyone who needs a high-performance machine. And with our competitive prices and flexible financing options, it's easier than ever to upgrade to an i7 laptop.
Is an i7 processor good for a laptop?
Yes, an i7 processor is a very good processor for a laptop. It is a high-performance processor that can handle demanding tasks like video editing, 3D modeling, gaming, and more. The specific performance of an i7 processor can vary depending on the model and other hardware components in the laptop, but in general, it is a top-of-the-line processor that is well-suited for power users.
If you're someone who needs a lot of processing power, an i7 processor is a great choice. However, it's important to note that laptops with i7 processors tend to be more expensive than those with lower-end processors.  If you don't need the extra power, you may be able to save some money by going for → i5 processor or i3 processor instead.
The choice between an i7 processor and another processor depends on your specific needs and budget. If you need a laptop that can handle the most demanding tasks, an i7 processor is definitely worth considering.
How many years an i7 laptop last?
The lifespan of an i7 laptop can vary depending on several things like the quality of the laptop, usage, and technological advancements. A well-maintained i7 laptop can last for about 5-7 years or more before it starts to show signs of aging or becomes outdated.
Proper maintenance and care can help extend the lifespan of an i7 laptop. This includes regular cleaning, keeping the laptop cool, updating the software, and replacing the battery when necessary. Upgrading the RAM or storage can also help improve the performance of an older laptop and extend its lifespan.

i7 laptop deals
Here, at Student Computers, We have a  great selection of i7 laptops on sale now. Our i7 laptops are sure to meet your needs. And with our unbeatable deals and flexible financing options, it's never been easier to upgrade to an i7 laptop.
Don't miss out on these amazing deals – visit Student Computers Store today and discover the power of an i7 laptop. Our friendly and knowledgeable staff can help you find the perfect laptop for your needs, and our competitive prices mean you won't have to break the bank to get the performance you need.
Still not sure which processor to choose? Read our blogs: