Buy and Unleash Your Potential with Intel Core i5 Laptops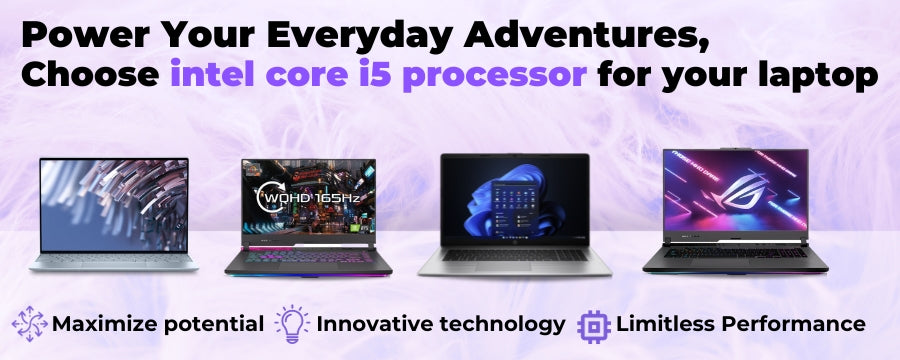 Popular searches
---
14 inch screen
Laptops
16GB RAM
Laptops
Touch screen laptop
Low price
Everyday
Laptops
Refurbished
Asus laptops
Core i3
Laptop
Intel core i5 laptops
At Student Computers Store, we have a great selection of laptops with the Intel Core i5 processor. These laptops are ideal for professionals, business people, and anybody else that expects their computer to operate quickly and efficiently.

The Intel Core i5 processor is strong and capable of handling multiple tasks at once. It makes them perfect for multitasking, video editing, gaming, and other demanding applications. To ensure that you get the most out of your computer, our assortment of Intel Core i5 laptops is equipped with the most recent features and innovations.
Is an Intel Core i5 good for a laptop?
Yes, an Intel Core i5 is  considered a good processor for a laptop. It is a mid-range processor that provides good performance and can handle most everyday tasks such as web browsing, video streaming, and light productivity work. The exact performance of an Intel Core i5 processor can vary depending on the specific model and other hardware components in the laptop, but in general, it should be sufficient for most users. If you have specific needs such as gaming, video editing, or heavy multitasking, you may want to consider a more powerful processor like an Intel Core i7 or i9.
What is the difference between Intel Core i5 and i7?
The main differences between Intel Core i5 and i7 processors are their performance levels, number of cores, and clock speeds. Intel Core i7 processors are more powerful than i5 processors, but they also come with a higher price. Ifyou're looking for a laptop with high performance and the ability to handle demanding tasks, an Intel Core i7 processor is likely the better choice. However, if you're on a budget or just need a laptop for basic tasks like web browsing and word processing, an i5 processor may be sufficient.
Looking for something more powerful than an i5 laptop? Explore our i7 laptops category for high-performance options
Still not decide which one to choose? read our blog:
i5 laptop deals
At Student Computers Store, we recognize how critical it is to have a high-performance laptop at a reasonable cost. Because of this, we provide our Intel Core i5 laptops at affordable costs without sacrificing quality. When you shop with us, you can take advantage of first-rate customer service and a variety of flexible payment choices.

Visit our store today to explore our range of Intel Core i5 laptops and find the perfect device to meet your needs. Our team of experts is always available to help you choose the best laptop for your requirements.