ASUS Refurbished Laptops: Quality You Can Trust, Prices You'll Love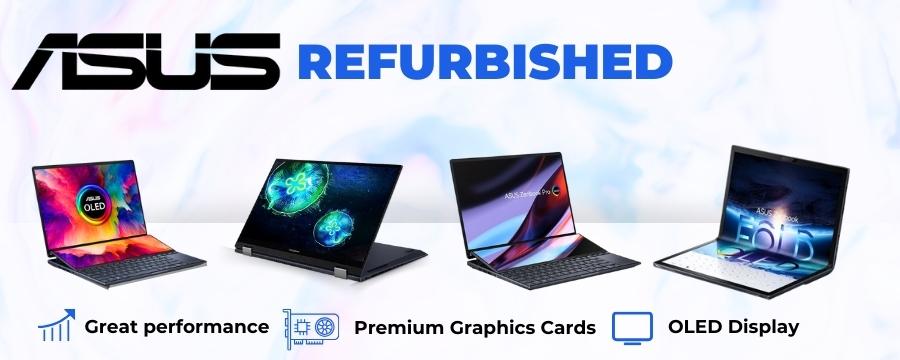 Popular searches
---
Lenovo
Refurbished
DELL
Refurbished
Apple
Refurbished
Refurbished
Laptops
HP
Refurbished
Refurbished
Gaming laptops
Refurbished Asus laptops for sale
Check out the refurbished ASUS laptops available at Student Computers. Our selection of refurbished ASUS laptops includes models like the ASUS VivoBook and ZenBook, all of which have been restored to their original condition by our team of experts. Each refurbished laptop comes with a warranty to provide you with peace of mind, and our fast and secure shipping ensures that you'll receive your laptop quickly and in excellent condition.
Is it good to use a refurbished laptops?
Yes, using a refurbished laptop can be a great way to save money while still getting a high-quality device. Refurbished laptops are restored to their original condition and thoroughly tested before being sold, which can provide a level of assurance that the device will function properly.
Is Asus a good make of laptop?
Yes, Asus is generally considered to be a good make of laptop, known for its high-quality hardware, innovative design, and competitive pricing. Asus laptops are known for their powerful processors, excellent graphics, and reliable performance. Additionally, Asus offers a wide range of laptops to suit various needs and budgets, from gaming laptops to ultra-thin and light models. Overall, Asus is a well-respected brand in the laptop market and a popular choice among consumers.
How many years does an Asus laptop last?
The lifespan of an Asus laptop can vary depending on several factors, such as the model, usage patterns, and how well the device is maintained. Generally speaking, with proper care and maintenance, an Asus laptop can last for several years. The typical lifespan of an Asus laptop is around 3-5 years, but this can vary widely depending on the specific model and how it is used. Factors such as software upgrades and hardware upgrades can also impact the lifespan of an Asus laptop.
Asus refurbished uk
Student Computers store offers a range of refurbished Asus laptops in the UK. By purchasing a refurbished Asus laptop from Student Computers, customers can get a high-quality device at a lower cost than buying new. Additionally, all refurbished Asus laptops come with a warranty for added peace of mind. With a variety of models available, including gaming laptops and ultra-portable options, there's an Asus laptop to suit every need and budget at Student Computers.