Electronics Extravaganza: Unbeatable Deals Await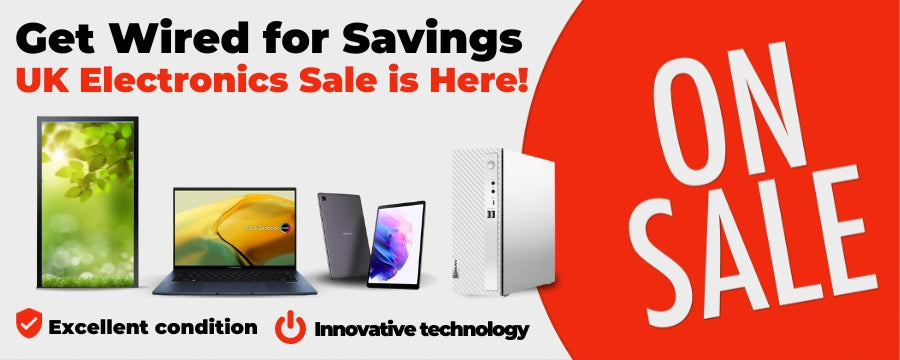 Popular searches
---
Refurbished Laptop
Sale
Refurbished
from Apple deals
Cheap
tablet deals
Refurbished
Smartphone offers
Refurbished
Gamepads sale
Back to school
Sale
Electronics Discounts
Student Computers is your one-stop-shop for all things tech-related, refurbished and new. We're constantly offering amazing electronics discounts to make our products even more affordable. Whether you're a student on a tight budget, or just looking for an electronic offer, we've got you covered.
Throughout the year, we run a variety of sales events like payday deals, valentine deals, summer sale, and more. These events are the perfect time to grab the latest gadgets and accessories at discounted prices. But that's not all - we also have dedicated pages for Black Friday, Christmas deals, Boxing day deals, Easter offers and January sale, where you can find even more amazing offers.
Our deals cover a wide range of products, from laptops and desktops to tablets and smartphones, as well as a variety of accessories such as headphones, printers, and more. No matter what you're looking for, you're sure to find a deal that suits your needs and your budget.
Electronics sale UK
Discover the hottest deals on a wide range of electronics as we constantly update our collections every week. From laptops and smartphones to gaming consoles and accessories, our inventory is brimming with top-notch gadgets that are in high demand. Act fast because these incredible deals sell like lightning! Don't miss out on your chance to grab the latest tech at unbeatable prices.
Best deals on electronics
At Student Computers, we're committed to making the latest technology accessible to everyone, and our electronics sale UK is the perfect opportunity to score the best electronic deals. Don't miss out on our incredible deals on electronics and start saving on your next purchase today.  Head over to our site now and see what deals we have on offer.