Buy Gently Used, Like New Electronics - our top quality picks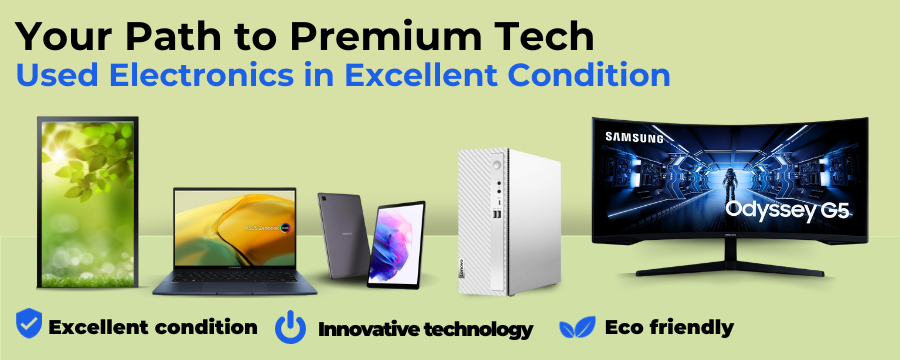 Popular searches
---
Used like new
Laptops
Used like new
Controllers
Used like new
Tablets
Used like new electronics
Used like new electronics for sale
Buy from our exceptional selection of like new electronics for sale. These products are in excellent condition, having been gently used before undergoing meticulous refurbishment by our skilled team. We take pride in bringing you electronics that look and perform like new, ensuring that each item meets the highest quality standards.  Shop with confidence, knowing that you're getting top-notch products that have been expertly restored to their pristine state. Choose from laptops, smartphones, tablets, monitors, tvs and many more. Upgrade your tech game without breaking the bank by exploring our like-new electronics today.
Explore our impressive range of used like-new laptops, featuring top brands that you know and trust.  Whether you're a professional seeking a powerful workstation from brands like Dell or HP, a student in need of a reliable MacBook for your studies, or a gamer looking for an affordable yet high-performance ASUS or Acer laptop, our collection has you covered. We take pride in offering premium laptops at a fraction of the cost, allowing you to enjoy the latest technology without compromising on quality. Don't miss out on the opportunity to own a like-new laptop from renowned brands – browse our selection today and experience the best in refurbished technology.
Dive into the world of gaming with our exceptional range of used like-new gaming controllers. We understand that precision and performance are essential for gamers, which is why our controllers have been gently used and then expertly refurbished to meet the demands of serious gaming. Whether you're a console enthusiast seeking a PlayStation, Xbox, or Nintendo controller, our collection includes popular brands like Sony, Microsoft, and Nintendo. Experience responsive gameplay, ergonomic design, and the reliability you expect, all at a fraction of the cost of a new controller. Elevate your gaming experience with our like-new controllers, perfect for both casual and competitive gamers. Don't miss out on the chance to level up your gaming setup – explore our selection and get ready to dominate the virtual battlefield.
Used like new smartphones
Our selection of used like new smartphones includes popular brands like Apple, Samsung, Google, and more, ensuring you have access to the latest technology and features. Whether you're upgrading your device, looking for a reliable backup phone, or simply seeking an eco-friendly alternative, our like-new smartphones are the ideal choice. Experience sleek design, powerful performance, and cutting-edge features while saving money and reducing electronic waste. Shop our collection today and step into the world of like-new smartphones that look and function as if they were straight out of the box.
Used like new tablets
Experience the best of both worlds with our inventory of used like-new tablets. These devices have been gently pre-owned and meticulously refurbished to offer you a premium tablet experience at an unbeatable value. Featuring leading brands such as Apple, Samsung, Microsoft, and more, our selection caters to a variety of preferences and needs. Whether you're a professional seeking a productivity boost, a student in pursuit of a versatile learning tool, or a content creator looking for a portable canvas, our like-new tablets provide exceptional performance and reliability. Make an eco-conscious choice and enjoy modern technology without the hefty price tag. Elevate your digital lifestyle by browsing our collection today and discover tablets that look and perform like they just came out of the box.