Refurbished iPods: Music on a Budget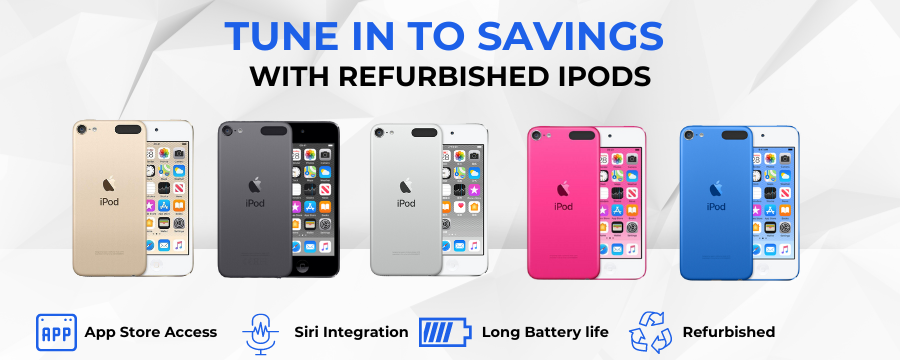 Popular searches
---
iPod Touch
7th gen
iPod Touch
6th gen
Refurbished
Airpods
Refurbished
iPhones
Refurbished
From Apple
Refurbished
iPads
Refurbished iPod deals
At Student Computers, we're thrilled to offer an array of fantastic deals on refurbished iPods that are sure to delight music enthusiasts and budget-conscious shoppers alike. Our refurbished iPods not only come at unbeatable prices but also boast the same high-quality performance and reliability you expect from Apple products. Whether you're a student looking to jam to your favorite tunes between classes or someone simply in search of a cost-effective way to enjoy your music library, our selection of refurbished iPods has something for everyone. Explore our range today to discover the perfect iPod deal that combines savings with top-notch audio experiences.
Refurbished iPod Touch
Looking for a budget-friendly way to stay connected, entertained, and organized? Look no further than our selection of refurbished iPod Touch devices at Student Computers! These sleek and reliable gadgets offer the perfect blend of music, apps, and productivity tools. With our rigorous refurbishment process, you can trust in the quality and performance of these devices, all while enjoying significant savings.
Beyond affordability, our refurbished iPod Touch models boast an array of impressive features. With a vivid Retina display, you'll enjoy crisp visuals whether you're watching your favorite videos, browsing the web, or playing games. These devices come equipped with Apple's Fusion chip, ensuring snappy performance and smooth multitasking, making them ideal for both entertainment and productivity. Capture memories on the go with the built-in camera, and stay connected with FaceTime calls and iMessage. And with access to the App Store, you'll have a world of apps and games at your fingertips.