Smart Choices, Savvy Savings: Discover the Brilliance of Refurbished TVs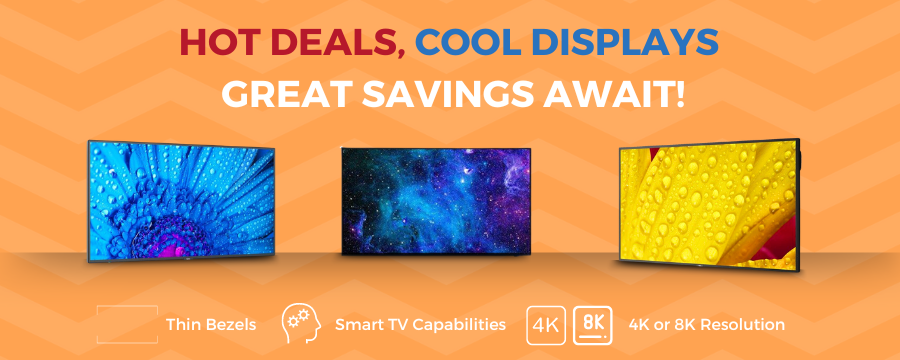 Popular searches
---
SAMSUNG
Refurbished TV
LG Refurbished TV
PHILIPS
Refurbished TV
NEC
Refurbished TV
Audio & TV Sale
All Refurbished TVs
Best deals on refurbished tvs
We have a nice amount of TVs for sale at STudent Computers store.
We sell best odels from well-known manufacturers like Samsung, LG,Sony and many more. Televisions are available in a range of sizes, from 24 inches to 85 inches, and are equipped with cutting-edge features like 4K Ultra HD and HDR. Streaming services like Netflix, Hulu, and Amazon Prime Video are also available on smart Televisions.
You can  find the ideal TV in our Student Computer store, whether you're searching for a budget-friendly model for a bedroom or a high-end model for your media room.
What
should
I
look
for
when
buying
a
tvs?
You should consider the size of the TV. The size of the TV depends on the size of the room it will be placed in. The bigger the room, the bigger the TV can be. You should also consider the resolution of the TV. The higher the resolution, the better the picture quality. Additionally, you should consider the features of the TV. For example, some TVs have voice command capabilities, while others have streaming services built in. You should consider the price of the TV. Different TVs can range in price depending on the brand, size, and features. Consider all of these factors before making your purchase.
What TV is the best?
When it comes to selecting the best TV for your needs, you have a tonne of fantastic choices. An OLED or QLED TV is the best option if you want a TV that provides the finest viewing experience.. OLED TVs provide the best picture quality, with deep blacks and vibrant colors, while QLED TVs offer excellent brightness and HDR support. If you're looking for a more affordable option, then an LED TV is a great choice. LED TVs are more affordable and still provide a great picture quality. No matter which type of TV you choose, you can be sure that you'll be getting a great viewing experience.
How long do tvs last?
If you take a proper care- tvs can last for a long time. Most TVs last around 10 years,  some can last up to 15 years or more. To maintain your TV, make sure to keep it in a cool, dry place and away from direct sunlight. Keep it clean with a soft, damp cloth and use a surge protector to protect it from power surges. To get the best performance out of your TV, use high-quality cables and mounts to ensure it's properly connected and secure. Make sure to regularly update the firmware and software on your TV to ensure it's running the latest version.
We provide affordable prices, quick shipping, and a hassle-free refund policy.
Additionally, our customer support staff is always on hand to assist you in finding the ideal TV for your house. So why not check out what we have to offer if you're looking for a new or reconditioned TV?