Get like-new tech for less with refurbished laptops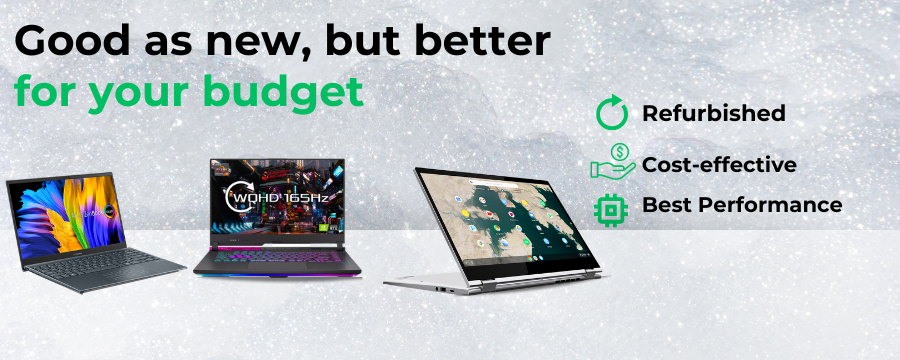 Popular searches
---
Refurbished
Dell laptops
Refurbished
Lenovo laptops
Refurbished
Asus laptops
Refurbished
Laptops under 500
Refurbished
Laptop deals
Refurbished
2 in 1 laptops
Refurbished Laptops for sale
We have a fantastic selection of refurbished laptops for sale. All our netbooks have been professionally reconditioned and tested to ensure that they are in perfect working condition. They come with a variety of features, such as Windows 10, a large hard drive, and high-speed processors. We have laptops of all sizes, from 11" ultrabooks to 17" gaming laptops. And our prices are unbeatable - you won't find a better deal anywhere else! Plus, all our laptops come with a warranty, so you can buy with confidence. Our netbooks come in all shapes and sizes, from large notebooks with 15-inch or larger screens to ultra-portable models with 11-inch or smaller displays. The size of the laptop's screen is an important factor when considering a refurbished laptop as it will determine how much you can comfortably see on the display. If you need to do a lot of work with multiple windows open at once, then a larger screen size might be the right choice. If you need a laptop that is compact and easy to transport, then a smaller screen size may be the best option.
Is buying refurbished laptop a good idea?
It is a great way to save money without sacrificing quality. Refurbished laptops are pre-owned machines that have been tested, inspected, and restored to like-new condition. They come with 12 months warranty and are available at a fraction of the price of a new laptop. They are great for students, freelancers, or anyone who needs a laptop but can't afford to buy a brand-new one. They're also great for those who need a short-term laptop solution or don't use them frequently. They also come with the same quality as a new notebook but at a much lower price. That means you can get one with the same features and specs as a new one without breaking the bank. If you're looking for a reliable laptop without spending too much money, buying a refurbished laptop is a great option. Thanks to them you can get the latest technology at a much lower cost.
Do refurbished laptops last as long as new?
Renewed laptops should last as long as a new one. They go through a rigorous process of testing, repairing, and cleaning to ensure that they meet the same quality standards as new laptops. In fact, some may even outlast new machines due to the extra testing and quality control measures that are taken during the refurbishment process.
Refurbished Students Laptops
Our selection of reconditioned students laptops includes a range of brands and models to fit any budget. You'll find laptops with fast processing speeds, ample storage space, and long battery life that can handle all of your academic needs. Not only will you be saving money by purchasing a refurbished laptop, but you'll also be doing your part for the environment by keeping electronic waste out of landfills.
Refurbished Laptops UK
Looking for a high-quality refurbished laptop in the UK? Student Computers store has got you covered. We offer a wide range of refurbished laptops from well-known brands, including Dell, Lenovo, and HP. All of our refurbished laptops have undergone a rigorous refurbishment process to ensure that they function like new, and are available at a fraction of the cost of a new laptop.
Interested in other refurbished electronics? 
Check our refurbished iPhones or refurbished tablets range. Contact us if you need any help. Our friendly customer service would be happy to answer all questions you may have.