Power your productivity with Windows laptops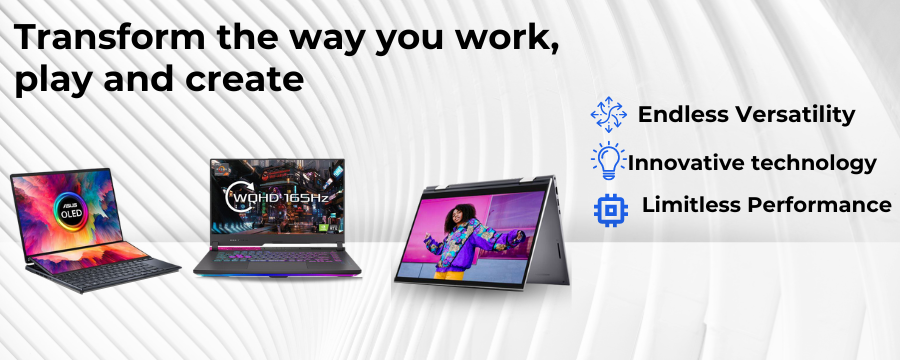 Popular searches
---
2-in-1 laptops
Intel core i5
i7 processors
Microsoft Surface laptop
Laptops sale
HP Laptops
Refurbished Windows Laptops
Refurbished windows laptops 
Student computers- It is your best site to buy renewed laptops. Choose from business, gaming, chromebooks and many more. All at affordable prices. Laptops, or portable computers, have become a popular choice for many due to their portability and convenience. Entry level models tend to be more affordable, while convertible laptops offer the versatility of both a laptop and tablet. Battery life is generally an important factor to consider when buying a laptop, as well as additional features such as a fingerprint reader for added security and an SD card reader for expanding storage. Thanks to our refurbished range you can keep much more money in your pocket. We also recommend our budget friendly range of refurbished laptops under £200. 
Microsoft surface laptops
→ Microsoft Surface laptops are a great option for anyone who needs a reliable  computer. Surface laptops are designed to be sleek, stylish, and modern, with thin and lightweight bodies that are easy to carry around. They are equipped with powerful hardware, including the latest processors from Intel and AMD, that can handle even the most demanding tasks with ease. They also come with fast and efficient storage options, such as solid-state drives, that allow for quick boot-up and load times. Microsoft Surface laptops come with a variety of productivity features, such as touch screens, stylus support, and Windows Hello facial recognition, that make it easy to get work done quickly and efficiently. Whether you need a laptop for work, entertainment, or both, we have a Microsoft Surface laptop that can meet your needs and exceed your expectations.
The Versatile Power of 2-in-1 Laptops
→ 2-in-1 laptops are a category of devices that offer the best of both worlds: the portability of a tablet and the productivity of a laptop. They are also known as convertible laptops, as they can be transformed from a laptop to a tablet, or any position in between, thanks to a rotating or detachable screen. This versatility makes them a popular choice for users who need a device that can adapt to different situations, whether it's for work, entertainment, or creativity. With powerful processors, high-quality displays, and long-lasting batteries, 2-in-1 laptops can handle most computing tasks with ease. Some models also come with a stylus, allowing for precision drawing or note-taking. Whether you're a student, a professional, or a casual user, a 2-in-1 laptop can be the perfect solution for your needs.
Powerful gaming laptops
Looking for a → powerful gaming laptop that can handle even the most demanding games? Look no further than our selection of high-performance gaming machines. Featuring top-of-the-line hardware and cutting-edge technology, our gaming laptops offer lightning-fast processing, stunning graphics, and smooth gameplay, even at high settings.  With customizable features and advanced cooling systems, our laptops are designed to meet the needs of even the most discerning gamers. Get ready to take your gaming to the next level with our powerful gaming laptops.
Lightweight laptops
→ Lightweight laptops have become increasingly popular due to their portability and convenience. Designed to be slim and easy to carry, these laptops offer a perfect balance between performance and mobility. With advancements in technology, manufacturers have managed to pack powerful components, such as Intel Core or AMD Ryzen processors, ample RAM, and fast SSD storage, into these lightweight frames. Whether for business professionals frequently on the move, students attending classes, or digital nomads exploring the world, these laptops have become the go-to choice. The lightweight design allows users to effortlessly slip them into a backpack or bag, making them ideal companions for on-the-go productivity, entertainment, and creativity. Additionally, many of these laptops boast impressive battery life, ensuring users can work or play for extended periods without being tied to a power outlet.
Is it good to buy a refurbished laptop?

Refurbished laptops vs new laptops
There are a few key considerations to keep in mind when deciding whether to buy a new or refurbished laptop. Cost is often the most important factor, but it's not the only one. Refurbished laptops can be a great option for budget-minded shoppers. We make sure that they cost up to 50% less than new laptops and you can be sure that you are getting the quality product. New laptops usually offer the latest features and technologies, but they come at a premium price. When you buy refurbished items, you are doing your part to reduce waste and help the environment. If you are looking for ways to be more eco-friendly, buying refurbished is a great option. You can find high-quality products at a fraction of the price of new, all while helping to reduce waste and protect the environment.
1. Pay less
The biggest advantage of buying a refurbished device is the huge savings compared to buying a brand-new device.
2. Great condition
The only real differences between refurbished laptops and their factory-fresh counterparts are potential cosmetic blemishes and the length of the warranty.
3. Choose to reuse
Buying renewed electronics is very good for environment and eco-friendly. Using refurbished laptops is the greener option. Manufacturing computers requires a significant number of resources, and using refurbished computers ensures that those resources don't go to waste. Are refurbished laptops good for the environment? Absolutely! By reusing old equipment instead of buying new ones, you're doing your part to recycle.
4. Buy a Computer with Better Specs
Buying refurbished computers gives you access to specifications that may have been outside of your budget. For example, a 1TB hard drive may have been too expensive when you're only shopping for something new. However, if you're browsing refurbished devices, you'll find that better parts fit your budget. Most users prefer a refurbished high-performance machine over a brand-new computer with lower specs.
How long do windows-based devices last?
It can vary depending on a number of things such as the quality of the hardware components, the level of usage and maintenance, and the frequency of software updates. A well-maintained Windows laptop can last anywhere from 3 to 5 years, or even longer in some cases.  To maximize the lifespan of your Windows laptop, it's important to take good care of it by keeping it clean, avoiding extreme temperatures, and protecting it from physical damage. You should also update the operating system and software regularly to ensure that security vulnerabilities are addressed and the system is optimized for performance. Finally, consider upgrading certain components, such as the RAM or storage, if you find that your laptop is struggling to keep up with your needs.
Macbook vs windows 
Both MacBook and Windows laptops have their own unique strengths and weaknesses. MacBooks are known for their sleek design, premium build quality, and user-friendly interface. Win devices offer a wider range of options in terms of hardware, price, and software compatibility. MacBooks also tend to be more expensive than Win machines with similar specs. Ultimately, the choice between a MacBook or Windows laptop depends on individual preferences, needs, and budget. MacBooks may be a good choice for users who value design and ease of use, while win machines may be a better choice for users who prioritize flexibility and affordability.
Best windows laptops for college
There are many great netbooks that can be a good fit for college students, depending on their individual needs and preferences. Here are some options to consider:
Dell XPS 13: It is lightweight and portable laptop that offers great performance and long battery life. It also features a high-quality display and a sleek design.

HP Envy x360: This 2-in-1 laptop features a flexible design that allows it to be used as a laptop or tablet. It also comes with a stylus and has a long battery life, making it a great choice for taking notes or working on-the-go.

Microsoft Surface Laptop 4: This laptop has a premium build quality and a sleek design, making it a great choice for students who value aesthetics. It also features a high-resolution display and long battery life.

Lenovo ThinkPad X1 Carbon: This is a durable and reliable laptop that can withstand the wear and tear of daily use. It also has a long battery life and a comfortable keyboard, making it a great choice for students who need to type for long periods of time.

ASUS ZenBook UX425: This laptop is known for its lightweight and slim design, making it easy to carry around campus. It also features a high-quality display and long battery life.
These are just a few examples that can be a good fit for college students. It's important to consider individual needs and preferences when choosing a laptop, such as screen size, processing power, and budget.
What is the best Windows laptop?
the Dell XPS 15 is a highly regarded and popular laptop among tech reviewers and users due to its sleek design, powerful performance, and high-quality display. It is also known for its long battery life and premium build quality. Ultimately, the "best" laptop for an individual depends on their specific needs and preferences.
Which is better Windows 10 or 11?
It depends on personal preferences and needs. Windows 11 several new features and enhancements over Windows 10. Windows 11 has a redesigned user interface, better touchscreen compatibility, increased speed, and more robust security protections. It adds brand-new features like Snap Groups, Snap Layouts, and a revamped Start menu. Windows 11 has specific hardware requirements, including a suitable processor, enough RAM, and a TPM 2.0 chip, therefore not all machines can run it. Wwhether Windows 10 or 11 is better for you depends on your specific needs and preferences, as well as the hardware you are using. If you have a compatible system and are interested in the new features of Windows 11, it may be worth upgrading. If you are happy with the performance and functionality of Windows 10, there may not be a pressing need to switch.
Student Computers is one of the top retailers of Windows laptops in the UK. We offer a wide range of high-quality laptops from top brands, including Dell, HP, and Lenovo, at competitive prices. Whether you need a laptop for studying, work, or entertainment, we have a great selection of Win machines to meet your needs. Shop with us today and experience the best netbooks in the UK.