Affordable Electronics, Unbeatable Gifts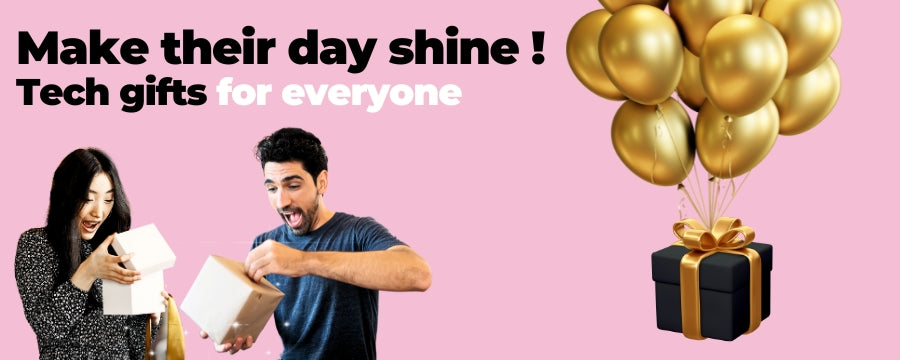 Popular searches
---
Tech gifts
Under £500
Tech gifts
Under £200
Tech gifts
Under £100
Gifts for
Gamers
Gifts for
Music lovers
Tech Gifts for
Women
Tech Gifts UK
Looking for affordable tech gifts for every occasion? 🎁 Tech gift for birthdays, Mother's Day, Father's Day, Christmas and many more. At our store, we offer a fantastic selection of budget-friendly gadgets that cater to all tastes. Whether you're shopping for a tech-savvy friend, a family member, or treating yourself, our collection includes top-notch options from popular brands. Choose from a range of budget laptops and smartphones that offer exceptional value without compromising on performance. Delight audiophiles with our selection of headphones, including offerings from renowned brands like Sony and Bose 🎧. For gamers, explore our gaming gear section with accessories from industry leaders like Logitech and Razer 🎮. And if you're looking for versatile presents, consider our tablets from Apple and Samsung 📱. Regardless of the occasion, our cheap refurbished tech gifts guarantee smiles and satisfaction without breaking the bank. 😊🌟
Tech gifts for her
When selecting tech gifts for the special women in your life, think about combining innovation with elegance. Our carefully curated collection of tech gifts for her offers a range of options that seamlessly blend functionality and style. From chic wireless earbuds that deliver exceptional sound quality to fitness trackers that help her maintain an active and healthy lifestyle, we have the perfect tech presents to suit her interests. Consider gifting her a stylish and protective phone case, ensuring her device stays safe without compromising on fashion. For the fashion-forward tech enthusiast, our selection also includes elegant smart jewelry pieces that seamlessly integrate technology into her everyday look. Explore our offerings and make her day with a tech gift that matches her unique personality and interests.
Tech gifts for him
When it comes to finding the ideal tech gifts for the men in your life, look no further. Our curated selection of tech presents for him offers a diverse range of options that combine innovation with utility. From cutting-edge gadgets to sleek accessories, we have the perfect tech gifts to match his interests and passions. Whether he's into gaming, music, fitness, or simply staying connected, our collection includes items like gaming peripherals, high-quality headphones, fitness trackers, and smartwatches. Consider gifting him the latest tech gear that aligns with his hobbies, ensuring that he stays ahead in style and functionality. Explore our offerings and make his day with a tech gift that resonates with his unique personality and tech-savvy preferences.
Gifts for gamers
Finding the perfect gifts for gamers is a breeze when you explore our curated selection. Whether you're shopping for a devoted PC gamer, a console aficionado, or someone who enjoys mobile gaming, we've got something for every player. Level up their gaming experience with high-quality gaming peripherals like mechanical keyboards, precision mice, and immersive headsets. Or consider gifting them the latest best-selling video games, in-game currency, or gaming gift cards to expand their digital library. For the nostalgia-loving gamer, classic game console replicas and retro gaming merchandise are also fantastic options. From accessories to collectibles, our range of gamer gifts is designed to bring joy to gamers of all kinds, no matter the occasion.
Cheap gifts for Tech Lovers
Discover the ultimate solution for budget-conscious tech lovers with our range of affordable gifts. Thanks to our refurbished offerings, you can now afford to spoil your tech-savvy friends and family with incredible finds like cheap laptops, smartphones, tablets, gaming controllers, and so much more. From sleek and efficient laptops that won't break the bank to feature-packed smartphones and tablets, our refurbished options combine value and quality seamlessly. And for gamers, our budget-friendly gaming controllers are a dream come true. Whether it's a birthday, holiday, or special occasion, our collection proves that you don't need to overspend to impress the tech enthusiasts in your life. Shop smarter and gift better with our cost-effective tech presents!