Smart Meets Stylish: Tech Gifts as Unique as She Is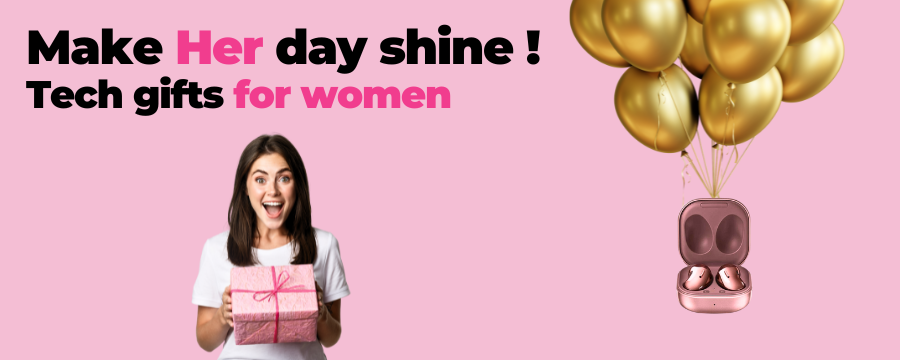 Popular searches
---
Tech gifts
For him
Tech gifts for
Music lovers
Tech gifts
Under £500
Tech gifts
Under £200
Tech gifts
Under £100
Tech gifts
For gamers
Electonics Gifts for her
🎁
Tech gifts for her have never looked more stunning. Whether she's an audiophile, a tech enthusiast, or a fashion-forward individual, there's a dazzling array of options to choose from. Consider surprising her with a pair of in-ear headphones in a sleek rose gold finish, delivering immersive sound while complementing her style. For those who crave the latest in smartphone technology, a vibrant and chic smartphone in her favorite color is the perfect choice, offering both functionality and elegance. The Dyson Supersonic hair dryer, available in a spectrum of captivating shades, is a luxurious gift that combines cutting-edge technology with beauty essentials. Beats headphones in vibrant, eye-catching hues provide not just incredible audio quality but also a fashionable statement piece. And for those who need a portable powerhouse, laptops in stunning colors offer both productivity and a touch of personal flair. With these electronics gifts, she'll not only be thrilled with their functionality but also delighted by the beauty they bring to her daily life.
Unique tech gifts for her❤️
For a unique and eco-conscious tech gift for her, consider the world of refurbished electronics from our Student Computers Store. These thoughtful presents not only showcase your commitment to sustainability but also offer a range of cutting-edge gadgets that have been lovingly restored to their former glory. From refurbished smartphones with updated software and like-new appearances to reconditioned laptops boasting powerful performance, these gifts not only reduce electronic waste but also come with affordable price tags and 12 months warranty. She'll appreciate the thoughtfulness behind this choice, as it not only introduces her to the latest technology but also contributes to a greener planet. Embracing refurbished electronics as a gift showcases your commitment to both innovation and environmental responsibility, making it a unique and heartwarming gesture for her.