Innovative, intuitive, and simply the best smartphones around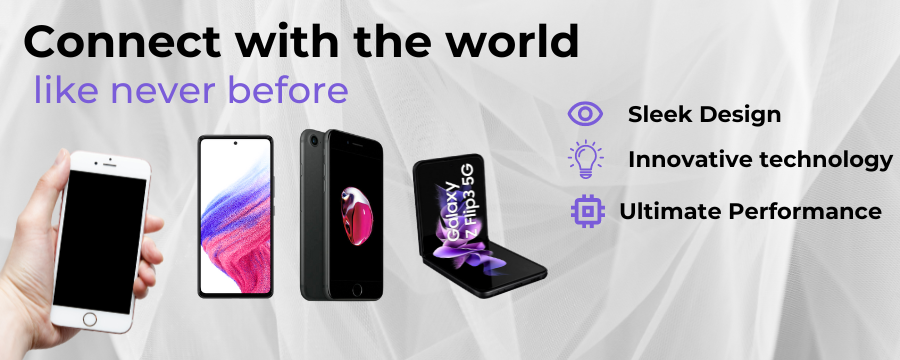 Popular searches
---
Samsung
Motorola
Apple
Smartphone sale
Sim free
Refurbished smartphones
Refurbished Smartphones uk
Refurbished smartphones, Smartphone on sale, smartphone for kids, smart phone for seniors, unlocked smartphones- all and many more at Student Computers.
Here at our store, we have a huge range of smartphone deals such as Apple, Samsung, Nokia, Huawei, OnePlus and more!  If you're looking for the best place to buy a refurbished or new smartphone online, you've found it!
Which smartphone is the best?
The smartphones market has never been more competitive, and all the phone brands have some fantastic devices to choose between.
No phone brand is perfect, and each comes with a set of pros and cons. Samsung phones have great hardware, but sometimes have issues when it comes to Android and its own UI. Apple, by contrast, has fantastic integration between hardware and its own operating system, but its phones are notoriously expensive.
Samsung Phones
Samsung brand manages to produce superb phones across a range of prices. Whether you want to spend on a wallet-busting Galaxy S22 Ultra, or scrimp on a Galaxy A53, or fold it up with the Galaxy Z Fold3, there's something for everyone.
Apple Phones
You love it or hate it.  Its phones are unashamedly expensive, although that doesn't seem to put people off buying one. However here at Student Computers you can buy a refurbished iPhone with very affordable prices.
Google Phones
Google often seems to do its own thing when it comes to its smartphones — it doesn't try to rival Samsung when it comes to packing as much hardware into its phones as possible and nor does it try to copy Apple in offering the most expensive phones on the market.
Instead, Google offers a range of affordable and generally well-conceived phones with impressive cameras and an unmatched slick Android experience.
Motorola Phones
You might think of Motorola as a brand relegated to the smartphone cemetery, but you'd be wrong. The brand is still knocking out some great mid-range phones, which are worth looking at.
Choice is yours, just to remind that all our smartphones are backed up with 12 months warranty, you could also split your cost and buy them using Klarna payment.
Refurbished cheap smartphones 
Check selection of refurbished cheap smartphones. Our refurbished smartphones are fully tested and certified to ensure that they function like new, but at a fraction of the cost. With a variety of brands and models to choose from, you'll find the perfect device to suit your needs and budget. From budget-friendly options to feature-packed models, our selection of refurbished cheap smartphones has something for everyone. Plus, with our expert customer service and warranty options, you can buy with confidence. Shop now and save on your next smartphone purchase.