Apple AirPods with Magsafe Charging Case (3rd Generation)
Product SKU : PO1011-590F
Refurbished
Easy setup
Rich, high-quality audio and voice
Bluetooth 5.0
Spatial audio with dynamic head tracking
Fast delivery
---
---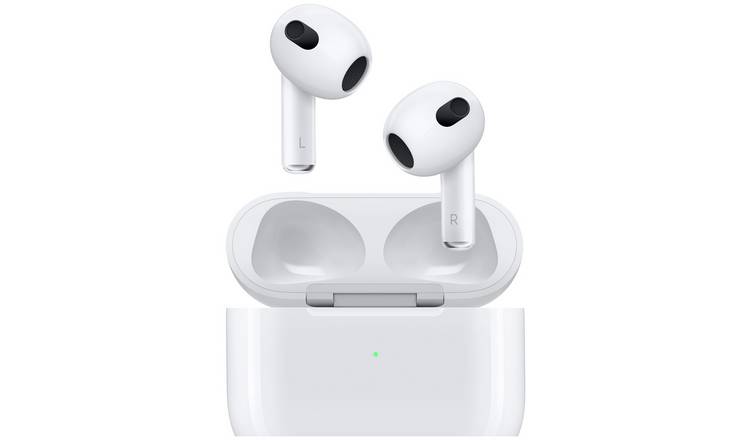 What's Included-
Apple AirPods with Magsafe Charging Case (3rd Generation) (Touch Buttons Do Not Work On Both Airpods)


12 Months Warranty 
Features-
An Apple-designed dynamic driver, powered by a custom amplifier, renders music in exceptionally detailed sound quality — so you revel in every tone, from deep, rich bass to crisp, clean highs. With a contoured design and shorter stem, AirPods are designed to direct sound into your ears — in a refined look anyone can appreciate. The force sensor gives you even more control over your entertainment. You can press to play, pause and skip through songs, or answer and end calls.
Spatial audio with dynamic head tracking places sound all around you.
A great sense of detection. An enhanced skin-detect sensor knows the difference between your ear and other surfaces, so audio only plays when you're wearing Air Pods — and pauses when they're in your pocket or on a table.
Computational audio combines custom acoustic design with the Apple H1 chip and software for breakthrough listening experiences.
Headphone Features
Plastic ear pieces.

Lightning to USBC Cable cord.

Connection: wireless.

Bluetooth enabled for a wireless connection to your devices .

Connects to devices via Bluetooth 5.0.

With a USB-C connection.

In-line with microphone for calls and track control controls.

Featuring gesture control.

Water-resistant.

IPX4 water & sweat resistant.

Compatible with iOS smartphones.

Rechargeable battery.

6 hour battery life.

0.5 minute charging time.

Fast charge to boost battery life.
---
DEFECTIVE GOODS AND FAULTY PRODUCTS FOR REPAIR OR PARTS REPLACEMENT
Discover a wide selection of defective goods and faulty products in our 'Spares and Repairs' category. These items are sold with the understanding that they may require repairs or parts replacement to function properly. Browse through our collection and find valuable opportunities for DIY repairs or professional restoration projects. Invest your time and skills to bring these items back to life and uncover hidden gems in the world of fixer-uppers.
SPARES & REPAIRS
An item that is being sold in its current condition, with the understanding that it may require repairs or parts replacement before it can function properly.
The term "spares or repairs" indicates the item is not in full working order or has some known issues or defects. We will provide additional details about the item's condition, such as what parts are missing or what repairs are needed.
When purchasing an item that is listed as "spares or repairs," it is important to carefully review the listing and ask any questions you may have before making a purchase. You should also be prepared to invest additional time and money into the item, either by performing repairs yourself or by taking it to a professional repair service.
REFURBISHMENT PROJECTS
Engage in the gratifying process of refurbishment, where you can customize, repair, and restore these items to their former glory. Your imagination is the only limit when it comes to breathing fresh life into these forgotten electronics.
Invest in your refurbishment projects, armed with the knowledge that you're not only saving money but also embracing Eco-consciousness. By renewing and reconditioning these imperfect items, you're reducing waste and contributing to a more Eco-friendly world.
---
Grading Explained