APPLE iPad Pro 11" Cellular (2018) - 64 GB, Space Grey
Product SKU : SK005-009
£33589

£335.89

Save £214.11
Refurbished
64GB storage
Liquid Retina display
11 inch screen size
iOS operating system
12 months warranty
---
---
Reasons to buy Apple iPad Pro 2018 :
Buy APPLE iPad Pro 11" Cellular (2018) - 64 GB in Space Grey. Unleash your creativity and connectivity with this powerful companion. Get yours now       
Refurbished

64GB storage  

Liquid Retina display  

11 inch screen size  

iOS operating system  

12 months warranty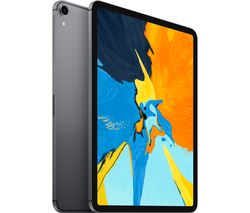 What's Included-
APPLE iPad Pro 11" Cellular (2018) - 64 GB, Space Grey
Power Cable
12 Months Warranty
Features-
op features: - Liquid Retina display for the clearest image - A12X Bionic chip powers your iPad - Face ID sensor keeps your iPad secure - Get the most out of your iPad with Apple Pencil and Smart Keyboard  Liquid Retina display The Apple  11" iPad Pro Cellular features a bright Liquid Retina display that goes edge to edge. So with more screen than ever before in thinner design, you've got more room to work, watch and create. You'll see true-to-life colour from one rounded corner to the other, and True Tone dynamically adjusts white balance so images are easy on your eyes and look just like they do in real life. And with incredibly low reflexivity, the display is always clear and readable no matter where you are. A12X Bionic chip The A12X Bionic is the smartest and most advanced chip Apple has ever made.  It changes how you view photos, play games and use apps, it's even faster than most PC laptops so it's got more than enough power to run all your everyday favourites as well as complex imaging and editing apps. Face ID sensor With Apple's new Face ID, you can securely unlock your iPad Pro , log in to apps and use Apple Pay for shopping with a quick glance. It's got a 7 MP front camera with TrueDepth technology so you can snap perfect selfies, and a 12 MP rear camera so you'll always get great pics. Get the most out of your iPad Sketch, write, edit, and more with the Apple Pencil (sold separately). The Apple Pencil works with the new improved display for a responsive and natural experience.
Specifications:
| | |
| --- | --- |
| Brand | Apple |
| Grade | Very Good |
| Colour | Space Grey |
| Model | MU0M2B/A |
| Type | tablet |
| Warranty | 12 Months |
| Operating system | IOS |
| Hard drive capacity | |
| Processor speed | 2.49 GHz |
| Ram size | |
| Screen size | 11' |
---
FAQ
Is Apple iPad Pro 2018 tablet worth it?
Absolutely! Buying an iPad, like the Apple iPad Pro 2018, is definitely worth it. iPads are sleek, powerful, and versatile devices that greatly enhance your digital experience. Whether you're a student, professional, artist, or simply someone who enjoys easy-to-use technology, the iPad offers a perfect combination of portability, productivity, and entertainment. With its beautiful screen and a wide range of apps and features, the iPad allows you to work, learn, create, and stay connected effortlessly. It opens up a world of possibilities and takes your digital lifestyle to new heights. Get ready to enjoy the amazing benefits of the Apple iPad Pro 2018.
What is the average life of a Apple iPad Pro 2018 ?
The average life of an
Apple
iPad Pro 2018 can vary depending on several factors, including usage patterns, care, and technological advancements. However, iPads are generally designed to have a lifespan of around 4 to 6 years.
Apple typically provides software updates for several years after a device's release, which ensures compatibility with the latest apps and security enhancements.
Regular maintenance, proper charging practices, and protecting the device from physical damage can help extend its lifespan.

What should I look for when buying a tablet?
When buying a tablet, there are several factors you should consider to ensure you get the right device for your needs:
Operating System: The operating system of a tablet determines its user interface and the range of apps available. The most popular operating systems for tablets are Android, iOS, and Windows.
Screen Size: The screen size of a tablet can range from around 7 inches to 13 inches. Consider the size that will be most comfortable for you to use, and also keep in mind that larger screens may be better for tasks like watching videos or reading.
Performance: Look for a tablet with a powerful processor, sufficient RAM, and a good amount of storage. This will ensure that the tablet can handle your apps and multitasking needs.
Battery Life: Consider the battery life of the tablet, as this will determine how long you can use the device without needing to charge it.
Connectivity: Check for the type of connectivity options the tablet offers, such as Wi-Fi, cellular data, and Bluetooth.
Camera Quality: If you plan on using the tablet to take photos or video, look for a device with a good quality camera.
Price: Set a budget for your tablet purchase and look for devices within your price range. Refurbished tablets can be a great way to save money without sacrificing quality.
Cheap tablets for sale
At Student Computers, we offer a range of cheap tablets for sale in the UK. Our selection includes both new and refurbished models from top brands like Apple, Samsung, and Amazon, at prices that are significantly lower than buying new. Our refurbished tablets have been restored to like-new condition and thoroughly tested to ensure they meet our high standards. This allows us to offer our customers a quality product at a much lower price point, without sacrificing performance or features.
---
Grading Explained