Apple iPad Pro 9.7 inch 32GB WiFi+ 4G Unlocked A1673 Space Grey
Product SKU : sk002-058F
£11989

£119.89

Save £80.11
Refurbished
32GB Storage
WiFi and 4G
9.7 inch screen size
M9 motion coprocessor
Retina display
---
---
Reasons to buy refurbished Apple iPad Pro:
Unleash your creativity and productivity with the Apple iPad Pro 9.7 inch 32GB WiFi+4G Unlocked A1673 in Space Grey. 🚀 This powerful and sleek tablet combines a stunning Retina display with the convenience of cellular connectivity, giving you the freedom to stay connected wherever you go. 🌐📲With its A1673 model, you'll experience lightning-fast performance and seamless multitasking, thanks to the powerful processor and ample storage capacity. 💪 Whether you're editing videos, sketching masterpieces, or tackling work tasks, the iPad Pro's versatility will exceed your expectations. ✨ The unlocked feature allows you to choose your preferred carrier and enjoy high-speed data on the go. Stay productive, connected, and inspired with the Apple iPad Pro 9.7 inch.       
Refurbished

32GB Storage  

WiFi and 4G  

9.7 inch screen size  

M9 motion coprocessor  

Retina display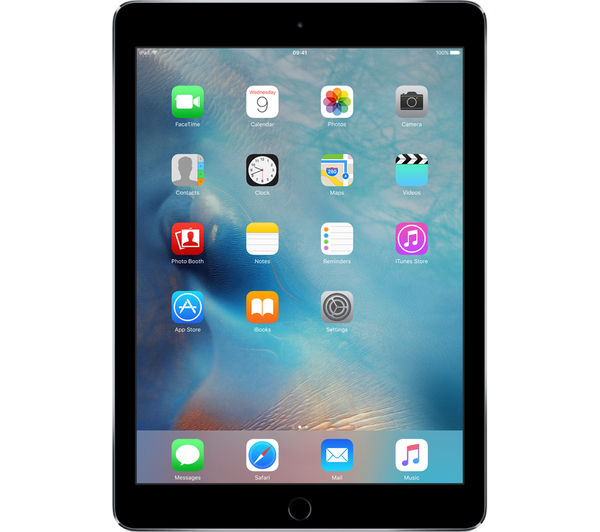 What's Included-
Apple iPad Pro 9.7 inch 32GB WiFi+Cellular 4G Unlocked A1673 (Fingerprint Not Working)

Power Cable
12 Months Warranty
Features-
Apple returns to the classic iPad form factor with the space gray 9.7" iPad Pro. The display features a 2048 x 1536 resolution at 264 pixels per inch (ppi). Using a DCI-P3 color space, the iPad Pro display provides a wider color gamut than standard sRGB displays. And with more available colors, the images will appear more vivid and reveal greater detail. The Retina Display delivers greater contrast, more uniform brightness, and improved energy efficiency through photo alignment technology, an oxide TFT panel, display lamination, an anti-reflective coating, and a variable refresh rate. The iPad Pro also features True Tone display, which uses advanced four-channel ambient light sensors to dynamically adjust white balance and brightness.
Powering the 9.7" Retina display is the Apple A9X chip with a M9 motion coprocessor. The 3rd generation 64-bit chip can pump out desktop-class CPU performance and console-class graphics. The faster performance allows you to multitask with ease, using iOS 9 features, such as Picture in Picture, Slide Over, and Split View. Also, the iPad Pro is capable of playing three simultaneous 4K video streams in iMovie. The iPad Pro also features 32GB of storage.
The rear 12MP iSight camera has an f/2.2 aperture and a True Tone flash. It can shoot Live Photos and 4K video as well as Full HD 1080p slow-motion video and panoramas up to 63MP in size. The 5MP front-facing camera allows you to FaceTime in HD with friends and family.
The iPad Pro comes with iOS 9 installed, which features proactive assistance as well as powerful search and improved Siri features, all while protecting your privacy. There are the aforementioned multitasking features for iPad, which allow you to use multiple apps simultaneously, as well as improvements to built-in apps. The Notes app has been redesigned, the Maps app gives detailed transit information, and the News app adds another way to keep up with the times. The foundation of iOS is even stronger, with software updates that require less space to install and advanced security features to further protect your device.
While the Retina Display of the iPad Pro features multi-touch capabilities, Apple does offer an alternative ways of interacting with the iPad Pro. The Apple Pencil is an optional accessory that can capture twice as many data points as your finger for greater precision. Force and tilt sensors transmit precise information to the iPad Pro, so you can intuitively lay down lines of varying thickness and opacity. The Smart Keyboard is another optional accessory that connects to the Smart Connector on the iPad Pro, which means you don't have to use Bluetooth. The Smart Keyboard has Apple's dome switches for precision typing.
Design
9.7" Retina Display
Within the 9.7" LED-backlit touchscreen, the 2048 x 1536 native resolution renders text and images at 264 pixels per inch and a total of over 3.1 million pixels. The display uses a bonded design, which eliminates gaps between layers, along with the internal reflections caused by those gaps. This results in richer colors, greater contrast, and sharper, more vivid images. The display also features a fingerprint-resistant oleophobic coating to keep your screen clean. With its DCI-P3 color space, the display provides a wider color gamut than standard sRGB displays.
True Tone Display Technology
The iPad Pro features True Tone technology, which uses advanced four-channel ambient light sensors to dynamically adjust white balance as well as brightness. This allows the display to match the light around you for a more natural and accurate, paper-white viewing experience.
Photo Alignment
To improve on-'axis contrast, Apple used an advanced process called photo alignment. This involves shining UV light to create a uniform terrain across the film coating on the thin film transistor and color filter, so the display's liquid crystal molecules lie precisely where they should. Better-aligned molecules mean you see better contrast when looking directly at the display.
Oxide TFT
The oxide thin film transistor in the iMac Retina 5K display has been adapted to the Retina display on iPad Pro. The resulting TFT provides faster pixel charging and better brightness uniformity across the canvas.
Variable Refresh Rate
The iPad Pro knows when the content on your screen is static and cuts the refresh rate in half, to 30 times per second instead of 60. This means that the screen isn't just big and bright; it's energy efficient too.
Timing Controller
The timing controller, or TCON, is the brains of the display. It tells each pixel what to do and when to do it. Apple custom-designed the TCON to handle the Retina resolution, giving it more bandwidth to allow lightning pixel control at fast speeds.
12MP iSight Camera
The 12MP iSight camera can shoot Live Photos and even record in 4K video. It also has 1080p slow-motion video support.
5MP FaceTime HD Camera
The front-facing camera features 5 megapixels and allows you to FaceTime in HD. It also has a True Tone software flash for a more natural-looking selfie.
Portable & Lightweight
The aluminum unibody of the iPad Pro measures 6.1 mm thin and weighs just under 1 pound.
Four-Speaker Audio
The iPad Pro has four innovative speakers that produce a stereo soundstage as enveloping as its display. The speaker housings have been machined directly into the unibody enclosure, and their innovative architecture gives the speakers 61 percent more back volume compared to previous iPad audio designs. You'll hear a wider frequency range and up to three times more output than on any other iPad. The speakers in iPad Pro aren't just high fidelity; they're highly intelligent. While all four produce bass frequencies, the topmost speakers are dedicated to higher frequencies. They also automatically recognize whether the device is in portrait or landscape view, so you'll always get vivid, well-balanced sound; no matter how you're holding the iPad Pro.
Smart Connector
The Smart Connector is an interface that takes advantage of the two-way conductive fabric in the Smart Keyboard (sold separately). It allows iPad Pro to provide power to the Smart Keyboard and lets the Smart Keyboard relay each of your keystrokes back to iPad Pro. Simply align the Smart Keyboard to iPad Pro – just as you would with a Smart Cover – and start typing.
Technology
A9X Chip with M9 Motion Coprocessor
The A9X, Apple's 3rd-generation 64-bit chip, gives iPad Pro the power to easily take on tasks that were once reserved for workstations and PCs. Despite the high performance, the A9X chip's underlying architecture is efficient. With 1.8 times the CPU performance of the iPad Air 2's A8X, the A9X chip delivers in both speed and responsiveness. Even complex tasks like creating, rendering, and manipulating a 3D design or editing multiple streams of 4K video happen quickly and smoothly. The iPad Pro features a revamped storage controller that has increased read and write speeds, so you can quickly open even the large files, like the big 4K movie you just edited or all the RAW images you imported from your HD camera.
Metal
Metal gets high graphics performance out of the A9X chip and iOS 9, so developers can design highly immersive console-style games and blazing-fast apps. Metal optimizes the CPU and graphics performance to deliver detailed graphics and complex visual effects, so every virtual world feels more realistic.
Battery Life
You might expect that such high performance would compromise battery life. But even with its high-resolution Retina display and robust A9X chip, the iPad Pro maintains energy efficiency, providing up to 10 hours of battery life on a single charge while on Wi-Fi and up to 9 hours on a cellular signal (battery life may vary depending on usage).
Wireless Connectivity
The iPad Pro features 802.11ac Wi-Fi technology and MIMO, so you can easily connect to fast networks and enjoy download speeds of up to 866 Mb/s.
Refurbished Apple tablet UK
Experience the best of Apple iPad Pro refurbished tablet, available at Student Computers. Our rigorous refurbishment process ensures that each device meets the highest standards of performance and reliability. With the iPad Pro, you can enjoy all the features and functionality you need without breaking the bank. By opting for a renewed tablet, you're not only saving money but also contributing to a more sustainable future by reducing electronic waste. Don't miss this opportunity to own a premium tablet at a fraction of the original cost. Upgrade your digital experience today!
Specifications:
| | |
| --- | --- |
| Brand | Apple |
| Grade | Fair |
| Colour | Space Grey |
| Model | IPad Pro 9.7 |
| Type | Tablet |
| Warranty | 12 Months Warranty |
| Operating system | IOS |
| Storage capacity | 32 GB |
| Processor seed | 2.16 GHz |
| Processor  | A9X |
| Ram size | |
| Bluetooth | |
| Screen Size | 9.7' |
| Storage type | |
| Graphic Processing type | |
| USB ports | |
| Connectivity | |
| Speakers | |
| Webcam | |
| Features | |
---
FAQ
What is the average life of a Apple iPad Pro tablet?
The average life of a tablet can vary depending on several factors, such as usage patterns, maintenance, and quality of components. Generally speaking, a well-maintained tablet can last for at least 3-5 years.
Tablets that are used heavily for tasks like gaming or video streaming may have a shorter lifespan due to the strain placed on the device's hardware. Similarly, exposure to extreme temperatures or humidity can also affect the lifespan of a tablet.
Proper maintenance can help prolong the life of a tablet. This includes regular cleaning, avoiding overcharging, and keeping the device updated with the latest software updates.
Cheap tablets for sale
At Student Computers, we offer a range of cheap tablets for sale in the UK. Our selection includes both new and refurbished models from top brands like Apple, Samsung, and Amazon, at prices that are significantly lower than buying new. Our refurbished tablets have been restored to like-new condition and thoroughly tested to ensure they meet our high standards. This allows us to offer our customers a quality product at a much lower price point, without sacrificing performance or features.
---
Grading Explained