Beats Fit Pro True Wireless In-Ear Sport Headphones ANC Black
Product SKU : AR022-004
Refurbished
Active noise cancellation
Fast Delivery
hands-free Hey Siri15
Flexible, secure-fit wingtips
tested by athlethes
---
---
Reasons to buy refurbished Beats Fit Pro in Ear :
Elevate your fitness experience with the Beats Fit Pro True Wireless In-Ear Sport Headphones in sleek Black. 🎧💪 Enjoy premium sound quality and Active Noise Cancellation (ANC) for uninterrupted focus during workouts. 🎶🔇 These sport headphones are designed to stay securely in your ears, providing comfort and stability during any physical activity. 🏋️‍♂️💦 With sweat and water resistance, they are built to withstand even the toughest training sessions. 🔥💧 Embrace the freedom of true wireless connectivity and long-lasting battery life. 🔋🌟       
Refurbished

Active noise cancellation  

Fast Delivery  

hands-free Hey Siri15  

Flexible, secure-fit wingtips  

tested by athlethes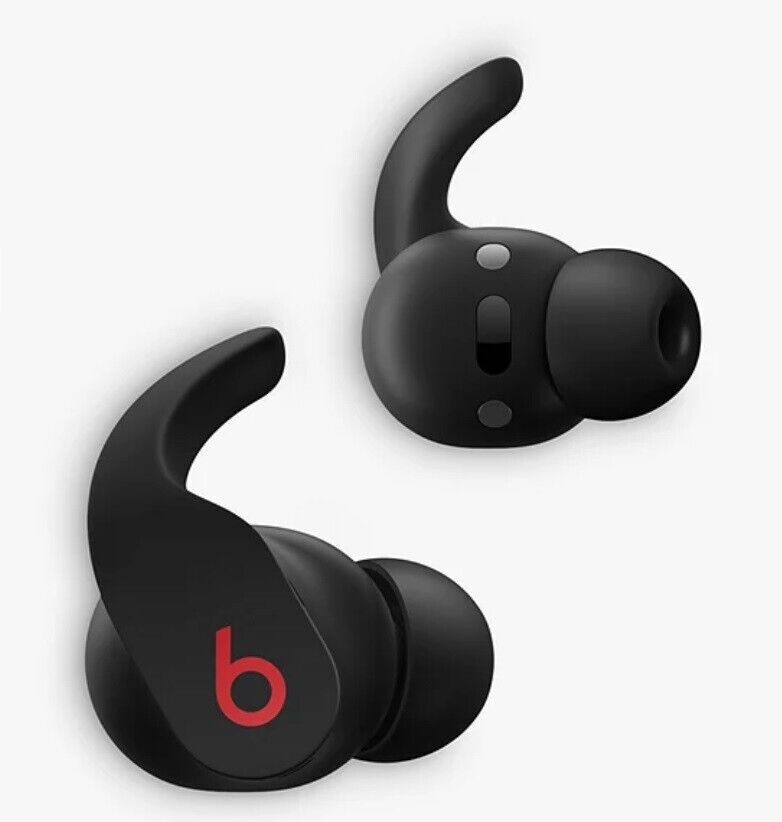 What's Included-
Beats Fit Pro True Wireless In-Ear Sport Headphones ANC Black

Charging Case

12 Months Warranty
Find My Device May Not Be Available On This Unit
Features-
Beats Fit Pro true wireless ear-buds are designed to comfortably lock in place, with the superb sound of Beats, and fully adaptive Active Noise Cancelling. They're IPX4 water and sweat resistant, deliver loud and clear calls, last for up to 24 hours with the included charging carry case, and are compatible with both Apple and Android devices.
True wireless
With two independent earbuds fitting comfortably and securely in your ears, not a single wire gets in your way. Connect wirelessly with your smart device via a Class 1, stable Bluetooth connection for extended range and fewer drop-outs.
Designed for comfort
Beats Fit Pro are equipped with comfortable, secure-fit wing tips that flex to fit your ear. Universal wing tip design was tested by athletes of all kinds so you can trust that these earbuds will stay put through work days and workouts. With pressure relieving vents included in the earbud design, you can comfortably wear these Beats headphones all day long. Choose from three sizes of soft silicone ear tip to find just the right size.
Surrounds you in sound
They are engineered to deliver powerful, balanced sound via a custom acoustic platform that stays with you through your daily activities. A proprietary, dual-element diaphragm driver within a two chamber housing results in clear sound with outstanding stereo separation. An advanced digital processor optimises audio performance for loudness and clarity, while simultaneously ensuring clean noise cancellation.
Spatial audio
Beats Fit Pro support Spatial Audio with dynamic head tracking for immersive music, movies and games. Dynamic head tracking uses gyroscopes and accelerometers to adjust the sound as you turn your head, for a multi-dimensional experience that makes you feel like you're inside of it. (Compatible hardware and software required. Works with compatible content in supported apps. Not all content available in Dolby Atmos. Head tracking feature requires iPhone or iPad)
Hear what matters
With two distinct listening modes, you are in control of what you hear. These fully adaptive Active Noise Cancelling (ANC) earbuds use real-time audio calibration to continuously pinpoint external sounds and optimise sound output. When you need to be aware of your surroundings, turn on Transparency mode. The Bluetooth earphones with dual beam-forming microphones capture environmental and ambient sound around you to mix in with your music.
---
FAQ
Is Beats Fit Pro in Ear worth it?
Beats Fit Pro in Ear is a game-changer in the world of audio! 🎧🔥 These in Ear are absolutely worth the investment, offering an unparalleled listening experience that will elevate your audio enjoyment to new heights. 💯✨ With their exceptional sound quality, comfortable fit, and cutting-edge features, in Ear are designed to deliver pure sonic bliss. Whether you're a music enthusiast, a gamer, or simply someone who appreciates immersive sound, these headphones will surpass your expectations.
Does Beats Fit Pro last long?
Rest assured, Fit Pro in Ear are built to last! With proper care and usage, they can provide you with hours of immersive audio enjoyment for years to come.

Remember, taking care of your headphones plays a crucial role in their longevity. Proper storage, regular cleaning, and handling them with care will help extend their lifespan. By following these simple practices, you can maximize the longevity of your beloved in Ear.
Cheap Beats Fit Pro in Ear UK
Discover incredible value with the wide selection of cheap refurbished in Ear available at Student Computers Store!  They offer an affordable alternative without compromising on quality or performance. Each pair has undergone a meticulous refurbishment process to ensure they meet strict standards and provide a reliable audio experience.
Upgrade your audio setup without breaking the bank by exploring the affordable refurbished in Ear options at Student Computers Store. You'll be pleasantly surprised by the quality and affordability that awaits you. Don't miss out on this fantastic opportunity to enjoy great sound at an unbeatable price. 🎶💰
---
Grading Explained