BEATS Studio 3 Wireless Bluetooth Noise-Cancelling Headphones - Black
Product SKU : AR022-002
Perfect for working & studying
Active noise-cancelling
Quick charging
Fast Delivery
Microphone / volume / playback & functions control
On-ear headphones
---
---
Reasons to buy refurbished Beats Studio 3 Headphones :
Dive into pure sonic bliss with BEATS Studio 3 Wireless Bluetooth Noise-Cancelling Headphones in sleek Black! 🎧🔇 Immerse yourself in your favorite tunes, free from distractions, with advanced noise-canceling technology. Elevate your audio experience and make a style statement with these premium headphones. 🎶       
Perfect for working & studying

Active noise-cancelling  

Quick charging  

Fast Delivery  

Microphone / volume / playback & functions control  

On-ear headphones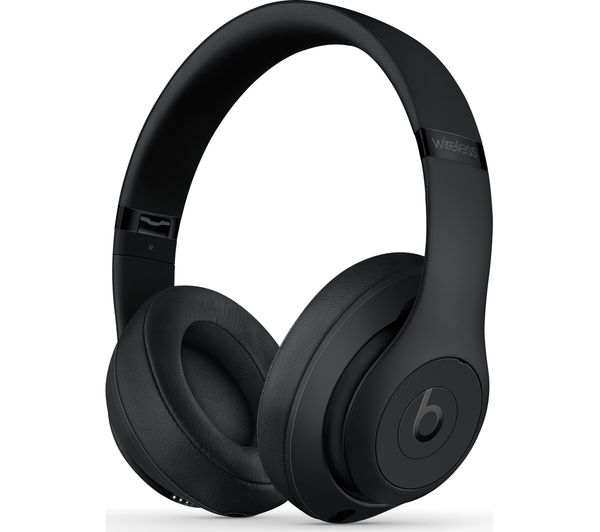 What's Included-
BEATS Studio 3 Wireless Bluetooth Noise-Cancelling Headphones - Black

Power Cable

12 Months Warranty
Find My Device May Not Be Available On This Unit
Features-
These Beats Studio 3 headphones help shut out life's annoying distractions with Pure Adaptive Noise-Cancelling. It actively blocks out background noise and lets you focus on your music, podcast or movie – perfect for the morning commute. Enjoy seamless switching between your iCloud-registered devices – go from watching a film on your MacBook to taking a call on your iPhone. They're super comfy too, thanks to the soft over-ear cushions and flexible fit.

Good to know

- Take calls, skip tracks and adjust the volume without reaching for your phone thanks to multi-function on-ear controls
- You'll get 22 hours of playback thanks to the powerful Apple W1 chip. Turn off noise-cancelling and it jumps to 40 hours
- Fast Fuel gives you up to 3 hours of battery life from a 10-minute charge - perfect when you need a little boost
- The foldable design makes them super easy to pack away and store between uses
- If you do run out of battery, you can still enjoy your music by plugging in the detachable RealTalk cable
---
FAQ
Is Beats Studio 3 Headphones worth it?
Beats Studio 3 Headphones is a game-changer in the world of audio! 🎧🔥 These Headphones are absolutely worth the investment, offering an unparalleled listening experience that will elevate your audio enjoyment to new heights. 💯✨ With their exceptional sound quality, comfortable fit, and cutting-edge features, Headphones are designed to deliver pure sonic bliss. Whether you're a music enthusiast, a gamer, or simply someone who appreciates immersive sound, these headphones will surpass your expectations.
Does Beats Studio 3 last long?
Rest assured, Studio 3 Headphones are built to last! With proper care and usage, they can provide you with hours of immersive audio enjoyment for years to come.

Remember, taking care of your headphones plays a crucial role in their longevity. Proper storage, regular cleaning, and handling them with care will help extend their lifespan. By following these simple practices, you can maximize the longevity of your beloved Headphones.
Cheap Beats Studio 3 Headphones UK
Discover incredible value with the wide selection of cheap refurbished Headphones available at Student Computers Store!  They offer an affordable alternative without compromising on quality or performance. Each pair has undergone a meticulous refurbishment process to ensure they meet strict standards and provide a reliable audio experience.
Upgrade your audio setup without breaking the bank by exploring the affordable refurbished Headphones options at Student Computers Store. You'll be pleasantly surprised by the quality and affordability that awaits you. Don't miss out on this fantastic opportunity to enjoy great sound at an unbeatable price. 🎶💰
---
Grading Explained