Dacomex headset Wired Head-band Office/Call center Black
Product SKU : EX0003-065
New
059808-HY
Headset
Dacomex
---
---
Reasons to buy refurbished Dacomex Over head :
Dacomex headset is the perfect wired headset for office or call center use. With its black headband and high-quality sound, it ensures maximum comfort and superior sound clarity. Get the perfect headset to make every call count!       
New

059808-HY  

Headset  

Dacomex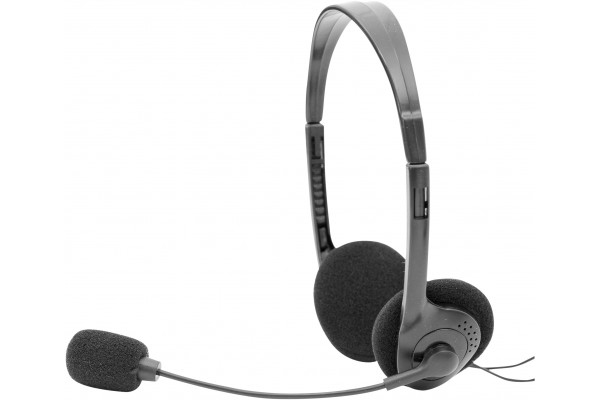 What's included:
Dacomex headset Wired Head-band Office/Call center Black

12 months warranty
Features:
You can listen to music while chatting on Skype, MSN, etc - Comfortable light-weighted headband. - On-cable adjustable volume control. - Ear pad dimensions: F 27 mm - Impedance: 32 Ohm - Bandwidth: 20-20 000 Hz - Sound pressure level: 106 dB +/-3dB - Cable length: 1.80 m (+/-5%) - Connector: USB jack - Microphone: F6.0 x 5.0 mm/:-42dB±3dB
---
FAQ
Is Dacomex Over head worth it?
Dacomex Over head is a game-changer in the world of audio! 🎧🔥 These Over head are absolutely worth the investment, offering an unparalleled listening experience that will elevate your audio enjoyment to new heights. 💯✨ With their exceptional sound quality, comfortable fit, and cutting-edge features, Over head are designed to deliver pure sonic bliss. Whether you're a music enthusiast, a gamer, or simply someone who appreciates immersive sound, these headphones will surpass your expectations.
Rest assured, Over head are built to last! With proper care and usage, they can provide you with hours of immersive audio enjoyment for years to come.

Remember, taking care of your headphones plays a crucial role in their longevity. Proper storage, regular cleaning, and handling them with care will help extend their lifespan. By following these simple practices, you can maximize the longevity of your beloved Over head.
Cheap Dacomex Over head UK
Discover incredible value with the wide selection of cheap refurbished Over head available at Student Computers Store!  They offer an affordable alternative without compromising on quality or performance. Each pair has undergone a meticulous refurbishment process to ensure they meet strict standards and provide a reliable audio experience.
Upgrade your audio setup without breaking the bank by exploring the affordable refurbished Over head options at Student Computers Store. You'll be pleasantly surprised by the quality and affordability that awaits you. Don't miss out on this fantastic opportunity to enjoy great sound at an unbeatable price. 🎶💰
---
Grading Explained