Dell Alienware M15 R7 Gaming Laptop 15.6" FHD core i7-12700H 16GB 512GB RTX 3060 6GB
Product SKU : EX010-049
Refurbished
RAM: 16 GB / Storage: 512 GB SSD
NVIDIA GeForce RTX 3060 6GB GDDR6
Intel core i7 processor
Backlit Keyboard
---
---
Reasons to buy DELL Alienware M15 R7 gaming rig :
Buy Dell Alienware M15 R7. Immerse in 15.6" FHD Display, i7-12700H Processor, 16GB RAM, 512GB Storage, and RTX 3060 6GB Graphics for Ultimate Performance       
Refurbished

RAM: 16 GB / Storage: 512 GB SSD  

NVIDIA GeForce RTX 3060 6GB GDDR6  

Intel core i7 processor  

Backlit Keyboard  

15.6 inch screen size  

 
What's included:
Dell Alienware M15 R7 Gaming Laptop 15.6" FHD i7-12700H 16GB 512GB RTX 3060 6GB
Power Cable
12 Months Warranty
Features:
Supreme performance
Gain the edge you need with updated Alienware Cryo-tech cooling technology that introduces newly engineered fans that contain over twice as many blades* and are 37.5% thinner than the previous generation.* Prioritized for performance, the dual fan design pulls in cool air from the top and bottom vents while pushing it out the left, right, and rear vents to ensure exceptional game play. The exclusive Element 31 gallium-silicone thermal interface material allows you to game faster for longer periods of time by pulling heat away from the processor. These forces combine to send up to 170W* max Thermal Design Power (TDP) to updated processors and NVIDIA graphics, all within a 15" form factor.
Realized beauty
Welcome to the most life-like environments the gaming world has ever seen. Experience smooth, fast, and stunning graphics as the developers intended with more contrast and vivid colours that go beyond the traditional high dynamic range (HDR) with Dolby Vision. Level up your experience with games, movies, and content that are enabled with Dolby Vision and see what you've been missing. Find out more about advanced visual technologies that help you experience games as the developers imagined them below.
Ray Tracing
The "holy grail" of gaming graphics has finally achieved its true potential. Included in all configurations of the Alienware m15 R7, the NVIDIA GeForce RTX 30 series graphics have been engineered with 2nd generation RT cores for maximum ray tracing performance, enabling you to experience textures, complex lighting, and the most realistic environments imaginable within the gaming world.
ComfortView Plus
Keep your vision sharp and relaxed with ComfortView Plus, an always on built-in low blue light screen that reduces blue light emissions while delivering excellent colour without effecting performance or image quality, included in all configurations.
Advanced audio
Get deeper into the game through an added dimension of sound that puts you at the centre with Dolby Atmos®. By placing every sound, voice and instrument in its own space, this scalable technology can improve reaction times while in-game as you experience exactly what the developers and artists envisioned.
Level up in and out of the game
Perform at your best with upgradeable memory and incredible connectivity with Killer technology so you can create, stream content, and game like never before.
Upgradable memory
Take your mega-tasking capabilities to the next level with Dual-Channel DDR5 4800 Mhz memory, delivering more memory bandwidth and double the max capacity than previous generations. We've also doubled the max capacity from 32GB to 64GB on configurations with NVIDIA GeForce RTX 3060 or greater.
DoubleShot Pro Technology
Lead the charge with Killer DoubleShot Pro technology enabled by Killer E3100 Ethernet that prioritizes traffic by putting it on the most reliable link for maximum speed. Available when you select NVIDIA GeForce RTX 3060 graphics or higher.
Wi-Fi 6E Technology
Add faster speeds and lower latency to your inventory and experience a new era of connectivity with the latest Wi-Fi 6E technology when you select the Killer Wi-Fi 6E AX2611 option.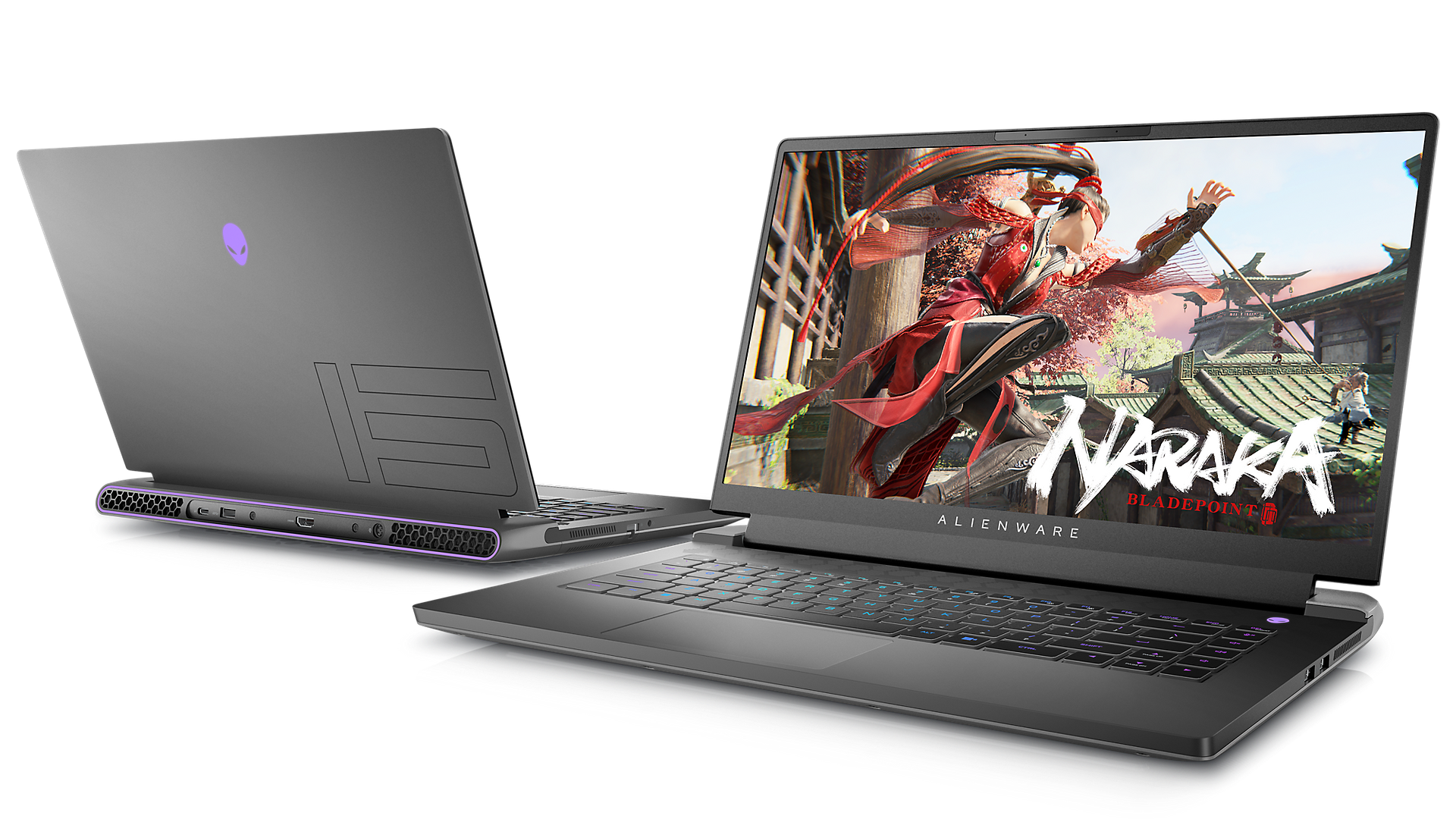 Refurbished gaming laptop UK
Introducing the refurbished gaming laptop available at Student Computers in the UK. Designed to meet the demands of avid gamers, this DELL Alienware M15 R7 combines performance and affordability. With its powerful hardware and upgraded components, it delivers smooth gameplay and immersive graphics. Don't compromise on your gaming ambitions; choose this renewed machine from Student Computers and take your gaming to new heights.
Specifications:
| | |
| --- | --- |
| Brand | DELL |
| Grade | Very Good |
| Colour | Grey |
| Model | M15 R7 |
| Type | Laptop |
| Warranty | 12 months |
| Operating system | Windows 11 Home |
| Storage capacity | 512 GB |
| Processor seed | 1.8GHz To 4.7GHz |
| Processor  | Intel Core i7-12700H |
| Ram size | 16 GB |
| Bluetooth | Yes |
| Screen Size | 15.6 Inches |
| Storage type | SSD |
| Graphic Processing type | Dedicated Graphics |
| USB ports | Yes |
| Connectivity | HDMI, Gigabit Ethernet, USB 3.2 |
| Speakers | Yes |
| Webcam | Yes |
| Features | Backlit Keyboard, Bluetooth, Built-in Microphone, Built-in Webcam |
| Optical Drive | No |
---
FAQ
Is it worth buying a refurbished DELL Alienware M15 R7 gaming laptop?
Buying a second-hand or refurbished gaming laptop can be a good way to save money and get higher-end specs within a budget. However, it's important to carefully evaluate the condition of the laptop and the price you're paying to ensure that you're getting a good deal. Refurbished laptops can be a more eco-friendly choice than buying new, but it's important to buy from a reputable seller like Student Computers and check for any warranties or guarantees. Overall, purchasing a refurbished gaming laptop can be a good option for those looking to save money without sacrificing performance.
How long DELL Alienware M15 R7 last?
The longevity of a gaming laptop largely depends on various factors such as usage, maintenance, and technological advancements. However, the Alienware M15 R7 is built to withstand the test of time. With its robust construction and high-quality components, this gaming laptop offers exceptional durability. Equipped with the latest hardware and innovative features, it is designed to keep up with demanding gaming requirements for years to come. While individual experiences may vary, this machine is engineered to provide long-lasting performance and continue delivering an immersive gaming experience well into the future.
Where to buy refurbished gaming laptops under £500 ?
If you're looking for an affordable way to get into PC gaming, refurbished gaming laptops can be a great option. At Student Computers, you can find a range of refurbished gaming laptops under £500 that offer excellent performance and features at a fraction of the cost of a new model. These laptops have been carefully inspected and restored to full working order, and come with a warranty for added peace of mind.
---
Grading Explained