Genuine Apple AirPods 2nd Gen & Charging Case - Bluetooth -New Sealed
Product SKU : APP001-001
True wireless
Battery life: up to 5 hours
Rich, high-quality audio and voice
In-Ear Headphones
Talk to Siri for hands-free control
12 Apple months warranty
---
---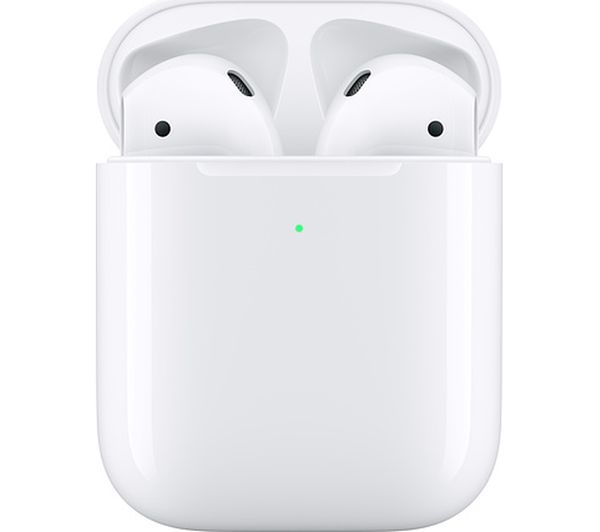 What's Included- 
New
APPLE AirPods with Wireless Charging Case (2nd generation) - White

12 Months Apple Warranty 
Wireless. Effortless. Magical.
With plenty of talk and listen time, voice-activated Siri access, and an available wireless charging case, AirPods deliver an incredible wireless headphone experience. Simply take them out and they're ready to use with all your devices. Put them in your ears and they connect immediately, immersing you in rich, high-quality sound. Just like magic.
Features-
 Talk to Siri for hands-free control

- Wireless earphones sense when they're inside your ears

- Up to Five hours listening on a single charge

- Wireless charging case for extra convenience

Talk to Siri

Apple AirPods with Wireless Charging Case (2nd generation) give you hands free control thanks to built-in Siri, Apple's voice assistant. Just say "Hey Siri" to skip tracks, turn up the volume, make a phone call or even ask for directions. You can also fast forward through songs and podcasts with a quick double tap of the AirPod. They're easy to use and great to listen to.

iPhone, Apple Watch, Mac – AirPods work with all your Apple devices, just log in to your iCloud account and you'll soon be ready to go. You can quickly switch between your devices too.

Wireless headphones

With Apple AirPods 2 you can listen to all your favourite sounds without any wires getting in the way, and they're ready for use as soon as you take them out of the charging case.

Apple AirPods switch on automatically as soon as you put them in your ears, and they'll pause whatever you're listening to when you take them out.

Up to Five hours listening time

You'll get five hours listening time and three hours talk time with just one charge, and if you're in a hurry a quick 15 minute charge will give you three hours' worth of music.

Keep the handy portable charging case in your pocket and you'll be able to keep your AirPods charged throughout the whole day.

Wireless charging case

Charging is as easy as popping your AirPods in the case and placing it on a Qi-compatible charging mat.

A handy LED light on the AirPods Wireless Charging Case lets you know when your AirPods are ready to use again. Don't have a charging mat with you? No worries, just use the Lightning connector port instead.
---
Grading Explained