Lenovo IdeaPad 3 11.6" Refurbished Chromebook N4020 4GB RAM 64GB eMMC Black
Product SKU : EX015-024
Pro Refurbished
64GB eMMC storage
FREE Next Business Day Delivery
11.6 inch screen size
Built-in Webcam
ChromeOS
---
---
Reasons to buy refurbished

Lenovo Idea Pad Chromebook laptop

:
Stay connected and productive with the Lenovo IdeaPad 3 Chromebook. Featuring an 11.6" HD display, Intel Celeron N4020 processor, 4GB of RAM, and 64GB of eMMC storage, this Chromebook delivers efficient and reliable performance. With the Chrome OS, you'll have access to a suite of Google apps, including Google Docs, Sheets, and Slides, which makes collaboration easy and seamless. Its sleek black design is perfect for students and professionals who are always on the go.       
Pro Refurbished

64GB eMMC storage  

FREE Next Business Day Delivery  

11.6 inch screen size  

Built-in Webcam  

ChromeOS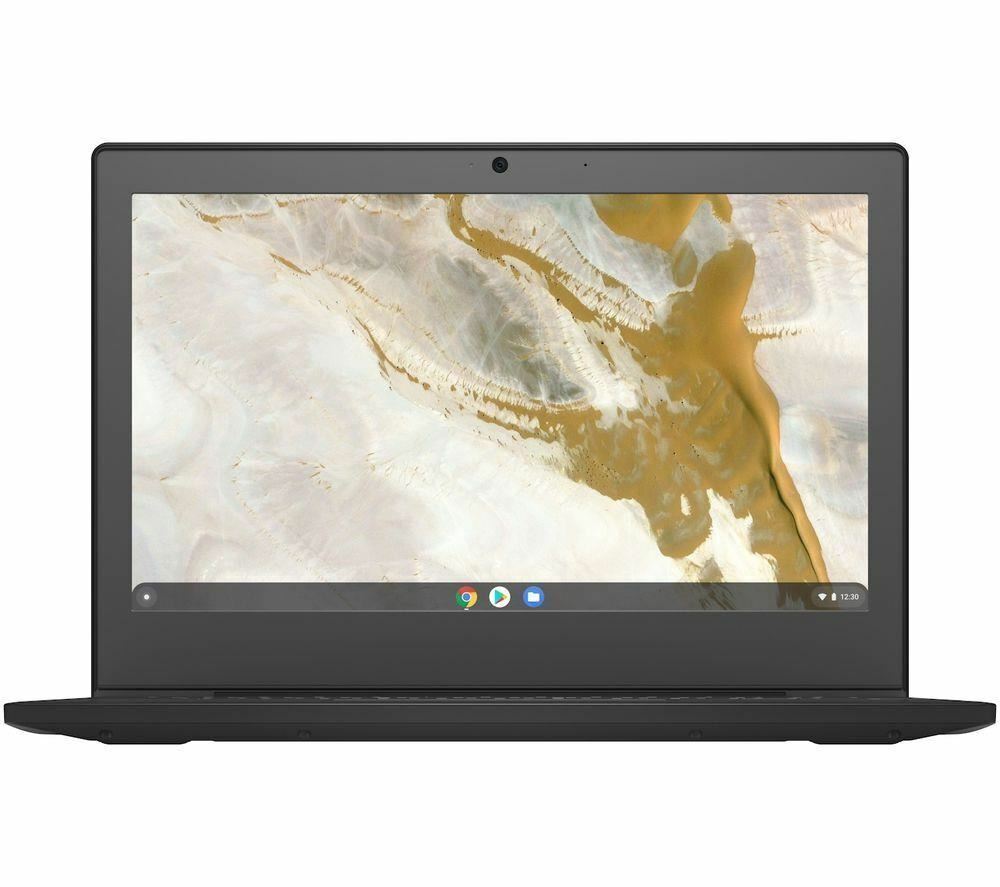 What's included:
Lenovo IdeaPad 3 11.6' Chromebook N4020 4GB RAM 64GB eMMC Black
Power Cable
12 Month Warranty
Features:
Get started straight away

There's no waiting around with the Lenovo IdeaPad 3 11.6" Chromebook. Thanks to its Intel® Celeron™ processor, you have the speed you need for everyday tasks, like getting through homework and surfing the web.

All your favourite apps

With ChromeOS, all your favourite programs are available as apps, so you can use Docs, Maps and Gmail, as well as loads of others from the Google Play store. Fast, secure and virus-free, this Chromebook lets you focus on the fun stuff.

Slim and portable

The IdeaPad 3 is perfect for working and browsing on the go. With a slim design, it fits easily into your bag. And at 1.12 kg, it won't weigh you down either.
Refurbished chromebook uk
Discover the incredible value of the Lenovo Idea Pad Chromebook Refurbished, exclusively available at Student Computers. Make a smart choice by choosing a refurbished device, where you get top-quality at a much lower price. Each unit goes through a strict refurbishment process to ensure high performance and reliability. Buying a refurbished Lenovo saves you money and helps reduce electronic waste, making it a sustainable choice.
Specifications:
| | |
| --- | --- |
| Brand | Lenovo |
| Grade | Fair |
| Colour | Black |
| Model | IdeaPad 3 |
| Type | laptop |
| Warranty | 12 months |
| Operating system | Chrome Os |
| Storage | 64GB |
| Processor  | Intel Celeron N4020 |
| Processor speed | 1.1 GHz / 2.8 GHz |
| Ram size | 4 GB |
| Screen Size | 11.6'" |
| USB ports | Yes |
| Speakers | Yes |
| Optical drives | No |
| Connectivity | Wifi |
| Bluetooth | Yes |
| Webcam | Yes |
| Features | Bluetooth, Built-in Webcam |
| Weight | 1.12 |
---
FAQ
Is it worth buying Lenovo Idea Pad Chromebook ?
Chromebooks are a great choice for anyone looking to stay connected and productive on the go. They are affordable, lightweight, and come with a variety of features that make them a great value. Chromebooks offer quick setup and access to millions of apps, giving users a great way to stay organized and productive. Additionally, they are secure and offer a wide range of protection, helping to keep your data safe. With a long battery life and great performance, Chromebooks are a great choice for any budget. Whether you're a student, a business professional, or just need something to stay connected, a Chromebook is an excellent choice.
How many years should a Lenovo Idea Pad Chromebook last ?
The lifespan of a Chromebook can vary depending on several factors, including usage patterns, maintenance, and the quality of the device itself. However, in general, a well-maintained Chromebook can last for about 5-6 years or even longer. One of the reasons that Chromebooks can last longer than traditional laptops is because their operating system is simpler and more streamlined. This means that they require fewer resources to run, which can help to prolong their lifespan. Additionally, many Chromebooks are designed to be more durable and resistant to wear and tear than traditional laptops. To ensure that your Chromebook lasts as long as possible, it's important to take good care of it. This includes keeping it clean, avoiding dropping it or exposing it to extreme temperatures, and performing regular software updates and maintenance.
---
Grading Explained