MONSTER iSport Strive Headphones - Black earbuds
Product SKU : PO1011-523
Refurbished
Suitable for sports
Fast Delivery
12 months warranty
Features a microphone
Sweat & water resistant
---
---
Reasons to buy refurbished MONSTER in Ear :
Elevate your music experience with MONSTER iSport Strive Headphones in Black. Enjoy premium sound quality and comfort during your workouts and daily activities       
Refurbished

Suitable for sports  

Fast Delivery  

12 months warranty  

Features a microphone  

Sweat & water resistant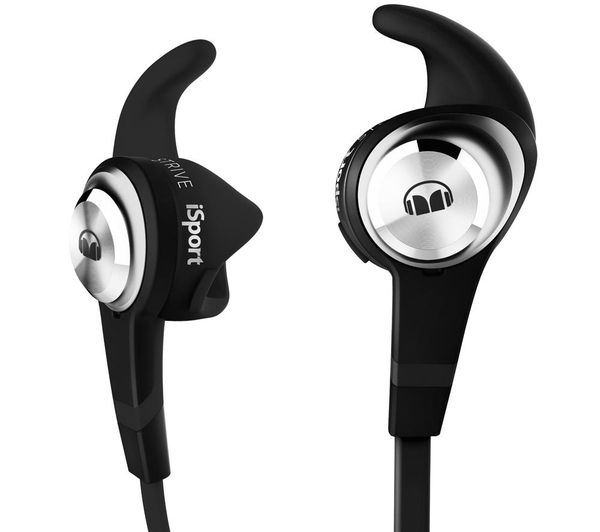 What's Included-
MONSTER iSport Strive Headphones - Black

Power Cable

12 Months Warranty
Features-
With a pair of black Monster iSport Strive Headphones in your ears, you'll have the big sounds you need to keep pushing through your workout or race. Stay inspired and be your best.

The sound of winning

Let your favourite songs drive you to set new personal records as the Monster iSport Strive Headphones deliver high-octane sound, putting you in first place. Whether you're on your bike, hitting the slopes or pounding those pavements, you'll have exciting audio fed directly to your ears for a nonstop action and music experience.

Their comfortable design doesn't intrude on the ear canal, which is great news for those who don't like in-ear designs.

Keep an ear on things

Even through the high-intensity sound they output, iSport Strive Headphones allow you to stay aware of what's happening around you. They've been rated with a Noise Isolation Factor 50, making them safe for outdoor and indoor sports and fitness.

This makes them ideal for use when you're around other people – running, skateboarding, skiing or playing basketball are all totally possible with these great Monster headphones. Stay alert, stay safe and keep moving.

Sports-resistant design

These Monster iSport Strive Headphones are made for sports – they're robust, washable and even submersible with a heat- and water-resistant design. Wear them with confidence during your workout and keep them fresh for the next session with a little soap and water.

Featuring the patented Monster SportClip design, the earphones will stay put through any energetic pursuit. Ride, run and play as hard as you can – they'll stay put.

Fuss-free control

A flat cable design helps you to avoid annoying tangles – essential for a smooth, fulfilling workout. The iSport Strive Headphones have also been designed to fit with helmets, glasses and goggles – perfect for athletes who need or prefer eye protection.
---
FAQ
Is MONSTER in Ear worth it?
MONSTER in Ear is a game-changer in the world of audio! 🎧🔥 These in Ear are absolutely worth the investment, offering an unparalleled listening experience that will elevate your audio enjoyment to new heights. 💯✨ With their exceptional sound quality, comfortable fit, and cutting-edge features, in Ear are designed to deliver pure sonic bliss. Whether you're a music enthusiast, a gamer, or simply someone who appreciates immersive sound, these headphones will surpass your expectations.
Rest assured, in Ear are built to last! With proper care and usage, they can provide you with hours of immersive audio enjoyment for years to come.

Remember, taking care of your headphones plays a crucial role in their longevity. Proper storage, regular cleaning, and handling them with care will help extend their lifespan. By following these simple practices, you can maximize the longevity of your beloved in Ear.
Discover incredible value with the wide selection of cheap refurbished in Ear available at Student Computers Store!  They offer an affordable alternative without compromising on quality or performance. Each pair has undergone a meticulous refurbishment process to ensure they meet strict standards and provide a reliable audio experience.
Upgrade your audio setup without breaking the bank by exploring the affordable refurbished in Ear options at Student Computers Store. You'll be pleasantly surprised by the quality and affordability that awaits you. Don't miss out on this fantastic opportunity to enjoy great sound at an unbeatable price. 🎶💰
---
Grading Explained