Motorola Moto E20 6.5'' 4G Smartphone 32GB Unlocked - Grey
Product SKU : PO1011-650F
Refurbished
32 GB
Moto E20
Dual Camera
Max Vision HD+ display
Fingerprint scanner
---
---
Reasons to buy

Motorola Motorola Moto E20

Smartphone:
Get the perfect balance of style and performance with the Motorola Moto E20. Featuring a large 6.5'' display, this 4G smartphone offers a stunning visual experience for browsing the web, streaming video, or playing games. With 32GB of internal storage, you'll have plenty of space to store all your favorite apps, photos, and music. And thanks to its unlocked status, the Moto E20 can be used on any compatible network, giving you the freedom to choose the plan that works best for you. Don't miss out on this versatile and reliable smartphone - order your Moto E20 today.       
Refurbished

32 GB  

Moto E20  

Dual Camera  

Max Vision HD+ display  

Fingerprint scanner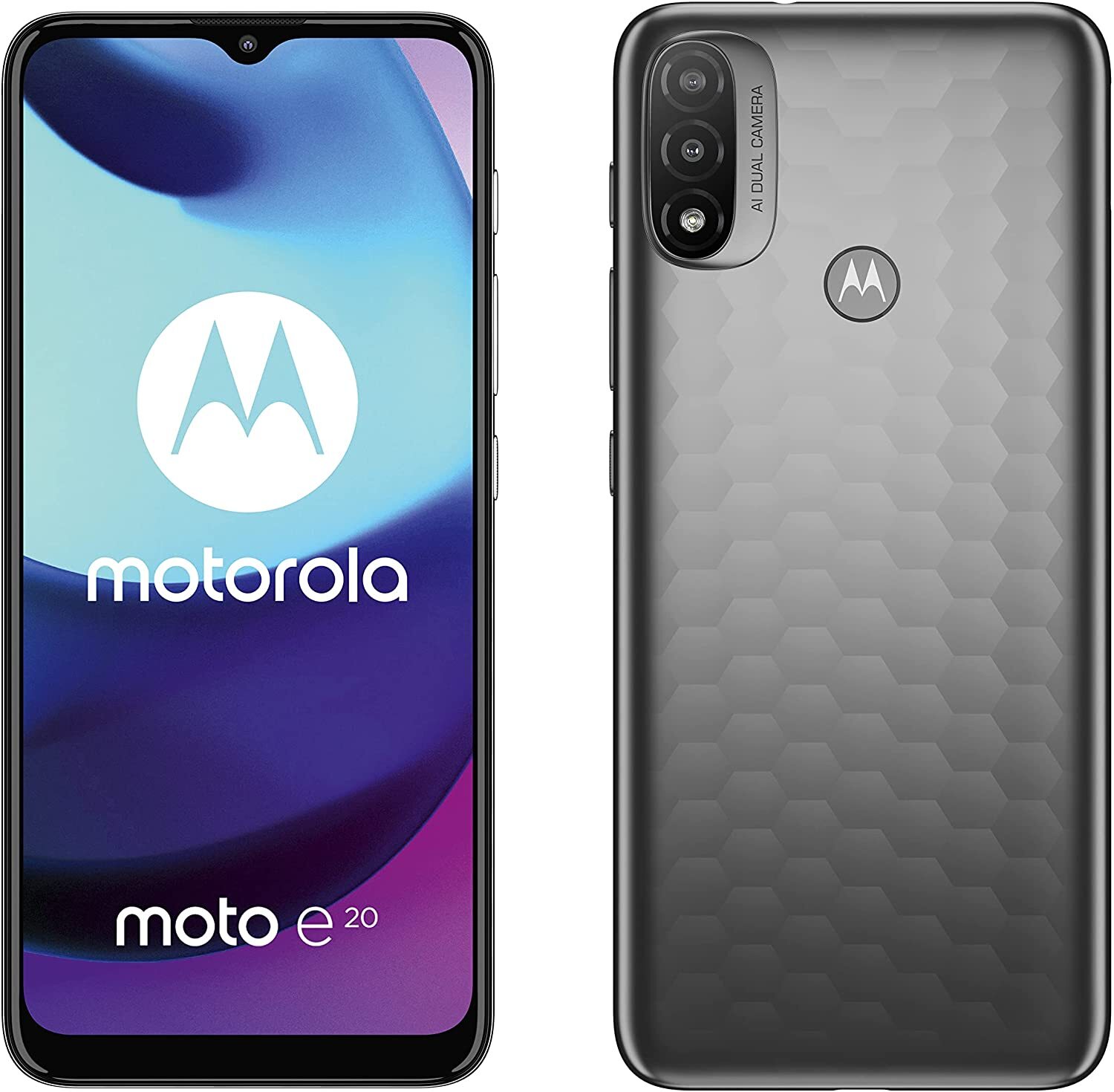 What's Included-
Motorola Moto E20 6.5'' 4G Smartphone 32GB Unlocked - Grey (Scratched Screen)
Power Cable
12 Months Warranty
Features-
Super sharp photos
Say goodbye to blurry photos with a fast-focusing 13MP main camera with AI for pro-style results, and capture professional-looking portraits using a 2MP depth camera.
Wide display
Maximize your viewing on an ultra-wide 6.5" Max Vision HD+ display that easily fits in the hand.
Long battery life
Keep going for longer. The Moto e20 lasts for up to forty hours off a single charge, depending on activity.
Great qualities
Unlocking is easy thanks to the fingerprint scanner - just a touch and away you go, whilst GPS will help guide you to your destinations.
Refurbished Motorola Smartphone UK
Unlock incredible value with a Motorola Motorola Moto E20 renewed smartphone from Student Computers! Our wide range of refurbished smartphones, offers you the perfect blend of affordability and quality. Each device undergoes a meticulous refurbishment process to ensure it meets the highest standards of performance and functionality. By choosing a renewed phone, you can enjoy all the benefits of owning a top-tier device at a fraction of the cost. From the latest features to reliable performance, our refurbished smartphones deliver a seamless user experience. Don't compromise on quality or your budget - trust Student Computers for your refurbished smartphone needs and step into the world of cutting-edge technology without breaking the bank!
Specifications:
| | |
| --- | --- |
| Brand | Motorola |
| Grade | Cosmetically Challenged |
| Colour | Grey |
| Model | Motorola Moto E20 |
| EAN  | 840023226137 |
| Grade | Cosmetically Challenged |
| Screen Size | 6.5" |
| Network | SIM Free |
| Operating system | android |
| Storage Capacity | 32GB |
| Type | Smartphone |
| Warranty | 12 Months |
---
FAQ
Is Motorola Motorola Moto E20 worth buying?
Absolutely! With its cutting-edge features, powerful performance, and sleek design, this Motorola phone is a must-have device that offers exceptional value for your money. Whether you're a tech enthusiast, a professional on the go, or someone who loves staying connected, this smartphone caters to all your needs. From its advanced camera capabilities to its long battery life, this phone delivers a seamless user experience that enhances your daily life. Don't miss out on the opportunity to own this remarkable smartphone and elevate your digital lifestyle to new heights!
How long does a Motorola Motorola Moto E20 smartphone last?
With its durable construction and reliable performance, the Motorola smart phone is designed to provide you with years of dependable use. On average, smartphones have a lifespan of about 2-3 years before users consider upgrading to a newer model. However, with proper care, maintenance, and software updates, your  Motorola Moto E20 phone can continue to serve you well beyond that timeframe. From its robust hardware to its efficient operating system, this phone is built to withstand the test of time and keep up with your evolving needs. Invest in the longevity of your digital companion.
Where should I buy Motorola from in the UK?
When it comes to buying a Motorola phone in the UK, look no further than Student Computers for the best options and deals! With a wide selection of smartphones, including the latest models and refurbished devices, Student Computers offers top-quality products at competitive prices. Whether you're a student or not, you can trust Student Computers for reliable service, excellent customer support, and a seamless shopping experience. Upgrade your phone with confidence from the best - choose Student Computers as your go-to destination in the UK!
---
Grading Explained