SAMSUNG Galaxy Buds2 Pro Wireless Bluetooth Noise-Cancelling Earbuds - Graphite
Product SKU : AR022-009
Refurbished
True wireless
Fast Delivery
Adjustable active noise-cancelling
Waterproof
Microphone / volume / playback & functions control
---
---
Reasons to buy refurbished SAMSUNG Galaxy Buds2 Pro in Ear :
Enjoy unparalleled audio quality with the SAMSUNG Galaxy Buds2 Pro Wireless Bluetooth Noise-Cancelling Earbuds in Graphite. These earbuds deliver immersive sound, thanks to their cutting-edge technology and premium drivers. 🎶🔊 Experience crystal-clear calls and music, while the active noise cancellation feature blocks out unwanted background noise. With a sleek and ergonomic design, these earbuds fit comfortably in your ears for extended listening sessions. ⚡💯 Connect seamlessly with your devices using Bluetooth, and enjoy hassle-free wireless freedom.       
Refurbished

True wireless  

Fast Delivery  

Adjustable active noise-cancelling  

Waterproof  

Microphone / volume / playback & functions control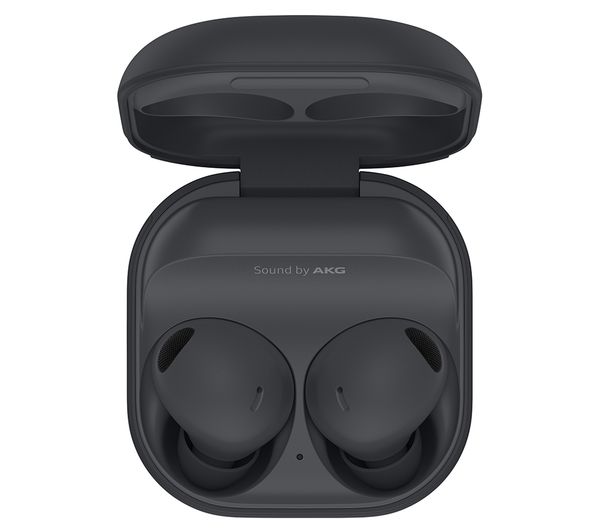 What's Included-
SAMSUNG Galaxy Buds2 Pro Wireless Bluetooth Noise-Cancelling Earbuds - Graphite

Power Cable

12 Months Warranty
NO Spare Ear Tips
Features-
The Samsung Galaxy Buds2 Pro bring you the sort of sound you don't really expect to hear on the bus. Or at the gym. Or on your way to a meeting. Expect clear, crisp vocals and booming soundtracks. Goosebump-inducing 24-bit uncompressed audio means you can listen to High-Res Audio tracks in all their glory. Block out distractions with 'La la la, I can't hear you' Active Noise Cancellation. And popcorn-ready 360 surround sound means shows, movies, and games feel even more immersive.

Good to know

- The snug fit and ergonomic design means they're comfy to wear for hours
- Fully resistant to water and sweat, so you can push yourself at the gym
- The case offers up to 18 hours of battery life and works with wireless chargers
- Easily switch between devices with Auto Switching
- The SmartThings Finder will let you know if you accidentally leave your buds behind
- Built-in mics and Voice Pickup blocks out background noise for clear calls
- Voice Detect technology knows when you're speaking, so you can chat with the buds in
---
FAQ
Is SAMSUNG Galaxy Buds2 Pro in Ear worth it?
SAMSUNG Galaxy Buds2 Pro in Ear is a game-changer in the world of audio! 🎧🔥 These in Ear are absolutely worth the investment, offering an unparalleled listening experience that will elevate your audio enjoyment to new heights. 💯✨ With their exceptional sound quality, comfortable fit, and cutting-edge features, in Ear are designed to deliver pure sonic bliss. Whether you're a music enthusiast, a gamer, or simply someone who appreciates immersive sound, these headphones will surpass your expectations.
Does SAMSUNG Galaxy Buds2 Pro last long?
Rest assured, Galaxy Buds2 Pro in Ear are built to last! With proper care and usage, they can provide you with hours of immersive audio enjoyment for years to come.

Remember, taking care of your headphones plays a crucial role in their longevity. Proper storage, regular cleaning, and handling them with care will help extend their lifespan. By following these simple practices, you can maximize the longevity of your beloved in Ear.
Cheap SAMSUNG Galaxy Buds2 Pro in Ear UK
Discover incredible value with the wide selection of cheap refurbished in Ear available at Student Computers Store!  They offer an affordable alternative without compromising on quality or performance. Each pair has undergone a meticulous refurbishment process to ensure they meet strict standards and provide a reliable audio experience.
Upgrade your audio setup without breaking the bank by exploring the affordable refurbished in Ear options at Student Computers Store. You'll be pleasantly surprised by the quality and affordability that awaits you. Don't miss out on this fantastic opportunity to enjoy great sound at an unbeatable price. 🎶💰
---
Grading Explained