SAMSUNG Galaxy Tab A 8" Tablet (2019) - 32 GB, Black
Product SKU : ODS019-003
Refurbished
32 GB
Android tablet
Kids mode
8inch screen size
12 Months Warranty
---
---
Reasons to buy refurbished SAMSUNG Galaxy Tab A:
Buy SAMSUNG Galaxy Tab A 8" Tablet (2019) in Black. 🌌 This feature-packed tablet offers a spacious 32GB of storage, providing ample room for all your favorite apps, photos, and content. 📱✨ Its 8-inch display delivers crisp visuals and immersive entertainment, perfect for streaming movies, browsing the web, and more. 🎬🌐 With its sleek design and portability, you can take it anywhere you go, staying connected and productive on the move. 🚀📈 Discover the ultimate blend of performance and style with the Galaxy Tab A - your perfect companion for both work and play. 😍       
Refurbished

32 GB  

Android tablet  

Kids mode  

8inch screen size  

12 Months Warranty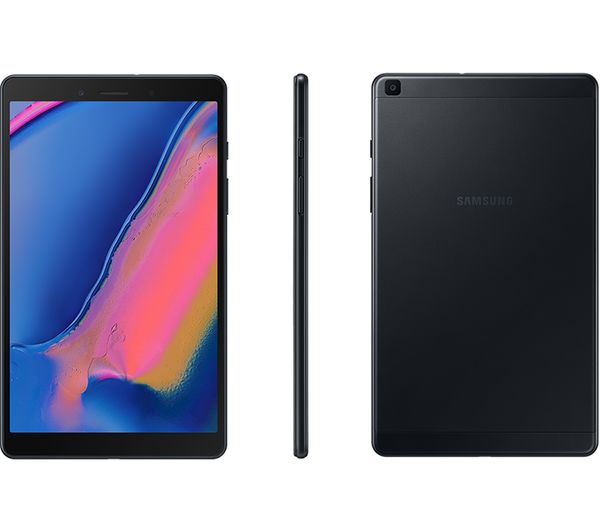 What's Included-
SAMSUNG Galaxy Tab A
Power Cable
12  Months Warranty 
Features-
Bring your entertainment anywhere

Watch films, shop online, and finally conquer that addictive game – the Samsung Galaxy Tab A is built for entertainment. And thanks to its portable 8" size, easily slip it in your bag and binge another episode on the train.

It's not just the screen that's built for your favourite films and shows – you've got Dolby Atmos sound. That's the same technology used in cinemas, so you've got proper surround sound for every song or soundtrack.

14 hour battery life is built for streaming

You don't want to run out of battery mid-Netflix session. Which is why the Tab A has a 14 hour battery life. And that's when you're watching videos non-stop. If you're just browsing online or listening to a podcast – well, you've got all day.

Expand your storage to save more stuff

Gone are the days of deleting photos so you can download more music. You've got 32 GB of storage built in, but you can add up to 512 GB (as much as most laptops) with a microSD card. Download away.

Always trying to coordinate with your family to plan events? Remove the chasing with Family Share. You can connect up to six accounts to keep track of appointments, set reminders and leave important messages.

Fun for the kids, without any worries for you

The Tab A is ideal for younger users thanks to Kids Mode. Along with a colourful and engaging layout, it allows you to limit what your little ones access, with content that will keep children entertained for hours.
Refurbished SAMSUNG tablet UK
Experience the best of SAMSUNG Galaxy Tab A refurbished tablet, available at Student Computers. Our rigorous refurbishment process ensures that each device meets the highest standards of performance and reliability. With the Galaxy Tab A, you can enjoy all the features and functionality you need without breaking the bank. By opting for a renewed tablet, you're not only saving money but also contributing to a more sustainable future by reducing electronic waste. Don't miss this opportunity to own a premium tablet at a fraction of the original cost. Upgrade your digital experience today!
Specifications:
| | |
| --- | --- |
| Brand | SAMSUNG |
| Grade | Very Good |
| Colour | Black |
| Model | Galaxy Tab A |
| Type | Tablet |
| Warranty | 12 Months |
| Operating system | Android |
| Storage capacity | 32GB |
| Processor seed | 2 GHz |
| Processor  | |
| Ram size | |
| Bluetooth | |
| Screen Size | 8" |
| Storage type | |
| Graphic Processing type | |
| USB ports | |
| Connectivity | |
| Speakers | |
| Webcam | |
| Features | |
---
FAQ
What is the average life of a SAMSUNG Galaxy Tab A tablet?
The average life of a tablet can vary depending on several factors, such as usage patterns, maintenance, and quality of components. Generally speaking, a well-maintained tablet can last for at least 3-5 years.
Tablets that are used heavily for tasks like gaming or video streaming may have a shorter lifespan due to the strain placed on the device's hardware. Similarly, exposure to extreme temperatures or humidity can also affect the lifespan of a tablet.
Proper maintenance can help prolong the life of a tablet. This includes regular cleaning, avoiding overcharging, and keeping the device updated with the latest software updates.
Cheap tablets for sale
At Student Computers, we offer a range of cheap tablets for sale in the UK. Our selection includes both new and refurbished models from top brands like Apple, Samsung, and Amazon, at prices that are significantly lower than buying new. Our refurbished tablets have been restored to like-new condition and thoroughly tested to ensure they meet our high standards. This allows us to offer our customers a quality product at a much lower price point, without sacrificing performance or features.
---
Grading Explained