SONY WH-1000XM5 Wireless Noise Cancelling Headphones black
Product SKU : AR017-121
Over-ear headphones
Advanced noise cancellation
Supreme Sony sound
FREE Next Business day delivery by DPD
---
---
Reasons to buy refurbished Sony Headphones :
Over-ear headphones

Advanced noise cancellation  

Supreme Sony sound  

FREE Next Business day delivery by DPD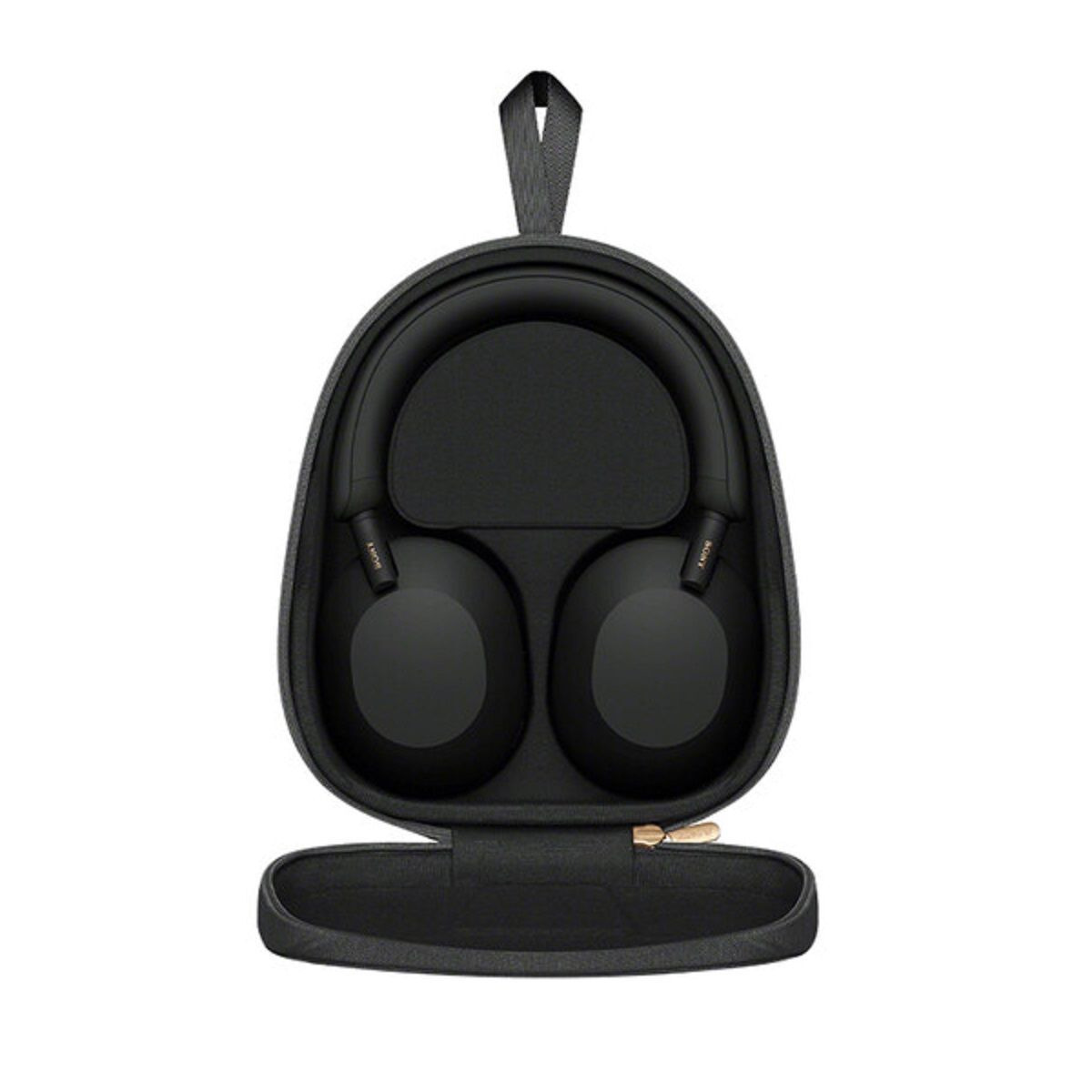 What's Included-
SONY WH-1000XM5

Power Cable

12 Months Warranty
Features-
Sony's award-winning WH-1000X series headphones are highly renowned for supreme noise cancellation, sound quality, and comfort. Now say hello to the WH-1000XM5. Upgraded for an even finer listening experience they feature four mics on each ear-cup for premium levels of distraction-busting noise cancellation, unique Sony sound architecture, plus High Resolution Audio, Adaptive Sound Control, and up to thirty hours of battery power… yes, with noise cancellation on. However you listen, the WH-1000XM5 sound supreme.
Advanced noise cancellation
Sony's celebrated noise cancellation tech just took a radical step up. With four microphones on each earcup, ambient sound is captured even more accurately for a dramatic reduction in high-frequency noise. The Integrated Processor V1 unlocks the full potential of the HD Noise Cancelling Processor QN1 to deliver supreme noise cancelling quality.
Supreme Sony sound
Sony's unique technologies, including a premium lead-free solder containing gold for excellent conductivity, a Fine Sound Resistor for even power distribution, and optimised circuitry for an improved signal-to-noise ratio ensure clear, consistent sound. High-Resolution Audio and High-Resolution Audio Wireless are supported, thanks to LDAC, transmitting approximately three times more data than conventional Bluetooth audio for exceptional sound quality, without the wires. Plus, Adaptive Sound Control automatically senses your environment and your activity, adjusting settings to optimise your listening.
Audio with auto-response
As soon as you start a conversation, Speak-to-Chat automatically stops your music and lets in ambient sound… super-handy if your hands are full. And, when you take these headphones off, the music automatically stops; a sensor knows when you're wearing them.
Swift, easy pairing
The WH-1000XM5 can be paired with two Bluetooth devices at the same time. So when a call comes in, your headphones know which device is ringing and connects to the right one automatically. And Swift Pair makes it quick and easy to pair your headphones with your Windows 11 or Windows 10 laptop, desktop PC, or tablet. They also feature Google's Fast Pair, letting you easily locate where you left your headphones by tone sound, or via the Find My Device app on your smartphone.
Calls with clarity
Be heard and hear clearly when you are on the phone. Sony's Precise Voice Pickup Technology uses four beamforming microphones and an AI-based noise reduction algorithm to isolate your voice precisely, while a wind noise reduction structure minimises wind noise during calls.
---
FAQ
Is Sony Headphones worth it?
Sony Headphones is a game-changer in the world of audio! 🎧🔥 These Headphones are absolutely worth the investment, offering an unparalleled listening experience that will elevate your audio enjoyment to new heights. 💯✨ With their exceptional sound quality, comfortable fit, and cutting-edge features, Headphones are designed to deliver pure sonic bliss. Whether you're a music enthusiast, a gamer, or simply someone who appreciates immersive sound, these headphones will surpass your expectations.
Rest assured, Headphones are built to last! With proper care and usage, they can provide you with hours of immersive audio enjoyment for years to come.

Remember, taking care of your headphones plays a crucial role in their longevity. Proper storage, regular cleaning, and handling them with care will help extend their lifespan. By following these simple practices, you can maximize the longevity of your beloved Headphones.
Discover incredible value with the wide selection of cheap refurbished Headphones available at Student Computers Store!  They offer an affordable alternative without compromising on quality or performance. Each pair has undergone a meticulous refurbishment process to ensure they meet strict standards and provide a reliable audio experience.
Upgrade your audio setup without breaking the bank by exploring the affordable refurbished Headphones options at Student Computers Store. You'll be pleasantly surprised by the quality and affordability that awaits you. Don't miss out on this fantastic opportunity to enjoy great sound at an unbeatable price. 🎶💰
---
Grading Explained