Vertiv MPHC1143 power distribution unit (PDU) 24 AC outlet(s) 0U Black
Product SKU : PO040371-128
Retail Boxed
MPHC1143
24 AC outlet(s)
---
---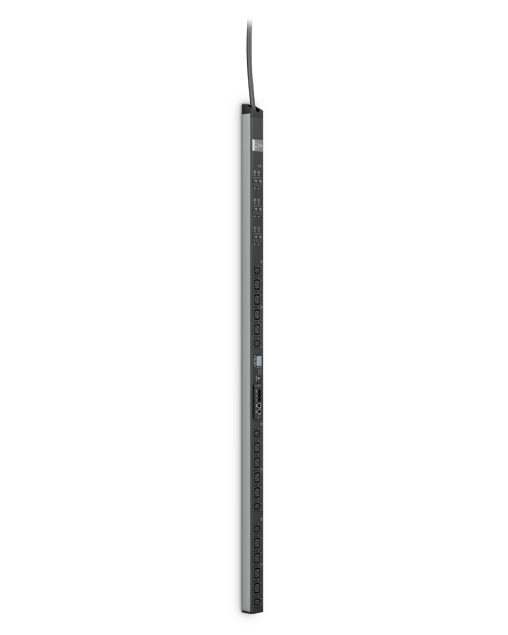 What's Included-
Vertiv MPHC1143 power distribution unit (PDU) 24 AC outlet(s) 0U Black

Mounting Accessories

12 Months Warranty
Features-
Industry leading operating temperatures of up to 60 °C - suitable for high temperatures inside racks
Bistable relays - ensure basic power supply even when shortfall occurs elsewhere
Extensive alarm functions - including notifications when an alarms occurs in individual groups
Accurate voltage and current metering - up to outlet level with ± 1% tolerance deliver reliable results
Monitoring of environment conditions - (temperature, humidity and input contacts)
Modular communication card that can be replaced during the operations
Notification upon failure or if loads are removed in individual racks
Benefits

Monitors electrical and environmental parameters - with defined thresholds and alarm tools
Additional metering of the neutral conductor - and of the crest factor
Energy and power metering - maximize the data center power and cooling infrastructure
Variety of measurements - allows to predict failing conditions before they occur
Lower power consumptions of all switched rack PDU
"LongLifeSwitching" technology protects the relay contacts
Up to four rack Vertiv MPH2 PDUs can be connected in a rack PDU array
"SpeedMount" function for installation in Vertiv Knürr DCM / InstaRack saves time and money in on-site installations
Can be delivered pre-installed Knürr racks to save time and costs

Model Comparison


Model:
Capacity
Input
Voltage
Output
Voltage
Output
Options
Height
(in/mm)
Width
(in/mm)
Depth
(in/mm)
Weight
(lbs/kgs)
MPHC1141

16 A

230 V

230 V

(24) 18 C13 + 6 C19

68.4 / 1736.5

2.2 / 56

2.0 / 50

8.8 / 4

MPHC1142

16 A

230 V

230 V

(24) 18 C13 + 6 C19

68.4 / 1736.5

2.2 / 56

2.0 / 50

8.8 / 4

MPHC1143

32 A

230 V

230 V

(24) 18 C13 + 6 C19

68.4 / 1736.5

2.2 / 56

2.0 / 50

8.8 / 4

MPHC1144

3x16 A

230/400 V

230 V

(24) 18 C13 + 6 C19

68.4 / 1736.5

2.2 / 56

2.0 / 50

8.8 / 4

MPHC1161

3x16 A

230/400 V

230 V

(24) 18 C13 + 6 C19

68.4 / 1736.5

2.2 / 56

2.0 / 50

8.8 / 4

MPHC1241

20 A

100/240 V

100/240 V

(24) 24 C13

68.4 / 1736.5

2.2 / 56

2.0 / 50

8.8 / 4

MPHC1243

32 A

230 V

230 V

(24) 24 C13

68.4 / 1736.5

2.2 / 56

2.0 / 50

8.8 / 4

MPHC1345

3x32 A

230/400 V

230 V

(18) 6 C13 + 12 C19

68.4 / 1736.5

2.2 / 56

2.0 / 50

8.8 / 4

MPHC3141

20 A

100/240 V

100/240 V

(16) 16 C13

39.5 / 1004.0

2.2 / 56

2.0 / 50

50 / 228
Vertiv MPH2 Managed Rack PDU offerings deliver remote monitoring and control capabilities in a range of models. The Vertiv MPH2-B provides basic power monitoring. Available in a range of form factors, each MPH2-B models provides metering at the input and branch level.
Additional features

Embedded network management card with environmental monitoring (5 kVA – 10 kVA models): Remote monitoring and control of the UPS and the environment via Ethernet connection while freeing up the SmartSlot so customers can add accessories for additional communication options.
Switched outlet group(s): Ability to control a group of output load receptacles independent from the main UPS. 
Enables:

Rebooting hung device without cycling the entire UPS
Sequenced turn on/off
Shedding of noncritical loads based on a variety of parameters (battery time, runtime remaining, and overload)
Scheduled time off to conserve energy

Emergency power off (EPO): Remote UPS shutoff in the event of an emergency. The UPS can accept normally open (NO) or normally closed (NC) contacts.
Communication ports: Serial, USB, Ethernet, and SmartSlot for network accessory cards.
Communication protocols: Modbus Serial, USB PowerSummary, HTTP, SNMP, and Telnet.
1:1, 3:1 input hard-wire options: Product can be wired for 3-PH or 1-PH input (230 V, 8 kVA, and 10 kVA models only).
Dual input: Enables second input source to be connected to UPS bypass (230 V, 8 kVA, and 10 kVA models only). 
---
Grading Explained