DELL OptiPlex 5400 23.8" All-in-One PC Intel Core i5-12500 8GB RAM 256GB SSD
Product SKU : EX009-031
Refurbished
RAM: 8 GB / Storage: 256 GB SSD
Free and fast delivery option
Stereo Speakers
23.8 inch screen size
---
---
Reasons to buy

DELL OptiPlex 5400 all in one PC :
Experience the ultimate productivity and sleek design with the DELL OptiPlex 5400 23.8" All-in-One PC. Powered by an Intel Core i5-12500 processor, 8GB RAM, and a lightning-fast 256GB SSD, this all-in-one PC delivers exceptional performance and efficient multitasking. Its 23.8" display offers immersive visuals and a clutter-free workspace. Perfect for home or office use, this PC combines power and style, allowing you to tackle any task with ease. Upgrade your computing experience with the DELL OptiPlex 5400 and enjoy seamless performance and convenience in one elegant package.   
Refurbished

RAM: 8 GB / Storage: 256 GB SSD

Free and fast delivery option

Stereo Speakers

23.8 inch screen size

Windows 10 Pro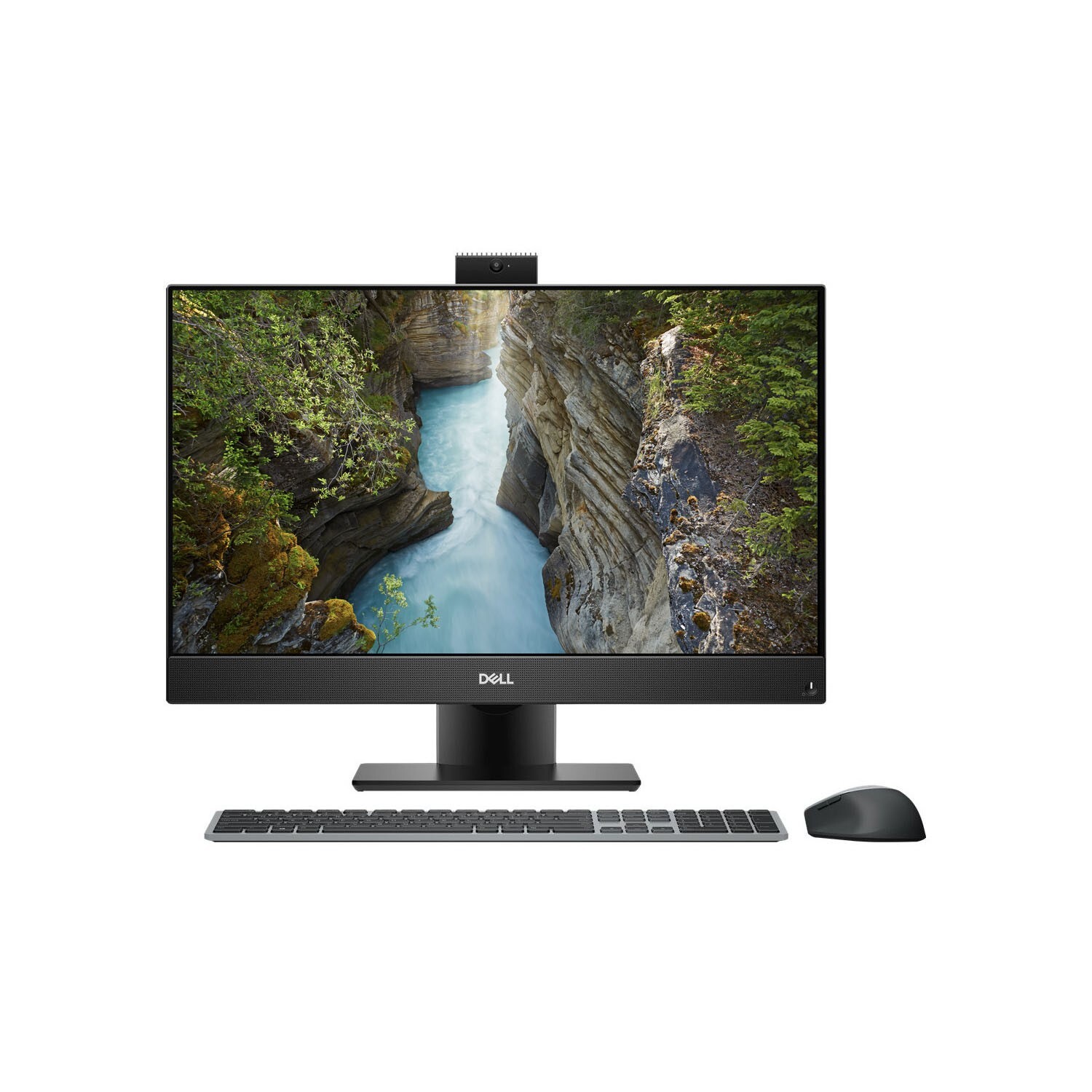 What's Included-
DELL OptiPlex 5400 23.8" All-in-One PC Intel Core i5-12500 8GB RAM 256GB SSD
Power Cable
Wireless Keyboard & Mouse 
12 Months Warranty
Features-
Designed around you
See clear possibilities: Crystal-clear images and video come through on 24" Full HD Touch and Non-Touch panels.
Find comfort all day: With the TUV Low Blue Light certified non-touch panel, you can work comfortably with reduced eye strain, even after 8 hours in front of the screen.
Fits perfectly in any space: The OptiPlex 5400 All-in-One blends into any workspace comfortably with your choice of ergonomic stands.
Picture of a Dell OptiPlex 5400 All-in-One Desktop on its back showing Dell logo and ports available behind the product.


Performance that propels you forward
More powerful processing: 12th Gen Intel Core processors with new Hybrid Core technology balance workloads between cores, so users can multi-task with ease.
Memory that offers more: Support for up to 64 GB DDR4 memory with speeds up to, 3200 MHz makes your most efficient days possible.
Instant power: Windows 11 Modern Standby provides an instant on/instant off experience, offering constant connectivity while using less power.
High-speed connections: New Wi-Fi 6E technology brings you faster speeds and better performance, wherever you choose to work.
Immersive productivity
Communicate with clarity: Collaboration is empowered by Intelligent Audio's automatic adjustments to reduce background noise and provide clearer sound.
Upgrade your meetings: Optional FHD and FHD + IR cameras with Temporal Noise Reduction and Wide Dynamic Range improve the quality of your video conferences, even in low lighting.
See beyond old limits: Intel's new 12th generation integrated graphics open the door to more immersive visuals and a better video experience.
Specifications:
| | |
| --- | --- |
| Brand | DELL |
| Grade | Excellent |
| Colour | Black |
| Model | R1HR2 |
| Type | all in one |
| Warranty | 12 Months |
| Operating system | Windows 10 Pro |
| Storage | |
| Processor speed | 3.0GHz - 4.6GHz |
| Graphics card | |
| Ram size | 8GB DDR4-3200MHz SDRAM |
| Screen size | 23.8 Inches |
| USB ports | 1 x USB 3.2 Gen 2 x USB 3.2 Gen 2 1 x USB-C 3.2 |
| Connevtivity | |
| Speakers | Stereo Speakers |
| Bluetooth | Yes |
| Webcam | Yes |
| Optical drive | No |
| Features | |
---
FAQ
What is the point of all-in-one computer?
The point of an all-in-one computer is to provide a compact and streamlined computing experience. All-in-one computers combine the traditional desktop tower with the monitor, resulting in a single integrated device. This eliminates the need for a separate monitor, keyboard, and mouse, saving space and reducing clutter on your desk.
All-in-one computers typically have a sleek and modern design, making them a good option for those who value aesthetics. They also provide a simplified setup process, as there are fewer cables and components to connect.
Is DELL OptiPlex 5400 all in one worth it?
Without a doubt, the DELL OptiPlex 5400 all-in-one computer is worth every penny. With its sleek design, powerful performance, and integrated features, it brings a new level of convenience and style to your workspace. Whether you're a creative professional, a multitasking enthusiast, or someone who appreciates simplicity, this all-in-one computer offers an immersive computing experience that will elevate your productivity and inspire your creativity. Get ready to embrace a clutter-free setup and enjoy the perfect blend of aesthetics and performance with the DELL OptiPlex 5400 all in one.


How do I choose an all-in-one computer?
When choosing an all-in-one computer, there are several factors to consider. Here are some key things to keep in mind:
Screen Size: All-in-one computers come in a variety of screen sizes, typically ranging from 21 to 27 inches. Consider your desk space and how you plan to use the computer to determine the right size for you.
Performance: Look for an all-in-one computer with a powerful processor, such as an Intel Core i5 or i7 or an AMD Ryzen 5 or 7. You'll also want to make sure it has enough RAM and storage for your needs.
Graphics: If you plan on using the computer for gaming or graphic design, you'll want to choose an all-in-one with a dedicated graphics card. Otherwise, an integrated graphics card should be sufficient.
Design: All-in-one computers come in a variety of designs, from sleek and modern to more traditional. Consider your personal style and preferences when choosing a design.
Price: All-in-one computers can vary greatly in price, from budget-friendly options to high-end models. Set a budget and look for a model that offers the features and performance you need within your price range.
How long should a all-in-one desktop last?
The lifespan of an all-in-one desktop can vary depending on several factors, including the quality of components, usage patterns, and maintenance. Generally speaking, an all-in-one desktop should last for at least 3-5 years with proper care and maintenance. Regular maintenance, such as cleaning the computer and updating software, can help prolong its lifespan. It's also important to use the computer properly, such as avoiding overloading it with heavy applications or using it in extreme temperatures.
Where to buy DELL OptiPlex 5400 all in one computer uk?
At Student Computers, customers can find some of the best deals on all-in-one computers in the UK. We offer a range of all-in-one models from top brands, including HP, Dell, and Lenovo, at affordable prices. Additionally, we have a selection of refurbished all-in-one computers that provide even greater savings without sacrificing quality.
Our team of experts can help customers choose the right all-in-one computer for their needs, whether they're looking for a compact model for everyday use or a high-end system for gaming or creative work.
---
Grading Explained